Technology Integration
Research Findings: Rocketship Education Boosts Scores with Online Learning
This San Jose, CA elementary school shows improvement on math scores with a blended learning approach
Is there a moment when a learning innovation, like online learning, officially becomes a best practice? When adjectives like "experimental" and "promising" give way to "tried and true" and "proven success?"
Seasoned researchers, trained to be skeptical, have not been quick to anoint online learning a best practice. Educators whose data sets are measured in a student's enthusiastic response to homework, or the swiftness with which her virtual hand shoots up to answer a query, are often more keen. But either way, there's no denying that the online learning movement is marching steadily to the day when it becomes an integral part of the educational mainstream.
When that day comes, a lot of schools will deserve hearty applause, including pioneers like the Florida Virtual School, Michigan Virtual School, and Idaho Digital Learning Academy, as well as more recent converts to the cause. One of those is a network of free, public charter schools in San Jose, California, called Rocketship Education, who just this week crossed a very important milestone.
Closing the Achievement Gap
Rocketship schools have made it their mission to close the achievement gap that holds back students in under-served communities. They practice what they call the "Rocketship Hybrid School Model," which combines traditional classroom instruction with individualized instruction through online technology and tutors in a "Learning Lab."
For instance, a 1st grader will attend four periods of study in a day. One or two of those will be in the "learning lab," a discreet area (see photo below) where they sit at the computer and answer queries in an educational game-like interface. They do this for both math and literacy, and advance at their own pace as they master the answers and prompts required.
Student Performance
Rocketship's results have been very impressive. Their students, almost all of whom qualify for free and reduced lunch, are among the highest performers among their peers statewide. Their performance equals that of schools in nearby affluent suburbs like Palo Alto. And yet there hasn't been a lot of formal research into how and why. There has been plenty of press coverage about their corps of very devoted, accomplished teachers who put in long hours and take great pride in their work. But no one has pulled apart the online learning component from the teacher-driven part. Until now.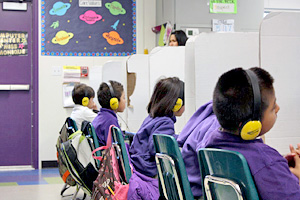 Credit: Rocketship Education
A recent study shows that students in Rocketship Education's Learning Lab (above) have significantly improved academic performance using adaptive, online, learning technology to master math skills.
Scores Rise
Last week Rocketship Education announced the results of an independent 16-week study by SRI International that showed that students who had greater access to online instruction in math, specifically a learning program called Dreambox Learning, achieved significant gains in mathematics scores. That is to say, the kids who had the typical regimen of online math instruction, as opposed to those kids who received only traditional classroom math instruction, did better -- more than five points in percentile ranking better (50 percent to 55.5 percent -- on the Northwest Evaluation Association's math standards test).
Implications
Nice for them, you might say, but so what? Well, for starters, it is unusual that an effort as modest as 40 minutes a day for less than a semester's time would yield any result at all. Most don't move the needle. Second, it should be noted that this improvement occurred without any integration with teacher-driven math teaching in the classroom periods. As Rocketship Chief Schools Officer, Aylon Samouha, put it, "Imagine what would happen if there were a focus on a parallel classroom experience." And lastly, the online learning that occurred here is not extraordinarily expensive, the computers required are basic, the software generally free or very affordable. Scalability is not out of reach.
One unfortunate fact is that there hasn't yet been any sharing of success strategies with San Jose Unified School District (SJUSD), in which Rocketship resides, something Rocketship says they are open to, "but have not been approached." Shouldn't that be part of the deal when a public charter opens in a district? I know Rocketship is keen to provide tours to interested parties (contact tours@rsed.org), and they have participated in "white papers" aimed at assisting districts and charters that want to share best practices. Is an unsolicited entreaty to SJUSD in order?
But to get back to hard-bitten skeptical researchers whose job it is to study data -- not imagine solutions that could be relevant for under-performing schools -- what do these results actually mean? "Important, promising, and it opens up many more questions," says Dan Humphrey, associate director of SRI's Center for Education Policy. Then came the familiar words, "But more study is needed." And he is right. Would 80 minutes a day make for even better results? What would be the effect if classroom teachers coordinated their efforts more closely with the online learning programs? And how about teaching reading and literacy? Rocketship and the researchers decided not to test the impact of those online programs. Was it because the same level of potential was not there to be found?
So, yes. One study by one pioneer school organization does not a best practice make. But the cross-over moment is coming, and when it does we will see a major change roll across the world of K-12 learning. Schools like Rocketship will have important lessons to share.
What are your experiences with online and blended learning? Have you seen it help close the achievement gap? What impact have you seen on student achievement?