Project-Based Learning (PBL)
Innovative Practice: 5 Strategies for the Early Learning Classroom
Project- and play-based learning are essential in the early grades to develop creative learning dispositions during the brain's most active period of synaptic growth.
A marble rolls down a ramp, and children cheer as it reaches the target they have adjusted numerous times. After a small-group reading of Frog and Toad, children gather in a community of inquiry to discuss the nature of being scared and brave at the same time. In an adjacent area, two children complete their construction of treasure chests. They begin classifying rocks as gems or geodes, sorting them into the compartments of their wooden creations. A child preserves flowers using waxed paper and heavy books in the science center.
These are activities occurring in a project- and play-based early learning classroom, where children are exploring the concepts of living and non-living things. These and other early learning experiences that support inquiry and creativity have significant long-term benefits. Thinking is an art form, similar to the actions of a visual artist perfecting his or her craft. We must focus on creative learning dispositions early, during the brain's most active period of synaptic growth.
I suggest five strategies that can be implemented in early learning classrooms and beyond, to support children's long-term success with rigorous learning standards. The strategies range in complexity and cultural commitment. Therefore, I recommend starting small and building a culture of student-centered learning and flexibility, prior to full-scale implementation.
1. Practice PBL and STEM Within Community Partnerships
PBL (project-based learning) supports teachers in developing authentic learning experiences with a focus on inquiry-based instruction. Content is key, so I recommend outlining flexible project guides vetted through learning standards within the STEM (science, technology, engineering, and mathematics) subjects. For example, the traditional community helpers project can extend beyond the policeman, firefighter, and grocer careers by focusing on a marine biologist, astronaut, civil engineer, or architect. Then align the project guides to relevant community partners and request that they provide you with authentic problems to solve. You can guide or assist professional project partners to ensure the creation of age-appropriate questions with a focus on community impact. Align each project with a greater good by allowing young students to be change agents within their local communities. Whether it is planting milkweed for an endangered butterfly species or donating excess crops from your edible schoolyard to the local food bank, there are many ways to make impact tangible for children.
2. Engage in Purposeful Play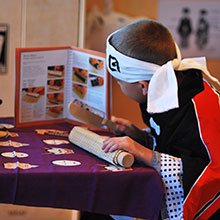 Photo credit: Elizabeth Garcia
A kindergarten student rolls sushi in the dramatic play center during The Ninja Project, an exploration of the senses.
Purposeful play should be the central learning experience in early learning classrooms. It's a natural way of learning that supports creativity and imagination. Learning centers should include a library, manipulatives, science, dramatic play, engineering/blocks and art/makerspace areas. Provision these learning centers to support your project work and learning objectives. Intentional teaching opportunities can be incorporated through open-ended literacy and mathematics games, science experiments, and fine motor skills, to name a few. Couple these materials with oral language and Bloom's Taxonomy poster prompts placed in each center for quick reference. Use the prompts to intentionally scaffold children's thinking as you coach and model their play.
3. Provide Opportunities for Student-Centered Constructionism
Turn your art center into a mini-makerspace, as it abounds with DIY materials. Engage students in the design process by creating a visual poster about design steps. Include the following steps:
Think it
Dream it
Plan it
Share it
Make it.
The title of the poster? Innovate! Add age-appropriate DIY materials including felt and plastic needles, wood for sanding, wood glue, and simple electronics to spark innovation. The most valuable supplies are often free -- a recycling drive with families can result in a plethora of great materials. You will be amazed at the creatures that are imagined and constructed. During a self-directed project at my school, a four-year-old created a recyclable-eating robot that he used to encourage care for the environment.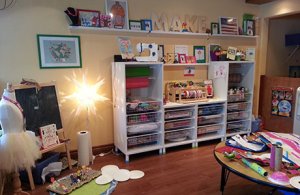 Photo credit: Elizabeth Garcia
A classroom makerspace, inclusive of woodworking, electronics, sewing, and do-it-yourself materials.
4. "Bloom" Your Books
Bloom's Taxonomy is complex, so rather than tackling the content in its entirety, vet out age-appropriate question prompts and use them to guide your read-aloud conversations. Planning ahead and intentionality are key. Repurpose the library pockets that are used for checking out books and index cards to intentionally level comprehension questions in your weekly picture book selection. The tactile prompt can be placed in the back of the book for future use, allowing you to build a library of "bloomed" books. Support your children's deeper understanding of the picture book's purpose through small group discussions, advancing your level of questioning each day.
5. Partake in Picture-Book Philosophy
Picture books hold deep philosophical curiosities. Create a community of inquiry as a social-emotional tool to build a respectful discussion community. Teach children to listen and respect the ideas of others. Give them freedom to change their minds when new information arises. With time and ongoing discussion, you will witness your students' thinking evolve. Teaching Children Philosophy offers an excellent resource for free book suggestions with accompanying guides.
A strong house must be built upon a solid foundation. We must nurture children's minds in early learning through play, wonder, imagination, and exploration to ensure success as they move forward in their learning careers. You have the power to make a change in your school or classroom. I encourage you to take the first steps!