Education Trends
STEMbite: An Experiment in Teaching with Google Glass
For the past two months, I've been the only teacher in the world to have Google Glass -- the most highly anticipated (and intensely coveted) technology to emerge in years. How did I get this incredible opportunity? Let me explain . . .
In February of 2013, Google announced the #ifihadglass contest, inviting anyone to apply to become an early adopter of Google Glass, which is essentially a computer you wear over your eye and control with your voice. As an online science teacher, I figured that I could use Glass in my teaching, so I applied to #ifihadglass and hoped for the best.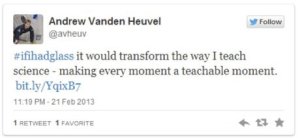 Credit: Andrew Vanden Heuvel
A winning tweet in the #ifihadglass contest
What happened next completely exceeded all expectations. Not only was I selected as a Glass Explorer, but I was given the unique opportunity to teach a live physics lesson from inside the Large Hadron Collider!
After returning from this incredible trip with my very own Glass device, I was the first and only teacher in the world able to use this brand new technology. Naturally, I figured I should do something useful with it. I decided to create STEMbite -- a series of bite-size videos showing the math and science of everyday life from a unique first-person perspective.
video
To see the entire STEMbite video collection, visit the STEMbite YouTube Channel.
A New Perspective on Video Lessons
In the past few years, we've witnessed how video lessons can transform learning. The flipped classroom and Khan Academy have illustrated the power and potential of simple videos to aid instruction. But, if we are honest with ourselves, most of these video lessons are not really all that engaging (to students or to adults).
The goal of STEMbite is to create very brief, high-engagement videos about science, technology, engineering and math. Rather than trying to teach all the content through the videos, the goal here is to motivate and inspire learning.
video
Part of what makes the videos so engaging is the literal shift in perspective. Rather than watch a teacher lecturing in front of a whiteboard, students come along for the ride, seeing through the eyes of a teacher who is excited about the beauty and complexity of nature.
video
The Future of Teaching with Glass
Beyond capturing videos, Glass can also be used in Google Hangouts, which are live video conferences similar to Skype. This opens the possibility for streaming live, first-person, educational content across the world. As a proof of concept, a small group of classroom teachers joined me for the very first STEMbite Live, a public broadcast from my kitchen exploring crazy science found in the refrigerator. This demonstrates how students could join teachers around the world at remote locations or perhaps at the site of an educational current event. The best part is that these experiences are interactive -- students can ask questions and respond in real time.
Glass is still a very new technology with only a couple of apps that work on the device. Over time, more software will emerge, and I expect we will see more applications for education. One of the most exciting possibilities for learning with Glass is augmented reality -- that is, an object coming to life when viewed through the device. Some teachers have already begun experimenting with augmented reality in class, and others have even created how-to guides for teachers. Glass will take augmented reality to a whole new level, once the software is eventually developed.
Building Your Own First-Person Video Lessons
I am no longer the only teacher with Google Glass. Several other educators (dubbed the "Glass Ed Explorers") were also invited to be early adopters of the technology. They will continue to experiment and innovate, but you can join in the fun, too! Even though Google Glass won't be available to the general public until later this year, you can make your own "Frugal Glass" following these simple instructions.
There's a bit of a learning curve when filming with Glass (of the Google or Frugal variety). Here are a few recommendations to get you started:
Ideas: Have a notebook handy to record your video ideas. They will come -- and they will go if you don't write them down.
Editing: Keep the videos simple. Trim out the dead time and anything unnecessary. Don't monkey with transitions or title screens because they waste your valuable time.
Power management: Capturing long videos burns up the battery. Use a rechargeable USB pack to extend filming time.
Have fun: If you enjoy watching the video each time then others will, too.