Project-Based Learning (PBL)
Start the School Year by "Awakening Your Dreamers"
What if your first project was about getting to know the hopes and dreams and talents of your students?
August 18, 2015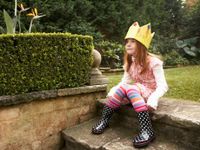 When your students return to the classroom this fall, how many will bring along the interests, talents, and dreams that inspired or delighted them over the summer months? Will they see any connection between school assignments and their own passions?
Bernajean Porter (@bernajeanporter), a longtime advocate of digital storytelling and engaged learning, has a suggestion to get the year off to a good start: "What if your first project was about getting to know the hopes and dreams and talents of your kids?" By investing time to build a positive classroom culture, while also introducing project-based learning practices, you'll set the stage for more meaningful inquiry experiences all year long.
Imagination Plus Research
Porter has developed and field-tested a classroom resource called, I-imagine: Taking MY Place in the World that guides students on a multimedia journey into their own future. After a series of guided writing and reflection exercises, students eventually produce "vision videos" in which they star as protagonists of the lives they are living, 20 years into the future.
"We ask students to tell the story of how they will shine their light for good. Telling that story," Porter adds, "assumes you know what's special about you and what your gifts are. What gives you joy and energy? What fires up the engines?" Although I-Imagine projects can certainly address academic standards, the overarching goal is to "awaken the dreamer" and give students reason to invest in their own learning.
To develop the I-imagine resources, Porter drew on the groundbreaking research of the late Peter Benson, author of Sparks and former director of the Search Institute. Benson, an expert in positive human development, was instrumental in identifying 40 Developmental Assets that help young people grow up to be healthy, caring, responsible adults.
Youth who are most likely to thrive can identify their own "sparks," or the interests and passions that engage them (and which often have to do with making the world a better place). They also have adults in their lives who support them in kindling those sparks.
Watch a TED talk by Benson explaining the importance of "sparks" for helping young people reach for their best potential:
video
I-imagine also reflects Porter's insights as a system change expert who has consulted with educators, businesses, and community organizations working to develop a shared vision. "The more detail you give to a life or goal that you imagine," she explains, "the more real it becomes to you." Applied storytelling can have profound effects on participants, she says, even "changing neuroplasticity and cortical mapping in the brain."
In the classroom, Porter has seen how creating future stories can change perceptions and strengthen relationships -- between students and teachers, among peers, and sometimes even between children and parents. "The conversations become different," Porter says, "when people really know who you are, and you know that the world is waiting for who you are. Where do we make room for those conversations in school?"
Best Future Forward
At Nellie Coffman Middle School in Palm Springs, California, teachers Mardi Hager and Ron Winter introduced the I-imagine project during the past school year. They watched their sixth-grade students -- including many children from low-income families -- produce hopeful, uplifting docudramas about their imagined futures.
"When we began the work," Hager explained in an email, "many had no idea of how they could shine their light to the world." Pre-writing activities and reflection prompts helped students "think deeper about what was important to them and how they could use those qualities to help others."
At first, many students could only imagine following their parents' footsteps to become housekeepers, gardeners, or take other jobs that require little formal education. Eventually, however, students began to imagine new possibilities for themselves: special effects wizard, author of spellbinding tales, veterinary specialist with a passion for animals, radio show host. They also found new motivation to pursue studies that would help them realize their visions.
As Winter watched his students' stories take shape, he realized that the project had awakened their creativity, "not only the technical creativity of producing a media project but also the personal creativity of exploring life's options." When it was time to showcase their videos at a school-wide screening event, Hager added, "Students were so passionate about what they had learned and accomplished."
Go Slow to Go Fast
For teachers concerned about the time required for a back-to-school project like this, Porter has some practical advice to offer.
This is not designed to be a cookie-cutter project. The concept and learning activities can be modified to work with different grade levels or subject areas. The project can last just a few class periods or extend over several weeks. Teachers might combine I-imagine with literature study, writers' workshops, or other learning activities.
Winter and Hager, the middle school teachers in Palm Springs, incorporated language arts concepts, such as using metaphors to convey emotion. High school teachers have used the project to have students develop "personal branding stories," Porter says, that amplify the information contained in a resume. What connects these examples is "a passion about writing," she adds. Students develop an understanding that their work gets better with multiple drafts, and that final results will be shared with an authentic audience.
This kind of project also offers a chance "to step into multimedia for a purpose," Porter says. Digital storytelling tools can be as simple as Animoto, which enables students to combine the images they select with voice-over that they record. Or for a more ambitious project, students might use green screens to produce their own videos, complete with music soundtracks to engage audience emotions.
Getting Started
By beginning the year with a high-interest project, students also develop the skills of "project doing," such collaboration, persistence, and time management. Those skills will carry over into future projects, setting the stage for students to direct more of their own learning throughout the school year. And teachers will come away better prepared to design projects around students' interests. If your class includes a budding archaeologist or wannabe Jane Austin, for example, "you can differentiate around their specialties," Porter says.
Investing time to "awaken your dreamers" early in the year, she adds, "could change our whole culture of possibilities."
Porter will be leading two webinars this fall, Sept. 21 and Oct. 5, to introduce teachers to the I-imagine resources and you can register and receive complimentary I-imagine PDF Curriculum Packages if you participate in both webinars.
If you decide to start the school year by helping your students imagine their best futures, please share your experiences in the comments section below.