Teacher Collaboration
There's No I in Teacher: 8 Tips for Collaborative Planning
Teachers become learning designers when given space to collaborate, cultivate trust, and ensure that work is student relevant.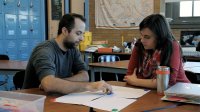 Editor's Note: This post was co-authored by Shula Ehrlich, lead game designer at Institute of Play.
When visitors first come to Quest to Learn, they're often not sure what to expect. A lot of them think the first sign of innovation they'll see will be in the physical space. Will there be touchscreens and video game consoles everywhere? Will the furniture look like it belongs in a Google office?
These visitors are often surprised. The school sits in a nearly 100-year-old public school building, and classrooms look like, well, classrooms. But the visitors are right about one thing: There is a space in the school that's fundamental to the innovation that happens there.
That space is Mission Lab, a learning design studio. From the very beginning, Mission Lab was considered a critical design aspect of Quest to Learn—a design lab in the school where game designers and learning designers from Institute of Play could work daily with teachers to research, collaborate, and design game-based and game-like learning experiences for students.
Birth of a Mindset
Though its key output has been the games and game-like curriculum used with students, Mission Lab was created not just as a curriculum support lab, but as a microcosm of what we want the whole school to be—a space for people to explore, tinker, take risks, play, make things, and work together to solve real problems.
After a few years of Institute of Play designers working with Quest to Learn teachers at Mission Lab, an interesting thing started to happen. Teachers began designing learning games for their classrooms without any support from Institute of Play. They were getting feedback from each other and involving students in every part of the design process. They were mentoring one another, collaborating in new ways, and problem solving together. Roles became more fluid as teachers became curriculum and game designers. And Mission Lab became a more open space, staffed not just by designers from Institute of Play, but by other teachers and administrators from Quest to Learn.
In too many places, teachers are siloed from each other, with little opportunity to collaborate and problem solve together. Mission Lab helps to break down these barriers and create time and space for teachers to work together.
How to Collaborate
Want to create a space in your school for teachers to play, design, and collaborate? To help you get started, here are eight tips that we've found useful to guide our collaboration.
1. Cultivate trust: Be open and honest. Visit each other's classrooms. Observe the dynamics of teacher to students, student to student, and teacher to teacher.
2. Don't be married to ideas: Follow the four Fs: fail fast, fail frequently. When working together, encourage all collaborators to generate as many ideas as possible early on. This creates a culture of iteration. Really push each other to think about different ways that a learning goal can be executed.
3. Apply the KISS principle: KISS stands for "Keep it simple, stupid." No matter what you're creating together (a game, project, or lesson plan), the more complex the rules or the structure, the more questions students will have, and the less time they will be engaged in the actual learning.
4. Play-test often: It's never too early to put your game or project in front of someone else for feedback. Even a very rough idea can be play-tested. You never know how something will work until you try it.
5. Know when to scale back: Keep the product of your collaboration focused. Realize when the game or lesson is attempting to do too much.
6. Involve students from the beginning: Students are your target audience. They should be involved in every step of the design process, because they have invaluable feedback to give.
7. Use what's around you: You know what schools have a ton of? Paper. And markers. And math manipulatives. As you think about possible game or lesson components, keep in mind what materials are easily accessible. Bringing too much in from the outside can be a hassle and is often unnecessary.
8. Build on strengths and interests: Actively try to discover what all collaborators like and what they're good at. Be attuned to moments of excitement and disengagement. Use each other's passions to help sculpt the game or project.
Teachers as Learning Designers
As Mission Lab becomes a space of collaboration between everyone in our school, one thing is clear to us: Teachers can design games, even without the help of a game designer. They can support one another. But first, they must begin to see themselves as designers.
By giving teachers a space to work together as designers, you're giving them a space to develop, test, reflect, and iterate on their work—a space to grow. When teachers go through a design process and emerge on the other side with a designer identity, they have a greater degree of agency in blurring the line between teacher and student, and in supporting each other as they rethink what learning can be in the 21st century.