Technology Integration
Come Along and Ride on a Google Expedition
With a smartphone and a simple virtual viewer, students can travel at any time, to any place, at the teacher's preferred pace, and for free.
The Google Expedition Pioneer Program is taking teachers and students on fantastic voyages. So what's the big deal? "Field trips are an expensive learning experience, but Google Expeditions is well on its way to finding an affordable solution," says Julie Shah, EdD (Technology TOSA at Godinez High School). I couldn't agree more. Julie adds, "Expeditions also allow students to experience places otherwise impossible through field trips, such as deep sea and outer space."
The Guided Tour Begins
Earlier this year, Julie invited me out to observe the Google Expeditions Pioneer Program on her campus. Honestly, I thought I was going to simply watch the students in action. Instead, a Google Local Guide greeted us when we entered the room. The guide took the time before the start of school to go over the basics with the teachers. Teachers also had an opportunity to use the Google Cardboard viewers as though they were students. With my tech support hat on, I did not take that moment to explore on my own. Instead, I found myself asking logistical questions and preparing to help distribute the viewers and devices to students.
Following the explorations, the teachers then selected expeditions aligned to their current curriculum or lessons of study. Next, they went back to their classrooms, where they were given a tablet to guide their own students on expeditions. Each student was then given a Google Cardboard viewer, with a phone and appropriate app already in place.
With viewers in hand, all of the students began their expedition with the guidance of their teachers. At certain times throughout the expeditions, teachers used arrows to direct the students' attention to key points of the location being visited on their expeditions. They could even slow the pace and movement of the expedition, similar to how a teacher guides students on an actual field trip.
So again, what is the big deal? Well, I had to see for myself!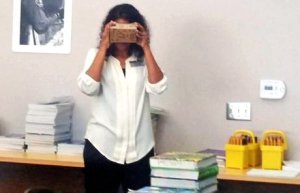 Photo credit: Julie Shah and Nicol Howard
Deepening the Content
The classroom teacher took us to the Great Wall of China. This is when it dawned on me that the ability to travel at any time, to any place, at your own pace, and for free is the big deal! We want all students to have rich cultural experiences aligned with current learnings. However, access to field trips is an ongoing equity issue. As I went on my own Google Expedition, I realized that the issue of equity related to field trips was not only applicable to students but also to teachers. How many teachers can say that they have been deep-sea diving or visited the Great Wall of China?
Although I am no longer a teacher in the K-12 classrooms, I recognize that my own real-life adventures inform my ability to deliver meaningful instruction to any student. Additionally, my connections to my content are deeper and therefore more evident to my students. These deeper connections bring to life the experiences of both the teachers and students. All of that said, I would not want to take away from the importance of going on actual field trips. However, virtual field trips such as Google Expeditions offer one idea for bringing the trip to students and teachers.
If you have already missed the Google Expedition Program, there are other ways to bring similar experiences into your classroom. Consider Discovery VR, a resource recommended by Patricia Brown, that can also be used with Google Cardboard, or a comparable viewer like the Andoer.
Have you taken your students on a virtual field trip? What medium did you use? How would you describe the experience?