Student Engagement
Read Across America: Reading and Seuss-Themed Resources for Teachers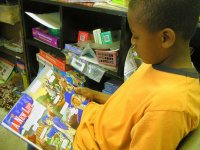 Editor's Note: This year, Read Across America day is Monday, March 3—a day later than usual. We published this reading-themed blog post last year for Read Across America and Dr. Seuss's birthday, and it was a huge hit with readers. This year, we've updated the post to include a few new resources. (Updated 02/2014)
Each year, teachers, students, and parents are encouraged to read their favorite books together in early March to honor Dr. Seuss, who once said, "You're never too old, too wacky, or too wild to pick up a book and read to a child."
Seuss, who was born Theodor Seuss Geisel, left behind quite the canon. His 46 children's books have sold more than 200 million copies worldwide, and for many readers, his books provide some of their first reading memories. In fact, Seuss's goal was to pen books that children found fun and exciting to read. There's a reason most feature a beginner's vocabulary. The Cat in the Hat, for instance, uses about 250 words, and there are just 50 different words in the favorite Green Eggs and Ham. (Seuss's editor had bet him that he couldn't write a book using only 50 words.)
On Read Across America Day, which was founded by the National Education Association, everyone can celebrate reading. There are plenty of great resources for teachers online, and this collection features some of our favorites. Along with lessons plans and resources to bring Dr. Seuss's books into the classroom, there are also some general reading resources that feature useful tips, tools and strategies for engaging readers.
Seuss-Specific Resources
Other Fun and Inspiring Reading Resources
Resources to Get Reading from the NEA: The National Education Association has produced some useful reading resources for parents and teachers. Along with great information for Read Across America events, there are tips for reading aloud, ideas for encouraging all students to read, and strategies for reading to infants and toddlers.
Dr. Seuss for Older Students from AdLit: These resources from AdLit.org are perfect for students in grades 4–12, and author Rachel Walker offers some great ideas for teaching older students about the social impact and activism of Dr. Seuss. AdLit is a great resource for teachers.
Great Read-Alouds from The New York Times: The New York Times Learning Network produced this post in 2010, and since, it's been growing every year. The post, which is perfect for Read Across America and World Read Aloud Day, features a trove of great Times content that's perfect for teenage readers.
Some Literacy Resources From Edutopia