Student Engagement
Strategies for Reaching Quiet, Disengaged, Struggling, and Troublemaking Students
Not every student benefits from in-class participation, immediate answers, inflexible grading, or harsh consequences. Learn the nuances for those requiring deeper recognition and a lighter touch.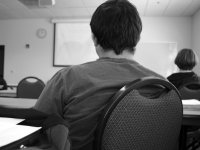 As a new high school history teacher, reaching a diverse array of learners posed my biggest challenge. Well into my third year on the job, I neither fully understood nor appreciated the unique strengths and challenges that my pupils brought with them. Now, after nine years in the classroom and learning from numerous failures, I still don't claim to have mastered the art of teaching or connecting with every kind of student, but I do have some thoughts on how to avoid my rookie mistakes.
The Quiet Student
I wonder whether teachers are right to encourage introverted students to "come out of their shells." Some time ago, I stopped grading for class participation to help the quiet students know that they can succeed in my classes. Any type of assessment is subjective, but counting class participation feels especially so. I still notice no clear correlation between how much an individual speaks, including the quality of what he or she says, and performance in all other aspects of the course.
To check my thinking, I spoke to Susan Cain, author of Quiet: The Power of Introverts in a World That Can't Stop Talking. "I hear too many stories of children who are given the message by very well-meaning teachers that there's something wrong with the way they are," Cain says. "I think well-meaning teachers see their role as being to turn introverts into extroverts. We really need to understand that an introvert is a totally normal personality type." When assessing, I strive to take Cain's words to heart.
The Disengaged Student
Unlike quiet students, who may be interested in the material but don't often share their thoughts in discussion, disengaged students rarely see any relevance or usefulness in whatever is being taught. To address this, I give students the option of proposing their own essay or project topics, which enhances ownership of the learning. I also find that too many students are dependent on adults for guidance and direction. Often, I refrain from giving immediate answers not just to promote self-reliance, but also to spark a genuine sense of joy in learning something for oneself.
Will Richardson's short but insightful book, Why School? How Education Must Change When Learning and Information Are Everywhere, suggests that teachers are no longer the only source of classroom knowledge -- much less the best. "We have access to so much more information, knowledge, and so many more people know that the key to becoming successful in the future. . . is if [students] can self-organize their own learning," he told me. "Can they find their own classrooms? Can they create their own classrooms and create their own curriculum?" In my teaching experience, this is when students become most engaged.
The Struggling Student
I want students to know that they can recover from failure. Too often, intelligent, capable young people feel a sense of futility after getting a low grade. Moreover, many of those students begin to feel that after a series of blows, even their teacher senses the uselessness in trying to offer any additional help. Accordingly, my students have a one-week window to retake most assessments -- and I count only the higher of the two attempts. If the student fails a second time, depending on the circumstances, I allow a retake only if she finds a time to meet with me.
Along those lines, few people have influenced my thinking more than Rick Wormeli, author of Fair Isn't Always Equal: Assessing and Grading in the Differentiated Classroom. "I do whatever it takes," says Wormeli, who is also one of America's first National Board Certified Teachers. "The goal is that they learn the material, not that they learn it by one calendar date. That path is going to vary from student to student." In my classroom, I care less when a particular concept or skill is mastered -- just that it is in fact mastered.
The Troublemaking Student
It's important to help young people understand their misdeeds. I am less convinced, though, that consequences always cultivate a positive and lasting change in the offenders' behavior. I favor prevention and education as the best course of action, and I do my best to point out and model exemplary behavior. Moreover, I challenge students to follow healthy academic and social practices.
Curious for his input, I reached out to Alan E. Kazdin, a professor of psychology and child psychiatry at Yale University. "We know that when you model things, it changes the child's brain," says Kazdin, also author of The Everyday Parenting Toolkit: The Kazdin Method for Easy, Step-by-Step, Lasting Change for You and Your Child. "It's a very powerful tool parents have, and they kind of carry a hammer around not realizing it's a hammer." Kazdin also says parents and teachers are mistaken to put too much stock in the effectiveness of the "teaching moment."
"Three strikes and you're out -- the effectiveness is a myth. All these things don't change behavior. I wish they did," he says. With this in mind, I do my best to reassure students frequently that I believe in them, and that they don't need to cut corners to succeed. I acknowledge that I still feel conflicted about how to deal with serious repeat offenders. I support suspension or expulsion, but only as a last resort to help a student understand the severity of his actions, in hopes of helping that person change for the better.
How do you reach out to different kinds of students?