Technology Integration
QR Codes: Pushing the Narrative on Scannables
QR codes still have a place in the classroom, leveraging deeper learning by giving students the ability to access, curate, engage with, and share teacher-selected content.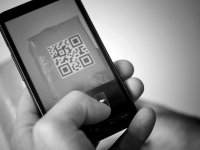 The first time that I tried to scan a quick response (QR) code, I held my iPhone up to a poster on the subway. I was underground without any cell service, and I didn't know that there was such as thing as a QR code reader app. All I knew was that my camera had something to do with it, yet nothing was happening.
I understand the temptation that a marketing firm must feel to place a QR code on everything. From a drink coaster to a cereal box, I've seen QR codes just about everywhere. In order for this marketing tactic to work, consumers must embrace the behavior of scanning to access more information, which means that they'd have to see the value in doing this and build a routine for scanning into their everyday lives.
The ACES Framework
In the classroom, QR codes can be used for a purpose. They can be thoughtfully integrated into instruction in a way that elevates traditional learning experiences. I've just written a new book for Corwin Publishing all about deeper learning with scannable technology. I'm committed to the idea that technology integration has to be purposeful, and I believe that scannable technology has the potential to transform learning environments.
To discuss scannable technology integration, I've developed the ACES framework -- access, curate, engage, and share. These four categories overlap and intertwine to provide a language for examining thoughtful integration of scannables.
Access
QR codes provide quick and easy access to content hosted on the web. Whether it's a video, short passage, image, or file, students can scan a QR code and access content in seconds. QR codes are device agnostic, and students can scan them with any smartphone or tablet that has a QR reader app connected to the internet. They don't have to type in a long web address or navigate a search engine. They simply open the app to access the content.
Curate
As an educator, you are constantly curating content for students. You decide which video clip is perfect to kick off a lesson or which current events article will connect to your learning goals. With QR codes, teachers can connect resources they've handpicked for their students. This could include differentiated resources geared toward a handful of students or material that you want the whole class to explore.
Engage
A QR code scavenger hunt will get students moving around your school or classroom, but think of engagement as more than grabbing a student's attention. True engagement gives them a purpose to interact with content. Students can scan a resource guide in their writing folder to find the answer to a question, a page in a textbook to hear a speech come to life, or a map that suddenly becomes interactive. Scannables give students opportunities to engage with the content that you've handpicked for them.
Share
In addition to giving students quick and easy access to curated, engaging content, QR codes can be used to share student creations. Creating with technology tools provides opportunities for students to demonstrate understanding while producing a shareable piece of work. QR codes can connect to digital student work hosted on the web, including videos uploaded to YouTube or posts on a blog. Placing these QR codes in meaningful spaces -- like a student-created book trailer on the cover of a book, or an audio recording on a piece of student artwork -- can connect student work to shareable spaces.
Deepening the Context
I taught in a classroom where scanning QR codes became a normal routine. My students knew that this practice would take them somewhere, whether it was a piece of informational text or a movie to watch. They knew this was content that I'd handpicked for them to view and interact with. If you build this behavior into your classroom routine, you'll create students who are empowered, curious, and on task.
Earlier this year I came across a video that showed how QR codes can be used to share content with a call to action. In a mural in London, the artist Banksy incorporated a QR code to give viewers of his artwork the context to understand his message. He used it to connect the audience with a video to elevate the experience with his artwork. This is a powerful example of how scannable technology, when used thoughtfully, can transform the way we think about interacting with the world around us.
Share your experiences with scannables in the comments below.