Student Engagement
Points, Champions, and Leveling Up: A Different Classroom "eXPerience"
The rules and rewards of gaming transform a middle school social studies class into a fun, competitive environment where learning equals winning.
If you asked one of my students about my social studies class, he or she would tell you that it's full of experience. It is, but not quite in the way that one would think. When it comes to middle school kids, there are times when adaptability works better than conformity. They are their own unique species, and I've learned that sometimes it's easier for me to learn their language than it is for me to teach all of them my language.
I believe that, as an educator in a rapidly changing and developing world, it's worth the risk to try out new ideas in the classroom. The worst that can happen is that a lesson goes awry. The best that can happen is student engagement and learning.
We've all heard the expressions about there being more than one way to skin a cat or cook an egg, and education is no different. So when I had to find a way to improve classroom engagement, participation, behavior, and assignment completion, I had two choices:
I could find ways to get students to conform to something easy on me and strange (or worse yet, lame) to them.
I could use something in which they were already fluent.
I chose to speak their language.
The Power of Experience
Fortunately for me, I'm not too far into my career. But while I am a young novice teacher compared to many of my colleagues, I am a wise old sage of the millennial generation. I decided to use this to my advantage.
For example, I've developed ideas on how to structure my classroom in a manner that most kids would understand and also enjoy. I'm a self-professed gamer, and I love the idea of "leveling up." For those not familiar, video games such as Call of Duty, Halo, and Gears of War, as well as massively-multiplayer online roleplaying games (MMORPGs) like World of Warcraft, Star Trek Online, and Star Wars: The Old Republic, do the same thing. The more time and effort players put into a game, the more "experience" they earn. These experience points allow the player to progress through levels, unlocking abilities or gear, and earning status in the gaming world. I decided that school could work the same way, and set out to make it a reality.
In my social studies class, grades, participation, and behavior earn students experience points (XP). These points allow students to progress through the ranks of the U.S. Army from private all the way to four-star general. Additionally, students have opportunities to become a champion for different extraordinary accomplishments. As champions, they get to wear a title belt (toy wrestling belts) to show off their status. While there are lots of ways to celebrate success, I felt that it was important to do it in a way that students would enjoy and look forward to.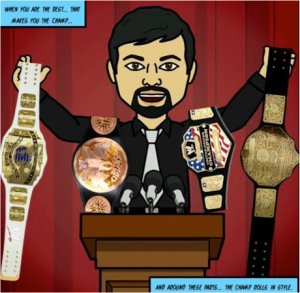 Image credit: Brad Jacobson
Every point on every assignment, quiz, test, or project counts toward the student's total XP. Each time a student raises a hand in class, he or she earns a point for participation. I use Class Dojo to keep track of points for behavior and participation. My grading program keeps track of points for assignments. I combine all of these into a Google Sheets spreadsheet and award students ranks and titles using ClassBadges.
Rank Has Its Privileges
Every few weeks, students are "paid" based on their rank. I use raffle tickets that students write their names on. I draw these out for prizes like soda, candy, or even lunch on the teacher. The way to a middle school student's heart is truly through his or her stomach. Students receive bonus tickets if they hold a title belt, or if they have proven useful to me. These helpful students become quartermasters and are in charge of all sorts of things from passing out papers to making copies and even assisting in grading assignments.
All types of students choose to participate because there are many ways to be successful. They keep track of their rank by placing their name next to the current rank on the wall. Champions and quartermasters are displayed the same way.
There are much simpler ways that I could go about promoting success in my classroom, but doing it in a way that students understand and embrace is what really matters to me. I strive to be different. And being different is important in middle school because my kids are truly a unique species of student. Being different is fun. Being different has gotten me results. (Besides, being the same is just boring.)
So why not? Is this approach right for everyone? Probably not. But that doesn't mean that there isn't a right approach out there for everyone. Take a look around, and find out more about your students. Ask them questions. Find out what they like. There's no sense in reinventing the wheel -- just re-purpose it.
Please share your own innovative classroom practices in the comments below.