Project-Based Learning (PBL)
My PBL Failure: 4 Tips for Planning Successful PBL
Here are four lessons learned from a failed PBL unit: align with the school calendar, allow planning time, carefully create the topic and guiding question, and collaborate with peers.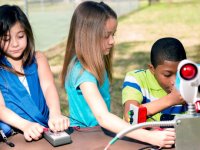 I went into my second PBL unit with the intention of making it something that my students would find more interesting than our first project. Not that our first was uninteresting, but this time I wanted to focus on a topic that would really drive their interest. Our first project, filmmaking, had kept them interested. The subject of their films, recycling, hadn't been the driving force for them. I hoped that our second PBL experience would combine an interesting topic and work to keep them engaged. However, despite this goal, that second unit turned into what my students might call an "epic fail."
The Project
There were multiple "fails" with this project, but the biggest was interest. I thought the topic would fascinate my students: themselves. This "Self-Study" was intended to examine who my students are, their family heritage and culture, and who they want to become. It was aligned with a study of different types of self-portraits, and the final project would have been a self-portrait of their choice.
When I introduced the guiding question, "Who Am I, Really?," it didn't spark any curiosity among my students. Though they participated in the lessons, they seemed to be doing this for the participation grade, not learning or creating a final product. PBL differs from "regular" projects because it requires students to stay focused and demonstrate competency throughout the project. It isn't a project given to reward students for their learning -- the learning and the process are the reward. I now wish I'd asked my students why the self-study didn't interest them. Was it the question, the introduction event, the lessons, the project? In the future, I will likely have my students reflect on what they liked or didn't like about a project.
I made three big mistakes that impacted the success of my project:
I failed to consult my district calendar, and the project was broken up by vacation and testing.
I didn't give myself sufficient planning and collaboration time, which affected the thoroughness of my plans and reflection.
I didn't consult my students when choosing a topic and guiding question.
Ultimately, I decided to scrap the project. I discuss failure frequently with my fifth-grade students. Although disappointing, failure is something that we can learn from. As a teacher, I try to have this same state of mind, and on reflection, my PBL failure has given me perspective on what's needed to plan a successful PBL unit.
Planning Your PBL
1. Calendar
Look closely at the other demands on your learning time. Are there any breaks? Required testing? The introduction event for my PBL unit was right before spring break, and when school started up again, three weeks of state testing made the project feel disjointed. Planning around potential conflicts will help to ensure that your project isn't interrupted.
2. Planning Time
For my first PBL unit, I was fortunate to have time at the beginning of the school year to plan my project. However, I planned the second project in pieces, a few lessons here or there, but never in its entirety. Ask your administration for some release time or plan over a long break to ensure yourself the time to focus on creating a thorough project. Planning out your project with the end goal in mind will make it easier to implement. Additionally, this gives you the opportunity to contact potential classroom guests and plan related field trips.
3. Topic and Guiding Question
The success of a PBL unit relies heavily on student interest. Choosing a topic that motivates students to keep researching, ask more questions, and examine in depth means finding something that resonates with them. Survey your students about their interests and give them an opportunity to choose a focus together. This doesn't mean giving your class complete control -- the guiding question is a key component to a successful PBL unit, and it should align with the standards and skills that you hope to address. I suggest having your students vote on a subject which you would then align to your content standards and create learning objectives for it.
4. Collaboration
Planning and implementing PBL takes time and effort, and it's easy to get wrapped up in the day-to-day of an ongoing project. What made this easier in my first PBL unit was collaborating with my colleagues during the planning, implementation, and post-project reflection stages. Having the time to bounce ideas off other teachers and coaches was essential when I was creating the project. During implementation, I had the benefit of working with my grade-level team, who were conducting similar PBL units at the same time. We were able to share successes, give advice, and make adjustments based on each other's critical eye.
Putting It All Together
These four steps aren't everything you need to plan a successful PBL unit, but a well-planned project will rely on your calendar, collaboration, a strong topic and guiding question, and your planning time. This past summer, I planned the PBL unit which I'm implementing this fall. Along with the four tips outlined above, I'm thinking about academic standards, assessment and rubrics, the skills that I want students to use and learn, field trips that might relate to our topic, and experts that I can invite into the classroom. Though my springtime PBL unit was a failure, it provided ample opportunity for reflection on what's needed for planning a successful project, and in turn creating opportunities for deep learning in my classroom.
Have you had a PBL unit crash and burn? What mistakes did you make? How did these mistakes help you be more successful the next time?