Maker Education
Middle School Maker Journey: Students' First Impressions of "Digital Shop"
In part three of his year-long series, Kevin Jarrett looks through his middle school students' eyes as they discover and begin exploring their school's new makerspace.
The big day was upon us. Hundreds of man-hours of preparation. Thousands of dollars invested in equipment and supplies. An untested, unproven design incorporating materials not usually found in schools. How would students react? Would we achieve our objective: creating a student-centered, flexible learning space that inspires creativity, curiosity, and wonder?
Hear from the students and decide for yourself:
Maker Fridays: A Huge Hit!
We've dedicated Friday afternoons as open lab time for students to work on self-directed projects. They must apply for a Maker Pass and meet certain requirements:
They need to propose something specific to work on or learn.
They need to have no outstanding schoolwork and be willing to make up anything presented in the class they miss.
The teacher whose class they are missing needs to OK the request.
Here are quotes from some applications:
20,000 Reasons to Love the Program Even More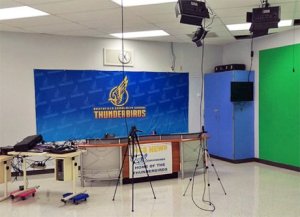 Photo Credit: Kevin Jarrett
Northfield Community Middle School's video recording facility under construction.
Back in December 2014, our school received $20,000 from Samsung as the New Jersey state winner in their national Solve for Tomorrow contest, recognizing our work with American Legion Post #295 on the Post Crashers project. Modeled after the TV home repair show House Crashers, kids and adults from the school and community remodeled and refurbished this local facility, painting walls, landscaping, and more.
The school's video production facility, which we used to create Post Crashers, has become an integral part of our Digital Shop makerspace, because we consider video production another form of digital making. The studio now includes an anchor desk donated from FOX 29 in Philadelphia, a floor-to-ceiling green screen with multiple monitors, high-power LED lighting, and a full complement of production equipment including a NewTek Tricaster live production and streaming system. Students will be responsible for producing morning announcements and other productions throughout the school year, which we'll broadcast internally as well as on local access TV. Here's a photo of the studio under construction:
Full STEAM Ahead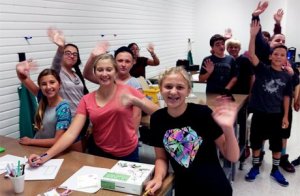 Photo credit: Kevin Jarrett
With our makerspace now in full swing, excited kids are coming in daily -- and they don't want to leave! Recently, some of my eighth-grade students asked, "Can we eat our lunches in here?" Principal Glenn Robbins gave the OK, and Eighth-Grade Maker Lunch was born. So far, these students have:
Begun planning inventions, including a solar-powered sprinkler that communicates weather conditions so that its owner can control watering and reduce water usage
Discussed forming startups together
Shared the lip glosses they invented at Tech Trek (awesome local technology summer camp for girls)
Programmed a series of drones (Dash & Dot, Parrot Rolling Spider, Ollie & Sphero) to do a variety of creative things
Created accounts on Tinkercad.com and started designing in 3D
We're off to an incredible start. But it hasn't been completely smooth sailing! Next month, I'll reflect on our first full month of operations, including what went well and what could have been better. Stay tuned, and thanks for reading!