Maker Education
Middle School Maker Journey: 19 Days (and Counting) to Launch
In part two of his year-long series, middle school teacher Kevin Jarrett reviews the manifesto, mantra, and materials necessary to make a maker program from scratch.
This image isn't a game of Breakout -- it's my summer calendar. Red represents days that I was working outside the district. Green represents my days in the district, either in my new space, writing curriculum, or some other #DaedalusProject task. What have we accomplished in this short amount of time? Where do we stand? Will we be ready for students on September 8?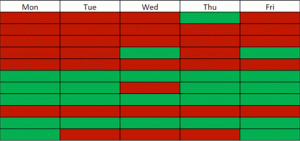 Image credit: Kevin Jarrett
Learning Space Design
We began envisioning the space by focusing on the experience that we wanted students to have. They'll be designing, collaborating, making things move on the floor. They'll need easy access to a range of tools, bins of small electronic parts and supplies, and lots of craft supplies. They'll want to brainstorm anywhere, use (and safely disassemble) various types of electronics, and reconfigure the space as their needs dictate. These understandings, in light of several constraints (former "computer lab" with fixed walls, one entrance, no windows, almost no storage), led us to make some design decisions about the space and its furniture.
Work Tables
What initially began as a DIY project (we found and loved these Formufit PVC Maker Bench Tables) became something of a logistical nightmare. We had difficulty sourcing the materials and had to alter our design. Unhappy with the end product, we investigated several other options before settling on Global Industries' open-leg, adjustable-height work tables. We'll bolt two tables together and mount them on casters, creating a collection of five movable 72" x 60" workspaces, each capable of accommodating at least five students. We'll have just a few stools for kids who absolutely need them, as we expect most of the work in the studio will be done standing up.
Slatwall (a.k.a Slotwall)
A photo of a makerspace I saw in Jennifer Cooper's Designing a School Makerspace post presented a solution to our storage problem. Businesses use Slatwall to easily display and organize product, and it seemed to be our ideal solution. We couldn't afford to use it on every wall in the space, so we settled on two of the three largest.
Dry Erase Wall Surfaces
My previous classroom had a giant "whiteboard wall" that kids used constantly, and I wanted to incorporate one into my new space. Our head of maintenance suggested Sherwin-Williams Dry Erase Coating, which we're using on two of our walls. This clear coating covers existing paint or other surfaces and makes them writable. We're planning to cover the work table surfaces with it as well.
These are just a few of the physical improvements that we feel will create the student-centered environment we're looking for.
Learning Management System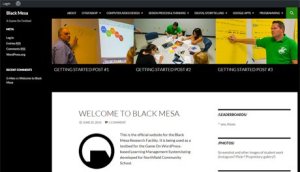 Image credit: Kevin Jarrett
The idea for an LMS began with a simple thought: Within the curriculum that our students need to master, how might we let them learn what, when, how, where, and with whomever they want? The answer: Make an online, anywhere-anytime, gamified, online learning system with a Wordpress blog running a powerful, flexible, free plugin called Game On. Follow the preceding link, scroll down to the "What does Game On do?" link, and watch the five-minute video for more information. As for how we'll be using it, visit my previous post for a description of our intended program.
Expecting the Unexpected and Managing Expectations
To be honest, this process -- designing a program that's never existed before, in a ridiculously compressed timeframe, with so many possible points of failure -- is simultaneously exhilarating and terrifying. Fortunately, my administration is behind me 110 percent. They believe in me!
What are the expectations around this program? What do we hope to achieve? How will we measure success? Since we knew that we wanted to ground the experience in design thinking, we used design thinking to create the program.
In July, we retained digital learning strategist David Jakes to lead a design charette at our school. A collection of teachers, administrators, community members, and parents worked to collectively answer the question, "What is a 21st-century learning experience?" The result was our manifesto, which will guide us as we strive to make our middle school students "life ready":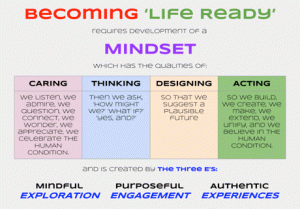 Image credit: Kevin Jarrett (Click image to enlarge.)
The manifesto led us to our mantra, the words that will guide our work, lessons, interactions, and purpose:
Care
Empathy, the essence of design thinking, will anchor our collective experience. Students will learn how understanding another person's feelings will enable them to solve problems and design solutions that make a real difference for that person -- and the world.
Think
Students will learn intentionality -- being deliberate or purposive in pursuit of a goal -- as they apply their full creative and intellectual abilities to solve problems they discover.
Design
Once a solution is envisioned, it must be designed, prototyped, and created in a first iteration so that it can be presented to the person for whom it was created. Our students will leverage the latest digital technologies (coding, 3D design and printing, programmable microcontrollers) as well as decidedly low-tech craft materials (cardboard, pipe cleaners, paper, craft sticks, and hot glue) to determine their solutions' form and function.
Act
A designed solution can take many forms: a physical object, spoken words, a change in behavior, an act of kindness. The act (the core of action) takes an idea from a concept to reality.
Working toward this mindset en masse will lead, we believe, to transformational change that will ripple through our entire school community.
Goals for the Year
Why bring back shop class -- digital or otherwise? Because we can. We have the resources, resolve, and vision to make it happen.


In this era of high-stakes standardized testing, shouldn't we focus our efforts on improving test scores? We are. Students will need solid language, math, and science skills to do well in our program. We're doing our best to ensure that they will be intrinsically motivated to acquire them.


Doesn't all the talk about "design thinking" represent the latest pedagogical fad, sure to be forgotten as the educational community moves on to the next big thing? No. Why not ask the Stanford University d.school for their opinion?
On the eve of launching this innovative new program, we're filled with anxious anticipation, energized enthusiasm, and cautious optimism. One thing is certain -- we won't know how well (or even if) this design will work until students first walk into the studio on September 8.
Wish us luck. We're looking forward to letting you know how it goes!