Student Engagement
Making Connections
When teachers make a point of connecting with students as individuals, those students will feel valued, be willing to take risks, and ultimately thrive.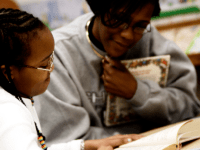 My son has a certain joie de vivre. He can transform any collection of items into a drum kit and may break out in Z100 Hot Hits should he feel the urge. One afternoon in early September his teacher sidled up to his table and said to him, "I don't know for sure if you're going to win a Grammy, but I know that you will certainly be nominated. Don't forget that I was the first one to predict it."
I should mention that he is adjusting to a new state, a new city, and a new school -- changes that would challenge all of us even on the best of days. "Will I make friends? Will I like the school? Will I like my teacher?" Initially, he had a difficult time discerning homework expectations and whether he even wanted to meet them.
Soon after his predicted Grammy, our boy reported that his teacher had given him a nickname. "I was going to get a book, and I don't know why, but I started walking like this." (Elbows out, chest puffed, he strutted like a rooster across the floor.) "My teacher called me Mick. Mick Jagger." His smile in the recounting could have lit up Madison Square Garden. "She's the nicest teacher I've ever had."
Once he was recognized as one half of the Glimmer Twins, his comportment transformed. Now, after decompressing from the day, and with a snack or two comfortably ensconced in his belly, he breaks out his homework without complaint. He will try to decipher word problems involving division, remember the difference between who enforces laws ("That's the executive branch.") and who interprets them ("That's jujishal, I mean judicial -- that's a hard word to say!"), and ask questions of his folks when he is unsure about any of it. Each night he is putting forth his best effort. Each morning he proudly submits that work to the teacher who connected with him, who essentially showed him, "I get you."
What the Research Tells Us
From my experience as a student (waaaay back in the day), a teacher, and a dad, I believe strongly that making connections with kids is the foundation upon which all learning is laid. My data in this area has been purely anecdotal and qualitative, not to mention that my parental sample size of exactly two is relatively small. However, others have conducted more extensive research about this dynamic. Christi and David Bergin concluded in Attachment in the Classroom (PDF, 452KB), their 2009 study that examined the impact of relationships and teaching:
Around the same time, Michael Reichert and Richard Hawley focused specifically on boys and their relationships with teachers. Their research from six countries revealed that specific components of teacher actions in relation to their students can prove very beneficial, including maintaining admirable standards, reaching out (to meet a student's needs), and responding to a student's personal interest or talent (Reichert and Hawley, Kappan, 2013, pp. 50-51). Charlotte Jacobs, Peter Kuriloff, et al referenced this research as they examined the effects of student-teacher relationships with girls. They found that girls, too, are "relational learners," and that they derive benefits from their peers as well as teachers (Jacobs, Kuriloff, Andrus, and Cox, Kappan, 2014, p.69).
In Visible Learning and the Science of How We Learn, John Hattie and Gregory Yates consider positive teacher relationships crucial to both student learning and the growth mindset:
Forming Bonds
Make a connection. I would suggest that you do this not through a beginning-of-the-school-year interest survey, but through conversation. Sharing is a simple yet elegant entry into children's lives and -- don't overlook this -- doing so allows children into yours, too. Everyone can share about what we did over the weekend, or what we're looking forward to this weekend, or both. Who likes scary movies? Who's reading fantasy novels and who's playing fantasy football? Who had a baseball game and who had a piano recital? Who loves to draw -- and who else does, too?
As whole-class discussions provide an abundance of junctions where folks can meet, one-on-one conversations let us mine deeper veins of communication that may lead to even greater trust. Understanding where a child comes from, how they are feeling, what inspires them, and what bums them out, these connections form bonds strong enough to allow kids to try genuinely putting themselves out there to succeed and to fail, because they know that you will ultimately be there to catch them should they fall and to fist bump them when they rise.
One more recommendation: Have fun. Play games. Laugh at yourself, because everyone will recognize that you are not some pedestal-residing, self-serious automaton -- rather, you are human, you enjoy what you do, and you absolutely enjoy everyone in your classroom.
When we make connections large and small with our students, when we consciously build trust, we improve learning opportunities for everyone. And coming to school is just plain fantastic.
How do you connect with your students? Please share in the comments section below.