Technology Integration
Future Ready: Roadmaps to Tech Integration
Effective tech integration begins with strong leadership, mutual trust among all players and stakeholders, and a logical, sustainable plan.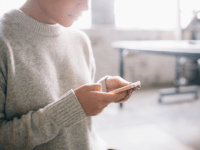 Trust and Leadership
I have been working with 1:1 and non-1:1 environments over the past four years. I have consulted with countless districts on what needs to be planned in order to make this transition practical, successful, and sustainable. Unfortunately, the first question I am typically asked is, "What device is best to impact student learning?" While this is an important question, it's not the first one you should be thinking about when planning your transition. The driving force behind any technology initiative is this: Innovation in the classroom begins with trust.
In all of my research and experiences working with schools, this is the common idea that schools gloss over. Technology integration is not about devices, nor is it about apps. Simply put, it's about challenging our students' thinking and trusting in our classroom teachers to develop and design creative paradigms for instruction.
Ultimately, effective leadership is at the core of trust. District leaders must look to develop a culture shift that starts with trusting those individuals they put in place to lead their initiatives. District leaders must also be open to thinking outside the box when it comes to developing technology plans. They need to understand that we don't buy or integrate technology like we used to do 10-15 years ago. Technology is constantly moving and evolving, and while we as educators must keep up with it, we must also balance our approach to integrating technology. The school or district that moves too quickly or tries to stay too far ahead of the curve may soon find itself in a hole.
Once you've established trust and had many conversations with all stakeholders in your school community, your school or district must set goals. It's always healthy to have a district goal, but similarly, to create school-based goals around technology integration. Every school in the K-12 spectrum will use these tools differently. Therefore, I suggest developing goals for each school building. I've done this by creating PLCs around technology integration within each building. Every month we connect, share ideas, and ensure that we are consistently looking at our goals as we move forward.
5 Ways to Plan a Tech Initiative
These goals can be viewed in a broader context by listening to what's coming from the U.S. Office of Educational Technology. The Future Ready campaign is providing roughly $2 billion to support new standards for e-rate and connect up to 99 percent of American schools, among other goals. While this campaign will surely provide more access within schools, there also needs to be commitment from school leaders to sustain this momentum.
In The 1:1 Roadmap, I suggest a route for district and school leaders to follow. Much like the Future Ready campaign, I suggest that there is no single path but rather many avenues to explore when designing a sustainable technology initiative. Every school and every district will approach these initiatives differently. What's more, districts shouldn't spend too long in the pilot phases of technology integration. The reason is that pilot initiatives can sometimes resemble longitudinal research, and while this is happening, an entire generation of students may miss out on access and opportunities to devices and digital resources. Instead, I suggest the following planning phases:
1. Begin With the End in Mind
Develop goals or a vision for technology integration. Begin by surveying all staff and students to ensure that all voices are heard. This will give you baseline data for measuring the growth of your initiative as well as starting out with everyone feeling comfortable about the decision. It should never be a top-down decision, and it should be reexamined and developed yearly.
2. Useful Data
Use the data gathered to select an instructional model for devices. Schools will want to look at their current infrastructure to ensure that it can handle a host of new addresses. Additionally, schools will want to look at access points and get a heat map of where the greatest saturation of address requests is happening in the building. Ultimately, when selecting a device, it should come back to what students and teachers feel comfortable with, while keeping in mind what your infrastructure can actually support.
3. Management and Privacy
Depending on what device you select, district leaders should develop a management system to ensure device safety and security. This type of mobile device management (MDM) system also provides a consistently updated inventory. In some cases, MDM systems can help district technology leaders push content and resources remotely to devices. Additionally, district leaders will want to become familiar with CIPPA, COPA, and FERPA to ensure student privacy.
4. Develop Workflows
Depending on the device you select and the quantity you use, this will be vastly different. Many schools that I work with have a foundation of Google Apps for Education. This environment has served school districts well and is being used widely by colleges and universities across the nation. However, many districts have recently adopted Microsoft 365 to integrate as well. Regardless of the workflow you integrate, district leaders should listen to the voices of all who submitted to the aforementioned survey of staff and students.
5. Support
Districts must commit to supporting these initiatives consistently. There should also be a tiered approach to professional learning offerings. Much like we differentiate our instruction, we should do the same for different levels of professional learning. Ultimately, the professional learning opportunities should resemble a conversation and allow time for staff to connect, share, and learn from each other.
In the comments below, please tell us how your school or district planned and carried out its technology integration program.