Technology Integration
Should You Flip Your Classroom?
There is a lot of buzz around the flipped-classroom model. Blogger and AP Chemistry Ramsay Musallam covers the pros and cons and offers a framework to help you consider whether flipping is the approach for your classroom.
October 26, 2011
Updated December 10, 2014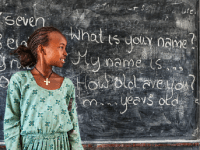 At its core, "flipped instruction" refers to moving aspects of teaching out of the classroom and into the homework space. With the advent of new technologies, specifically the ability to record digitally annotated and narrated screencasts, instructional videos have become a common medium in the flipped classroom. Although not limited to videos, a flipped classroom most often harnesses different forms of instructional video published online for students.
Despite recent buzz, catalyzed primarily by Salman Khan's TED talk, flipped instruction is by no means a new methodology. In the early 19th century, General Sylvanus Thayer created a system at West Point where engineering students, given a set of materials, were responsible for obtaining core content prior to coming to class. The classroom space was then used for critical thinking and group problem solving.
The Pros
Advocates of the flipped classroom point to its potential as a time-shifting tool. Jac de Haan, author of the blog Technology with Intention articulates this well:
". . . the focus of flipped teaching is different from other examples in that the technology itself is simply a tool for flexible communication that allows educators to differentiate instruction to meet individual student needs and spend more time in the classroom focused on collaboration and higher-order thinking."
And Cons
Critics of the flipped classroom argue that online instruction puts students that lack Internet access at a disadvantage. Moreover, whether delivered in class or via instructional videos, lecture is still a poor mode of information transfer. This argument is outlined very well in Harvard Physics professor Eric Mazur's talk Confessions of a Converted Lecturer.
Flipped Classroom in Perspective
Personally, I feel the current flipped classroom hype is blown way out of proportion. The flipped classroom is a simple concept that needs no title. Good teaching, regardless of discipline, should always limit passive transfer of knowledge in class, and promote learning environments built on the tenants of inquiry, collaboration and critical thinking. We, as educators, must strive to guide students through perplexing situations, and more importantly, work with one another to develop the pedagogical skills to do so. Keeping this in mind, good teaching comes in many forms, and the flipped-classroom mentality can be one of many solutions for educators.
As an instructor of Advanced Placement (AP) Chemistry, I find myself torn in two directions. The science teacher in me is deeply committed to the process of inquiry, and arming my students with the skills needed to construct and test their own ideas. The AP teacher in me fears sending my students off to their examination in May having covered only a portion of all the content required. Given this tension, I have found merging aspects of inquiry learning and video-based instruction helps me address both needs. My blog at CyclesOfLearning.com has a more detailed explanation of how I use this method in my AP Chemistry class. Here's a blog post by Jackie Gerstein that clearly places flipped instruction in the context of an inquiry learning cycle.
Reflection
If, like me, you are interested in using aspects of the flipped classroom to address an issue in your practice, I encourage you to reflect on the following steps first:
Step 1: Identify your current or desired teaching style.
Step 2: Ask yourself this question: Given my style, do I currently use class time to teach any low level, procedural, algorithmic concepts?
Step 3: If yes, begin by creating opportunities for students to obtain this information outside of the classroom. (More info on creating annotated and narrated instructional videos).
Step 4: Include a system that encourages reflection and synthesis of homework-based instruction (Click here and here for ways to make instructional videos more interactive and reflective).
Hopefully the above steps are a helpful. As we are all aware, teaching can be a very powerful, and often very personal act, where the right way is as diverse as the students we are blessed to work with. Parker Palmer reflects on this notion:
"Good teaching cannot be reduced to one technique; good teaching comes from the identity and integrity of the teacher."
On this note, I would like to share a personal story that I feel provides a metaphor for why the flipped classroom is a technique that works well for me. On May 25th of this year I underwent a fairly complicated open-heart surgery to correct an aneurysm of my thoracic aorta that was found randomly at a routine check up. The surgery went well, and five months later, minus a long scar down the center of my chest, I rarely think of the physical struggle that was the summer of 2011.
Throughout the process, I was very impressed with the confidence and knowledge my thoracic surgeon embodied. Then one day, it hit me: My surgeon had a teacher! He learned to how to perform my surgery in school! An instructor taught him how to do something, something very, very important, in a very effective way! As a teacher myself, I have a hunch my surgeon didn't learn how to repair my aorta by passively taking in information through a textbook or lecture. Rather, I'm certain his confidence and skill was cultivated through hours of inquiry, trial and error, with strong mentors by his side the whole way. In short, I'm sure he learned by doing, not observing.
We must strive to be facilitators, mentors and guides for our students, as if what we are preparing them for, much like my surgeon, will one day change lives. Any teaching methodology that amplifies this role is a step in the right direction.
Are you using various elements of flipped instruction in your practice? If so, how are you using it to foster student inquiry?