Student Engagement
3 Great Films for Teaching About Globalization and Modernization
With the advent of modern mass communication and world tourism, dramatic change has come to nations and cultures which had previously seen little change for centuries. Each technological or social innovation has brought unexpected and unintended consequences. One of the challenges of teaching global issues in middle or high school is helping students grasp abstract economic concepts like globalization and modernization. A well-chosen film, watched actively and with supporting curriculum, can make the difference in helping students understand how these abstract processes work out in human terms.
Irrevocably Connected
Globalization is used here to signify the worldwide integration of previously distinct cultures and economies and the consequent exchange of products, ideas and methods of operation. In such a globalized world, many of your students will eventually enter jobs that will require knowledge and understanding of other cultures.
A simple exercise will show the extent of globalization: assign your students to go through their closets at home, looking at clothing labels and listing the countries where the clothing was made. Or send them to the supermarket to see how many imported products they can find. (As I write this, there are strawberries from Chile, cheese from Ireland and bananas from Nicaragua in my kitchen. The scallops in the Chinese-style stir-fry I plan for tonight's dinner may be from Peru, Mexico, Canada, China or Japan.) Or have students scan a major newspaper. A recent scandal for the winter U.S. Winter Olympic Team's fundraising mitten sale revolved around the fact that the mittens were made in China rather than in the U.S. And of course, we are all aware of the credit card security breach at Target late last year, resulting from malicious code allegedly written by a 17-year-old Russian and allegedly sold to Mexican scammers, among others.
All these examples come from the United States. What has happened elsewhere as a result of globalization, to a greater or lesser degree, is termed modernization. New technologies seep into, are welcomed by or forced upon traditional societies, with a consequent influence on traditional culture. Japan's adoption of Western weapons during the Meiji Revolution or Peter the Great's modeling Russian palaces after French architecture are classic examples of rulers forcing modernization upon a sometimes unwilling populace. Today, proponents of political revolutions and even terrorists rely on the growing availability of social media technology to overthrow governments.
Journeys in Film
To help your students grasp these terms, consider showing them engaging feature films from other countries. Three outstanding films, suitable for secondary classrooms, will engage students, teach them about three great traditional cultures, and illustrate the impact of globalization and modernization. Journeys in Film, a nonprofit educational publisher, has created interdisciplinary lesson plans aligned with the Common Core and available as free downloads to help you share these films with your students.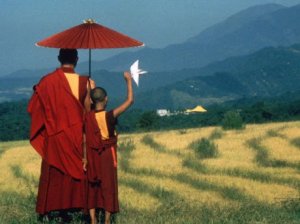 Credit: Fine Line Features
Scene from 'The Cup'
The Cup (1999) is based on a true story about Tibetan monks, refugees living in a Buddhist monastery in the foothills of the Himalayas. Fourteen-year-old Orgyen, obsessed with Brazilian soccer star Ronaldo, is determined to bring television to his monastery in time for a World Cup soccer game. The film demonstrates to students that even remote regions and traditional cultures are no longer completely isolated. The filmmaker has been careful to introduce other examples of modernity slowly entering the monks' world -- the Coke can which has replaced the traditional vase on the fortune-teller's ritual altar, for example. Download lesson plans at http://www.journeysinfilm.org/for-educators/the-store/discovering-tibet/. A trailer for the film is also available on that page.
The Iranian film Children of Heaven (1997) is another story that will appeal strongly to students. Nine-year-old Ali, the usually responsible son of a poor Tehran family, accidentally loses his sister Zahra's only pair of shoes, and the children know that their parents cannot afford new ones. In addition to math, English, science, social studies and art lessons, there is a lesson in the Journeys in Film curriculum that explores the growing economic and cultural divide between the traditional family living in the older, poorer section of Tehran and a wealthier family whose lifestyle has been transformed by Western-style modernization. For lessons and trailer, see http://www.journeysinfilm.org/for-educators/the-store/discovering-iran/.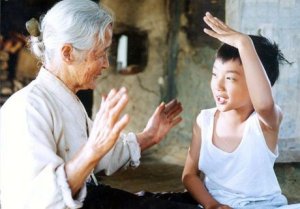 Credit: CJ Entertainment
Scene from 'The Way Home'
In The Way Home (2002), a seven-year-old South Korean boy accustomed to the comforts and conveniences of modern Seoul is left temporarily with his grandmother in a traditional village. Born and raised in Seoul, he must learn to live in a tiny community, and he is even forced to live without his video games when his batteries run out. Students will relish the scene when he whines to his grandmother about his longing for Kentucky Fried Chicken. She goes to great lengths to procure a live chicken, kill and pluck it, boil it and serve it up to her horrified grandson as a real treat. In this film, the students explore the values in traditional ways of life in the face of inevitable change. Lessons and trailer are at http://www.journeysinfilm.org/for-educators/the-store/discovering-south-korea/.
Foreign feature films can be used very successfully in the classroom. All three of these free Journeys in Film curriculum guides include suggestions for using the film in your classroom, working with subtitles, film festivals and more.
How have you used film in the classroom to teach your students about other parts of the world?