Parent Partnership
5-Minute Film Festival: Parent-Teacher Partnerships
Strong relationships between families and teachers are critical for successful students, but where do you begin to build them? VideoAmy offers up resources and a playlist of videos about parent engagement.
November 2, 2012
Updated September 15, 2014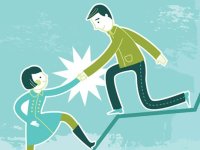 It's all too easy for parents and teachers to be portrayed as being in opposition. Parents can sometimes get involved in ways that aren't productive, and it's unfortunate when beleaguered teachers begin to think of parents as the enemy. But there are wonderful stories out there of educators and families becoming true partners to improve the educational experience for everyone. I've gathered a collection of videos with examples of the many ways schools can build these powerful partnerships. These give actionable tips for both parents and teachers about how best to work together -- a topic which I know is of perpetual interest to everyone involved in education.
Video Playlist: Building Teacher-Parent Relationships
Watch the first video below, or watch the whole playlist on YouTube.
video
More Resources to Engage Parents
Now that you've seen the power of a strong working relationship between educators and parents or caregivers, where do you begin, if you want to build or enhance it in your school? There are loads of great resources online with tips for both teachers and families on how to make that connection. Here are just a few of my favorites.
Articles on Parent-Teacher Partnerships
Organizations that Encourage Parent Involvement
#ptchat on Twitter (Wednesdays, 6 p.m. PST / 9 p.m. EST)
National Education Association's Spotlight on Parental Involvement Research