Teaching Strategies
5-Minute Film Festival: Happy Halloween!
It's time to put on a costume and have some spooky fun with this playlist of Halloween-related videos compiled by VideoAmy.
October 26, 2012
Updated October 31, 2014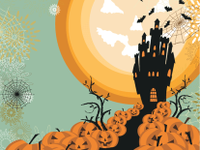 Video Playlist: Halloween Time
Watch the first video below, or watch the whole playlist on YouTube.
video
More Resources for Halloween Teaching and Learning
With a little craftiness, you can harness all that ghoulish energy and get your kids engaged in all kinds of Halloween activities that relate to core content, as well as a few that are just for fun. I've collected some roundup pages with lesson plans, projects, and other resources.