English Language Learners
Using Photos With English-Language Learners
October 4, 2012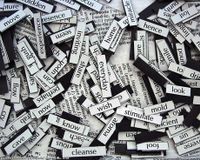 Photo credit: surrealmuse
"A picture is worth a thousand words."
-- Unknown
Though the origin of this popular adage is unclear, one thing is clear: using photos with English-Language Learners (ELLs) can be enormously effective in helping them learn far more than a thousand words -- and how to use them.
Usable images for lessons can be found online or teachers and students can take and use their own.
The activities presented below connect to multiple Common Core Standards including the following ELA Standards:
Integrate and evaluate information presented in diverse media and formats, including visually, quantitatively, and orally.
Develop the topic with relevant, well-chosen facts, definitions, concrete details, quotations, or other information and examples.
Use precise language and domain-specific vocabulary to inform about or explain the topic.
Picture Word Inductive Model
The Picture Word Inductive Model (PWIM) is one of our favorites. In it, students first brainstorm twenty words related to a picture, then put those words into categories and add new ones that fit those categories. Next they complete a "cloze" (or fill-in-the-blank) activity with sentences about the picture which they then put into categories of their own. They convert those sentence categories into paragraphs, and, finally, arrange the paragraphs into essays. Lastly, a title is chosen.
The PWIM uses an inductive process (in which students seek patterns and use them to identify their broader meanings and significance), as opposed to a deductive process (where meanings or rules are given, and students have to then apply them). It takes advantage of student prior knowledge and visual clues and builds on the key strength of inductive learning—the brain's natural desire to seek out and remember patterns.
Research has shown that it is an effective way for students to learn to develop vocabulary and to read. You can find a more detailed description and timeline on how we use it in this transcript of a recent podcast I produced.
The best pictures to use in this activity contain one scene with many different objects. A recent study has found that the most memorable photos have a little "strangeness" about them, and include people and a sense of movement. Those attributes might be helpful to keep in mind when choosing a photo.
For example, this New York Times photo fits most of those criteria and could be used when teaching the themes of family or food.
Students can choose and label pictures online using this strategy with many newly unveiled online tools like Thinglink and Szoter. You can see examples of annotated photos using both of these free site here.
Thought Bubbles
Students can create "thought bubbles" for characters in photos. What might the people in this picture be thinking, or what about this dog? Bubblr and ImgOps are super-easy tools for students to create these kinds of "bubbles" with online photos.
Picture Dictation
In picture dictation, the teacher can pick an image and, without showing it to the class, describe it while students draw. It can also be a partner activity where half of the class is given one picture and the other half a different one. Students with different pictures are made partners and stand up a book or folder between them. One student describes her picture while the other draws. When it's complete and the student is given feedback, the roles can be reversed. Students can also be asked to write sentences describing the picture.
Bloom's Taxonomy
For more advanced English-Language Learners, using photos can be a good way to help them learn about Bloom's Taxonomy. In an exercise borrowed from Learn North Carolina, following an introduction to the different levels of Bloom's, students can apply their new knowledge towards developing leveled questions about a photo.
For example, a teacher could use this photo and model asking questions for each category:
Knowledge: What items or people can you name with the vocabulary you know?
Comprehension: What is happening in the photo?
Application: What one sentence caption would you write?
Analysis: Where do you think they are?
Synthesis: What might they be thinking?
Evaluation: Are they too young to play soccer? Why or why not?
The teacher could have one or more other photos to distribute, along with a sheet of "question starters" (you can find several here) categorized by the Bloom's level to help scaffold the activity. Students could work in partners to develop their own sequence of questions to share.
Compare and Contrast
Students can identify the similarities and differences between two different images. This can lead to practice with the academic vocabulary needed when making comparisons. For example, students could view two different images such as two photos from this slideshow, which features pictures of expectant parents standing in their babies' nurseries and "empty nesters" standing in their children's old rooms. They could use a Venn Diagram to record similarities and differences. After sharing with a partner and as a class, students could generate sentences and even paragraphs about the images. For beginning students, the teacher could supply sentence frames such as:
"Both pictures have _________."
"One difference is _____________."
"In the first picture there is ____________, but in the second picture there is ___________."
You can see two more example photos and read more about how to use this strategy here.
Image Detective
Image Detective is an online media literacy activity which could be adapted to use with any photo -- these, for example. First, the teacher or student poses a question about the photo. Next, the student identifies clues in the photo that help them answer the question. Then, the student investigates background information on the picture and/or topic it represents. Finally, the student makes his/her conclusion. The final project looks like this:
My Question Is:
Clues I've Identified:
I am fairly confident that:
My best reasons for thinking this are:
A question this raised for me is:
Using Images to Generate Writing
Using images to prompt writing is a key strategy we use with our English-Language Learners. Pictures are immediately engaging and often less daunting for students than texts. We often use images to push language development and thinking skills within a thematic unit. For example, we ask students to look at an image posted on the wall, on a document camera, or overhead. We've used the following image of apartheid in South Africa during a unit on Nelson Mandela.
First, students describe in writing what they observe, trying to record as many details as possible. It helps if students have a copy of the image on which they can write. Then the teacher asks students to write as many questions they can think of about the image and the details they have listed. Once students have shared their questions with a classmate, the teacher asks them to use the inductive process (described above in the Picture Word Inductive Model) to organize these questions into categories (for example, questions about feelings/emotions or historical questions) and then to add more questions to each category. These questions could serve as writing entry points for students to develop longer writing pieces based on the image.
Research has shown that these types of inquiry activities—where students are asked to analyze a piece of concrete data such as a picture or an object in order to generate ideas for writing—are an effective instructional practice for improving the writing of adolescent learners.
Five Card Flickr Story is another photo tool for generating writing. It lets you pick five photos from a group of pre-selected images from Flickr and then write a story about them. It saves your selection and story, and provides you with a link to it. No registration is required.
Another tool, Pic-Lits, lets users pick an image from a selection and then "drag-and-drop" words onto the image. The user's creation can then be saved with a link posted, or it can be embedded. The words you can choose from are labeled by their parts of speech, and once you drop the word on the image you can see all the different verb conjugations and choose one. You can write a poem or describe the picture. You also have the option of writing whatever words you want if you don't want to be limited by the words available to drag-and-drop.
Using Images For Speaking Practice
Fotobabble is the most simple photo and audio recording tool we've found for online speaking practice. Students can choose a photo and record their description of it with Fotobabble. Students can listen to their recording at the beginning of the year, and then record it again later to see the progress that they have made. It can also be posted on a class or student blog, and others can leave comments.
We look forward to hearing the ways you use images with your students!
Larry Ferlazzo and Katie Hull Sypnieski are teachers at Luther Burbank High School in Sacramento, California. Portions of this column are excerpts from their new book, The ESL/ELL Teacher's Survival Guide: Ready-to-Use Strategies, Tools, and Activities for Teaching English-Language Learners of All Levels. Larry also writes a popular blog for educators and a teacher advice column for Education Week Teacher.