Learning Environments
Ditching the Desk
Remove the teacher's desk and students feel more comfortable and less intimidated, teachers feel more active and engaged, and classroom learning happens in a shared space.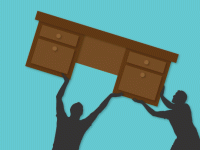 I decided to focus on learning spaces this year in the classroom and around my school. It led me to create a makerspace in my school's library, but it also led me to take a hard look at the classroom. Last summer, I visited my classroom and decided to change it around. The entire process started with one simple question: "Is this room designed for me or for my students?" It was on this question that I based every decision I made when it came to designing the room.
The Benefits of Desk-Free Teaching
The major change that I made in the classroom was deciding to get rid of my teacher desk. It wasn't an easy decision, but when I asked my one simple question, I realized that the entire room was designed around the desk, making it seem as if this was my classroom and the students were just visiting. I wanted to change that idea. I wanted the students to start feeling that it was their classroom and I was part of it. There were plenty of funny looks from teachers and students when they noticed the desk was gone, but I really learned some incredible things about myself and about my classroom by ditching the desk.
1. Comfortability
By getting rid of the teacher desk, there was more space in the room for the student desks to spread out. I have 32 students in a classroom, and having a comfortable space for all of them to sit and learn is important. One teacher desk might not seem like it would take up much space in a classroom, but removing it allowed me to give a few extra feet back to the students so that they weren't so bunched up. Comfortable students will be better prepared to learn and engage.
2. Approachability
The teacher desk has always created a barrier between student and teacher. Some students won't approach the teacher because of the intimidation factor that the desk represents. By getting rid of it, I had more students coming up to ask me for help or to answer their questions. These little interactions can be the difference maker for a struggling student.
3. Mileage
I have always considered myself an active teacher in the classroom. I'm always moving about the room during class discussions and just have a hard time standing still. Once I got rid of the desk, I saw the number of steps that I took (thanks, Fitbit!) increase dramatically. I averaged an extra mile a day. By getting rid of the desk, I kept active in the classroom. I kept engaged with my students. I was always up at the door greeting them when they came in. An extra mile a day times 180 school days is great!
4. Ownership
By the end of the year, I no longer felt comfortable calling it "my room." It was our room. By getting rid of the desk, I gave the students a reason to feel differently about the space. I was another learner sharing the room with them as we explored the world of literature. With more ownership comes more engagement and respect. I never thought that getting rid of that desk could have such an impact on my students, but it really did something for them that mattered.
Gone But Not Missed
Ditching the desk is not a brand new idea, but it was a crazy one for me to consider at the start of the year. Looking back, however, I can't believe that it took me this long to realize how much of an impediment that desk was to creating a stronger classroom environment. Most people always ask about all of the stuff that teachers keep on their desks and where I put mine when the desk went away. Honestly, it was just stuff that anyone could easily move to a cupboard or the closet. I really didn't miss anything that used to occupy my desk -- especially when I found the changes that I made to the classroom benefited not only my students, but benefited me as well.
Do you have any stories about how changing your classroom or ditching your desk worked out for you? Please share them in the comments below.