Education Trends
The Power of Comprehensive Assessment
What if we had a tool that assured us as educators that we had prepared students for college success? At Envision Schools, we believe that our Deeper Learning Assessment System is preparing our students for success in college and the data is backing up our belief.
More than 90 percent of our graduates are going to college -- almost 70 percent to four-year schools and 95 percent of our graduates are re-enrolling in college their second year. (In California, only 60 percent of entering freshmen students re-enroll the next year.)
What is It? Why Does It Matter?
Why do we think our performance-based assessment system is proving successful? We have attempted to create an assessment system that is focused on looking ahead. Our current public school assessments face backward; it is like asking students to drive forward while looking back: What did you learn? Repeat it back to me.
A comprehensive assessment system asks students to be prepared for the future by asking them to think critically, problem solve, collaborate -- it is an eyes-forward assessment, preparing them for what lies ahead.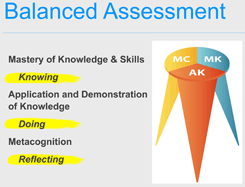 Credit: Bob Lenz
Our schools believe a balanced or comprehensive assessment is like a three-legged stool. Of course we need to assess mastery of knowledge through tests and quizzes but if we only assess what students know -- while extremely important -- the stool will fall over. In order to balance the assessment stool, we need to assess students ability to apply or demonstrate knowledge through projects, performance and essays and we need to assess students ability to demonstrate metacognition or reflecting on their ability to learn and apply new skills and knowledge through journals and portfolios.
By assessing both deep content knowledge and skills as well as critical thinking and problem solving, communication skills, collaboration and effective project management, Envision Schools teaches our students success -- success for college, career and life.
Our students work for four years to create proficient college-ready work in all their core academic courses. The content and evaluation standards have been validated by Stanford University as "College Success Ready."
How Does It Look?
Our students graduate ready to complete assignments in their first year college classes because they have already mastered those tasks. In order to graduate our students create a digital collection of their proficient work -- their College Success Portfolio -- and defend it like a graduate student defense in a university. A student's portfolio includes:
Student cover letter: an introduction to the collection of work
Digital arrangement of mastery work, aligned to the Common Core
Reflective summaries of each work artifact
Career Focus Artifact and Reflection: internships, career, and tech certification
Deeper Learning Skills Assessment: based on evidence of portfolio and defense
Watch this video to see what a student defense looks and sounds like at Envision Schools.
In Your School or Classroom
If most people agree that a balanced approach to student assessment is long over due, then why are schools not offering this opportunity to their students? We need new technologies to support teachers and in creating and assessing tasks. We need new systems of support and professional development for teachers and we need state and national policies and assessments that privilege deeper student learning.
Have you had success using a balanced assessment approach in your classroom, school, district or school network? Please share your successes, and any questions may have.