Game-Based Learning
Civic Mirror: Simulated Nation Building for Middle Schoolers
When I was in middle school, I had a U.S. history class that I can remember almost nothing about. The only thing I recall was that during a really exciting jeopardy game, the teacher asked me about a French word somehow connected to fur trappers during the colonization of North America, and I didn't recall ever seeing it in the book. Honestly, that is the only thing I remember. Oh wait, I also remember that we took a lot of true and false quizzes.
When I became a teacher, I knew that I wanted my classes to be different.
Enter the political/economic country simulation called Civic Mirror. I first heard about Civic Mirror six years ago when a colleague tried it out. He said the kids were wildly excited about it and were learning like they had never learned before. I didn't get a chance to use it until two years later, and I had similar results. This year I was able to introduce it in my sixth/seventh grade U.S. history class. I wonder why everyone doesn't do it.
This is My Country
In the Civic Mirror, students become citizens of a new country that they set up and create for themselves. The simulated country runs through a website managed by Reagan Ross, the project's creator. Once in the country (represented by a 36-hexagon map), students are able buy property, run businesses, participate in a government, develop resources and industries, and really anything else they can imagine.
The way I introduced students to the Civic Mirror this year was to put them through the normal colonization and revolution units that most U.S. history classes have, while letting them know that, in the same ways that the U.S. became a country, they would become a country within the class, and deal with many of the same problems that a real country would face.
To prepare for the simulation, students studied the Mayflower Compact and the Declaration of Independence, some of the foundational documents of our country. This continued with a look at the United States' legal rulebook, the Constitution, which would be our rulebook as well. Then we chose a name, a national flower, different cultures and a national slogan. Although some of these are kind of weird in my opinion (Volcanoville, vampires, zombies, "Never back down from a fight"), to the kids they are relevant -- they own these ideas.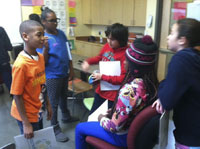 Credit: Aaron Kaio
Political allies hold a party caucus.
Students then receive hidden agendas, which have them act as conservatives, liberals, environmentalists, and/or capitalists. This lends itself to discussions about Federalism and Anti-Federalism as early political philosophies that guided our new country. Agendas in place, students formed political parties and held campaigns to be the first groups that would control their country's destiny. This culminated in our first debate elections, which pitted the head of the conservatives against the head of the liberals, while party members on both sides peppered them with questions. Both candidates shook hands after the results were read, acknowledging each other's hard work. Well, that was on a Tuesday -- they had a country to run on Wednesday.
The National Agenda
Currently, we've just finished up our first simulated year of the Civic Mirror. We have passed legislation, run businesses and threatened lawsuits. Some citizens have done very well, and others have failed. As we prepare for our next simulated year, there are several topics that we have to answer:
Do conservative policies offer the best way to care for a society?
Are liberal policies too expensive and restricting?
What should the punishment be for criminals in our country?
What is the balance between conserving our environment and developing our economy?
What is the best way to participate in a democracy?
Should I concentrate only on a personal agenda, or should I concentrate on what will help the country?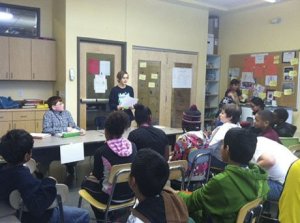 Credit: Aaron Kaio
Political opponents in a debate election.
As students wrestle with these topics, I attach topics from U.S. history to give them ideas about possible answers. For example, after our elections, I introduced George Washington's first cabinet, which contained Thomas Jefferson and Alexander Hamilton, two men who were deeply divided in their politics. First, this helped them decipher what exactly a presidential cabinet is, and then it forced them to think about why Washington would do this. I was happily surprised when our first conservative president put two liberals in his cabinet.
Also, rather than bombarding kids with true/false quizzes, I can ask real questions like, "What do you need to do as a citizen to make sure that never happens again?" Rather than a T or an F, I get answers like, "It's important that I buy insurance for myself next year, and maybe I should try to get into the government to make it a requirement for all people."
Although I am not preparing my students to answer the jeopardy question I missed 25 years ago, I am preparing them to wrestle with the same questions that I see and hear debated on the busses, in the newspapers, and at the dinner table night after night in the real world.
How do you creatively engage your students to learn about government, law, economics and citizenship?