Technology Integration
Powerful, Lesser-Known Tech Tools for Teachers
Efficiency and engagement are critical components of online learning—these often-overlooked, free tools can boost both.
You've probably been teaching online or with blended approaches for months now. That means you are probably familiar with Google tools, Flipgrid, Nearpod—the usual suspects of remote learning. Those tools are all fantastic and have been pillars during this unprecedented time in education.
There's plenty of reason to explore other options, however, no matter how good the standbys are. It could be that you're looking for new tools or features, or it could be that your students could use a change of pace to boost their engagement.
Here are some alternative, lesser-known, and free web-based tools that are powerful supports to online learning—and can help switch things up a bit and refresh your routine.
Mote, a Cool Google Extension for Audio Comments
Anytime we can provide feedback for students that is more personal, the better their online experience is.
Mote is a Chrome extension that makes giving feedback via audio fast, simple, and personal. When you install this extension, you can use it within Google Classroom, Google Docs, and Google Slides, and even in Gmail. By simply clicking the purple Mote icon, you can record and append audio comments to a Google doc or to Classroom to give students feedback on their work.
Mote
Mote, a Chrome Extension, enables audio feedback.
The Mote extension is great for giving feedback on writing assignments, but I also love using it to facilitate conversation around digital texts, particularly because with Mote, the user can choose which mode they want to use—normal commenting or audio commenting. That way, every user can engage in the way that they feel the most comfortable, which can make genuine dialogue easier and more lively.
I like to integrate Mote with Google Slides. Previously, adding audio to slides required multiple steps, but when I use the Mote extension, I can do it in one step, directly from the slides themselves.
Your students don't have to have the extension installed to receive the audio feedback, which makes this a very simple tool to use. An added bonus? I save time because I can say a lot more in 30 seconds than I can type, making me more efficient.
Dotstorming, for Smooth Collaborative Brainstorming
If you are looking for ways to get students brainstorming together, Dotstorming offers a powerful collection of tools (voting boards, "walls" [white boards and collages]) that enable collaboration. It's been around for a few years, but lately, it's added new formats and features, making it an even more valuable addition to any online learning toolbox. With Dotstorming, students collaborate, post and share their ideas, leave feedback for their peers, and come to a consensus, all via a digital bulletin board that allows them to vote up their favorite contributions from their classmates.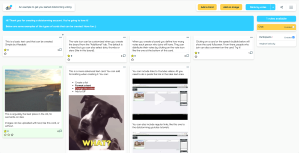 Dotstorming
Dotstorming enables online collaboration.
For example, I recently used Dotstorming to brainstorm and prioritize expectations for our virtual option this school year. As a group, we shared our ideas and then voted to determine our collective priorities.
VideoAnt, to Facilitate Lively Video Discussions
When developing online lessons for students, it's standard practice to create videos or find instructional videos from YouTube, particularly with asynchronous instruction. However, simply sharing a video as part of direct instruction is not always effective, because it can lack the critical engagement component: It's a one-way street of delivery that can make students passive.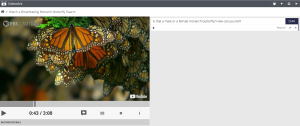 A YouTube video embedded in the VideoAnt player, which enables students to comment on videos as they watch.
VideoAnt, which was created by the University of Minnesota College of Education and Human Development, can change that dynamic by allowing students to add their own comments or annotations to an online video (either one you've created and uploaded or one from YouTube). It really does transform any video into a discussion activity because students can actively engage and participate in video lessons. VideoAnt is especially useful for online learning because it takes what would otherwise be a static consumption activity (watching a video) and turns it into an active learning experience.
Blooket, for Engaging Educational Games
If you love playing review games like Kahoot or Quizizz with your class but are looking for something new, try Blooket. As with other review games that you and your students know and enjoy, teachers set up the game and students join in using a code that you display on the screen. Students can play independently or in teams.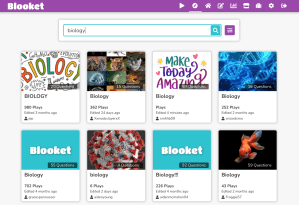 Blooket
With Blooket, teachers can create review games or use ones that are preloaded.
Blooket stands out from similar tools because it offers a variety of educational games that students can play, helping to ensure that students remain engaged. As students play, they can earn coins and avatars called Blooks. You can create a game from scratch or browse the Blooket community for games that other educators have designed.
Kialo Edu, to Foster Vigorous Debate 
Discussion boards are common tools in online classrooms, but they don't always work that well when it comes to facilitating complex conversations or debates. Enter Kialo Edu, a custom version of Kialo, a debate site, which is designed for classrooms and is great for instruction that builds critical thinking skills.
Instead of participating in a linear discussion thread, students provide evidence for their claims on either side of an issue using Kialo's pro and con tree structure. They can then explore the arguments shared by their classmates and develop those further with supporting evidence and counterarguments.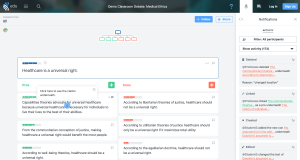 Kialo
Kialo Edu cultivates online debate.
I love this tool for leveling up discussion board activities with students. It can feel daunting to lead a thoughtful debate online, especially when your students are working remotely. Kialo Edu creates a structure for rich, reflective dialogue online.
Classkick, to Add Rich Interactions to Classroom Materials
As we moved online in the past year, many of us needed a tool that would help our students engage with what were normally print materials. There are plenty of great PDF markup tools available (Kami, for instance), but Classkick stands out with its additional functionality.
With Classkick, teachers upload their content to the site. Then, they and their students can add drawings, audio, video, text, and more to mark up the content. Teachers can see all students working at the same time if they're doing a synchronous activity, making it easier to provide just-in-time feedback directly on their canvases.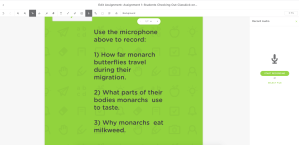 Classkick
With Classkick, students and teachers can mark up PDFs with text, audio, stickers, and more.
Classkick has really gained momentum with our online primary teachers this year. The ability for students to draw and record on their screen has been a game changer among our emerging readers.
Adobe Capture, to Design Your Materials
Adobe Capture is one of my go-to creativity tools that I use while I am designing online experiences. I use this mobile app specifically when I choose colors and fonts. So while this tool is a little different in that I don't use it specifically with students (and because it's strictly mobile), it does make my digital lessons look more polished and improves usability for my students.
If you need some inspiration in choosing color palettes, for example, Adobe Capture makes it easy to create customized color combinations. My favorite feature captures the color codes from photos I take, which I can then use as inspiration for a color palette to use in my online designs.
Another neat feature that Capture offers is font identification. Take a photo of text anywhere, and Adobe Capture shares a list of similar fonts. With Adobe Capture on my phone, I can be inspired anywhere I go and make design decisions in my online content that make it visually more appealing.