New Teachers
Resources Toolkit for New Teachers
From classroom management to working with parents, lesson planning to learning environments, this compilation of blogs, videos, and other resources provides an array of tips and advice for teachers just starting out.
May 10, 2013         Updated May 8, 2015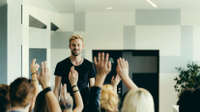 Before you dig in to the resources, consider advice from veteran educator Elena Aguilar in her post, "What I Wish I'd Known as a New Teacher." Also, listen to encouragement and insight from a variety of educators who describe what they would have said to themselves on their own first day of teaching, in the video "If I Knew Then: A Letter to Me on My First Day of Teaching."
To set the stage for a successful first year of teaching, it's important to do some advance planning and preparation. We've collected a variety of resources to help new teachers start the year off right. (20+ Resources)
For new teachers, this resource compilation includes tips and guides on classroom design and layout to help maximize the possibilities of the learning environment. (15+ Resources)
Discover resources for new teachers on developing routines, fostering classroom community, managing disruptions, and building student relationships. (40+ Resources)
Explore a diverse collection of curriculum-planning tips, guidance, and other resources meant to help new teachers plan effective activities, lessons, and units. (15+ Resources)
In this guide for new teachers, learn about different types of assessment and how they can be used to provide feedback to learners and inform instruction. (30+ Resources)
Find tips, strategies, tools, and other resources to help new teachers successfully integrate technology to facilitate educational objectives in the classroom. (25+ Resources)
Engaging and building trust with parents and creating supportive home-to-school connections is critical to new-teacher success; find resources to get started here. (15+ Resources)