Environmental Education
5-Minute Film Festival: Celebrate Earth Day
Jump-start your lesson plans with these videos and resources for students of all ages.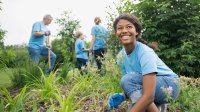 With its deep roots in education, Earth Day provides a great opportunity to integrate environmental science and social activism into your classroom. We've rounded up five videos you can show in class to kick off your Earth Day lessons and get your students thinking about how they can make a difference in saving the planet, whether they're dewy kindergartners or jaded seniors.
video
7 Eye-Opening Facts for Earth Day—Mashable (02:58)
Here's one to use if you want to shock your high school students into action. This video was made for Earth Day 2015 by Mashable, which published an article with links to the research the video is based on. The facts and figures have likely grown even more compelling in the last two years. (Best for: high school students who need a wake-up call.)
video
Earth Day Celebration Around the World—Nikki's Wiki (02:40)
If you teach little ones, you need a gentler intro to taking care of the earth. Although the animation on this show is fairly cheesy, kids will appreciate seeing how Earth Day is celebrated around the world, and it includes some simple tips for taking care of the planet at the end. (Best for: enthusiastic elementary kids.)
video
March for Science Houston—On Earth Day We Get Out of the Lab (01:00)
There's a large demonstration planned for Earth Day this year: Thousands of people will take to the streets to support science and science education in a nonpartisan effort to show solidarity for publicly funded scientific institutions and take a stand for inclusive and open science communications. Get more information about the march here. (Best for: STEM teachers and their friends.)
video
TED-Ed Earth Day Medley (01:05)
This video is lovely if you just want a simple but powerful visual to celebrate the big blue marble we call home. TED-Ed pulled more than 60 animations of our planet from a vast library of excellent educational videos to make this mesmerizing compilation. Enjoy! (Best for: anyone who needs a brain break.)
video
Earth Day Network's K–12 offering is a downloadable Climate Education Week Toolkit, and they're adding new standards-based lesson plans to their library weekly.
The National Environmental Education Foundation offers resources and activities around citizen science, plants, and animals, and a cool initiative called Greening STEM that connects environmental topics to STEM lessons.
Nature Works Everywhere is a website produced by the Nature Conservancy that's chock-full of resources for educators; you can filter by grade level, NGSS or CCSS standards, or topic.