Student Engagement
5-Minute Film Festival: Best Educational Parodies of 2017
Take a well-deserved break and enjoy our picks for the best recent parody videos for educators and their students.
December 21, 2017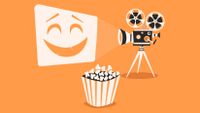 ©Shutterstock.com/Graphic.mooi
Winter break is imminent—or for some lucky folks, has started already—and with it comes year-end retrospectives of all stripes, from YouTube's Rewind to Google's Year in Search. Here at Edutopia, we like to round up the best educational parodies of the year to give a wink to the many teachers and students who create some lighter moments in the name of more engagement (and laughter!). From muppets to a cappella physics, we've got five picks that will brighten your break.
video
Leer Despacito—Banned Book Week Parody of "Despacito" (02:11)
Luis Fonsi's Spanish-language dancehall song "Despacito" broke all records this year to become the most-viewed video in YouTube's history, with 4.5 billion views. Librarians at Homewood Public Library in Illinois reinterpreted the song in this black-and-white film for Banned Books Week. In homage to the original, it has bilingual lyrics. (Best for: readers of all ages who love civil liberties.)
video
Kendrah Underwood—Bodak Yellow (05:00)
While the lyrics in the original "Bodak Yellow," by Cardi B, are dramatically unsafe for work (don't Google it at school), physics and biology instructor Kendrah Underwood and her students at Butler College Prep thoroughly take ownership of the song in this video, and show off both their rapping skills and their forensics knowledge. (Best for: science teachers with funky moves.)
video
Sesame Street—Sharing Things (05:07)
Stranger Things, the Netflix thriller that captured the imaginations of viewers who grew up in the 1980s, gets the Sesame Street treatment in this delightful short. There are mild spoilers if you haven't seen season one, but that's a risk worth taking to see the Cookiegorgon learn valuable lessons about sharing. (Best for: Gen X parents and their preschool-age offspring.)
video
A Capella Science—The Molecular Shape of You (04:44)
Ed Sheeran's impossibly catchy song "Shape of You" was also everywhere this year, reaching number 4 on the most-viewed-of-all-time video list for YouTube. A Capella Science has been a great source of parodies that teach science content; creator Tim Blais was getting his master's in theoretical physics when his "Bohemian Gravity" went viral in 2013. With this new video, we just liked hearing "Oh, electrons move too much, slow down your pace, and put that orbit on me" in three-part harmony. (Best for: swooning high school physics students.)
Honorable mentions for sheer commitment to these elementary-school teachers in Blackwell, Oklahoma, for their take on Taylor Swift's sassy "Look What You Made Me Do," and to these students in Saudi Arabia for passionately squawking out "Shape of You" on recorders (especially the boy in front who seems to have forgotten his instrument). Want more education parodies? See our past roundups from 2014, 2015, and 2016.