Professional Learning
A Clean Slate: Interactive Whiteboard Makes Lessons Snazzy
There's no reason to be bored with this new kind of board.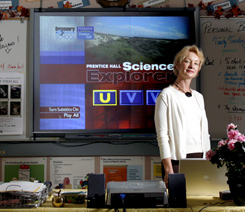 Credit: Elena Dorfman
Interactive-whiteboard aficionado Sue Holland.
Do you fit one of these scenarios? You've acquired an interactive whiteboard for your classroom, or you're about to. It's been installed, or it soon will be. You've attended a workshop on using the board or gone through an online tutorial, or a colleague has shown you the basics. Now what? How do you and your students make the most of this grand gadget?
Recently, during a morning prep period, Sue Holland, an energetic seventh-grade science teacher at Miller Creek Middle School, in San Rafael, California, answered that question and several others. Holland, a semifinalist for the 2005 California Teacher of the Year award, has been teaching for thirty-four years. This is the third year she's used an interactive whiteboard in her classroom and her enthusiasm is unrestrained. "It's very powerful learning," she says, "very powerful learning!"
"Just creating lessons is so fun," Holland says. "I used to sit with the old plan book and write, 'I'm going to do this and this.' But with the Smart Board, you get to design your lesson plans using their tools. You can be as creative as you want to be."
Credit: Elena Dorfman
And Holland has done just that. "I can insert links to the Internet, or go right to a streaming video on the Web," she explains. "During a lesson, if a student asks, 'What about this?' I can say, 'Let's take a look' and go online to view it, instead of just talking about it. Eighty percent of us are visual learners -- I do all my lessons now as Smart Board lessons, which is cool."
And Holland isn't the only one who thinks it's cool. The students use the board in a variety of ways, too, individually and in groups. "I just stand back, and the kids are engaged," she explains. "For example, we study diseases of the human body in seventh grade. The kids will research a disease, create a PowerPoint presentation, and then share it with the class. They can change their presentation while standing at the board, or write on the board if someone asks a question."
The board can be just as beneficial when applied to math, history, art, physical education, or any other subject. "The software comes with K-12 curriculum built into it," Holland says. "Any software you can put on your laptop can be used with your Smart Board."
Has she had any problems with the board?
"It's technology!" Holland says with a laugh. "Sometimes it will just do something strange. But I love technology, even when it doesn't work."
Accessing Web-based software (such as Google Earth) and other Web resources further expands the potential for using interactive whiteboards in class. Indeed, the list of possibilities is endless. Here are just a few:
Digital storytelling.
Creating, viewing, and annotating student PowerPoint and multimedia presentations in real time.
Showing streamed or downloaded videos.
Using online map and satellite imagery to teach geography.
Displaying artwork or online museum presentations.
Demonstrating moviemaking techniques.
Viewing and analyzing competitive sports and physical education activities.
Teaching students how to conduct research on the Internet.
Working collaboratively on writing and editing exercises, math lessons, and science experiments.
Instructing the class on the use of a software program, keyboarding techniques, and other computer skills.
"Anybody can use it -- it's limitless," Holland says. "Unless the students are engaged in a project at their desks or they're taking a test, we use the board throughout the day, even if I just show them a short video. I use it all the time!"
Douglas Cruickshank is the former editor of Edutopia.org.
Related Green Articles:
A Wall-Mounted Computer Monitor for Your Classroom
An Art Teacher Runs a Tight, Environmentally Friendly Ship
How can educators, students, schools, and communities go green? Find additional resources about sustainability, conservation, and other earth-friendly practices and curricula on Edutopia's EnvironmentAL Education page.