Technology Integration
Board of Education: A Wall-Mounted Computer Monitor for Your Classroom
A top teacher shares her enthusiasm for — and tips about using — interactive whiteboards.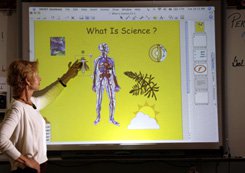 Teacher Sue Holland and her beloved interactive whiteboard. Credit: Elena Dorfman
No doubt some twisted souls will miss the occasional nerve-fraying shriek of chalk on a blackboard. For the rest of us, the growing popularity of interactive whiteboards -- often mistakenly lumped under the label "smart boards," although Smart is a specific brand name -- are one of the best things to happen to classroom technology in the last twenty years.
An interactive whiteboard is essentially just a large, touch-sensitive screen. The board is connected, via a standard USB plug, to a computer and a digital projector, which displays the computer's screen image onto the whiteboard. Software enables the computer to be controlled from the whiteboard by a hand or by special pens. Work done on the board can be saved on the computer and emailed, which, over the course of the school year, can mean a significant reduction in paper handouts.
Not surprisingly, the business world quickly took a shine to interactive whiteboards when they were introduced in 1991. Now, educators are beginning to discover what the business community is raving about.
In a July posting on Edutopia.org, elementary school teacher Susan Parker wrote that her classroom's interactive whiteboard "brings the information alive" to the students. She noted that "each lesson becomes an interactive one, and students are very motivated to learn."
"The board is very useful to demonstrate and teach editing and rewriting," says Parker, who works in an inner city school with many bilingual students. "There are pens in different colors that allow you to write directly into the Word document you're using and save the editing marks, which is extremely helpful."
One of the board's benefits, Parker adds, is that all students can easily see the images, enabling the lesson to become an engaging group activity. "Instead of crowding around little monitors, the students take turns interacting with the computer," she says. "They also get support from each other. The teacher can use it to demonstrate, then the students can use it to practice, but without feeling like they're put on the spot." Parker uses the interactive whiteboard in class daily, often in conjunction with the Internet, she adds, "in all subjects: reading, literacy, math, writing, science, geography, and social studies."
The companies that make and install interactive whiteboards usually offer tutorials on their Web sites, or provide onsite training for a fee. But most educators agree that they're easy to learn, and simple to operate. Becoming tech savvy has rarely been this easy.
What It Requires
Time to Set Up: Installation of the whiteboard and related software is done by the manufacturer or your school's IT staff. It should take two to three hours.
Related Green Articles:
Critters for the classroom.
Harmful products can bite the dust.
How can educators, students, schools, and communities go green? Find additional resources about sustainability, conservation, and other earth-friendly practices and curricula on Edutopia's Environment Education page.