College Readiness
On a Mission to Send Every Student to College
Enroll students from working-class homes in a school with extraordinary teachers and administrators. Give them all a mission that will transform their lives. Then discover the astonishing success of Houston's Yes Prep North Central.
Editor's Note: Mark DiBella is now Vice President of Operations for YES Prep Public Schools. Bryan Reed is now Director of YES Prep North Central.
When Mayra Valle entered YES Prep North Central in the public charter school's first sixth-grade class six years ago, it was a shock to her system. Though she was naturally bright, her teachers in other schools hadn't pushed her to do much schoolwork. Now she was staying up late finishing assignments, helping friends with theirs, and missing her extended family's Friday-afternoon gatherings. It felt like a lot to sacrifice, just to attend a charter school.
The following spring, she attended a ceremony where seniors at YES Prep Southeast, the oldest of seven YES Prep campuses in Houston, signed their matriculation letters to college on a stage in front of hundreds of family members amid applause and tears. "I was like, 'That could be me,'" Mayra recalls. "No one in my family has ever gone to college or graduated high school. If I could do that, I could accomplish something for me and my family. I want to be on that stage."
This type of transformation is YES Prep North Central's entire reason for being. Located seven miles from Mayra's modest home on Houston's north side, the school spans grades 6-12 and serves a predominantly Hispanic and poor community.
Everyone here -- students, teachers, parents, and administrators -- is galvanized by one goal: Every single student will go to college, succeed there, and come back to break her family's and community's cycle of poverty. To make this happen, teachers, students, and parents commit themselves to an exceptionally demanding education with unwavering standards for academic work and discipline. If they have to trade sleep, exercise, and family time to achieve this, that's a sacrifice they're willing to make.
"You're not coming here for a job or even simply to learn," explains School Director Mark DiBella. "You're coming to school every day to be a part of a mission that is greater than yourself."
The results speak for themselves: For six years in a row -- ever year of the school's existence -- more than 90 percent of YES Prep North Central's students have passed the state exam in every subject at every grade, earning the school the rare "Exemplary" state designation. At the YES flagship campus, in southeast Houston (and probably soon at North Central, which will graduate its first seniors next spring), 100 percent of graduates have been accepted to a four-year college. And more than 90 percent of them are the first in their families to go.
"We put in a lot of work. Even when we go home at the end of the day, we're still thinking about YES," says ninth-grade English teacher Rachael Arthur. "But it's worth it, because we see the change that's happening, not only to individual students and their families, but even to our city, which is transforming itself. People realize we have a problem with the education system and are doing something to change it."
YES Prep, now a network of seven Houston charter schools, was born more than a decade ago when Chris Barbic and fellow teachers at Houston's Rusk Elementary School got tired of hearing about countless low-income children -- their former students -- dropping out of middle school and forfeiting their futures to drugs, crime, pregnancy, unemployment, low expectations, and general discouragement. In 1998, they secured a charter from the state of Texas, rallied underserved parents to their cause, and erected modular classrooms in a parking lot to launch their own college-prep school.
Five years later, YES Prep North Central, the group's second campus, opened its doors in a windowless renovated warehouse before moving to its current location, a swampy section of North Houston, dotted with small homes, auto-repair shops, taco stands, and churches. Signs on local businesses are mostly in Spanish. Approximately 80 percent of the students qualify for free or reduced-price lunch, and the population is overwhelmingly Hispanic.
To move their 765-plus students onto a more promising track, like their counterparts at other YES Prep campuses, educators at North Central run the school day from 7:30 to 4:30, Monday through Friday, and hold sessions on certain Saturdays for community service and extra instruction. Every teacher has a school-issued cell phone, allowing students to call for help (often academic, but sometimes personal) after hours. College posters and banners hang from almost every wall, and each teacher makes a point of touting his or her alma mater. The school motto says it succinctly: "Whatever it takes."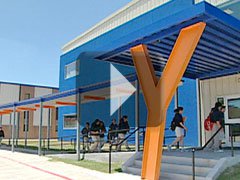 Even the physical space reflects the premium that YES Prep places on what's most relevant: relationships and teaching. The building is clean but spare, with two computer labs but not many other bells and whistles. Basic art and PE classes and after-school sports programs are available, but the school doesn't intend to excel at these things.
DiBella pours most of his time and resources into a strong support system for teachers. The YES Prep organization gets $8,980 per pupil in state and federal money, and combines that figure with private donations to spend $9,571 per student. In comparison, the Houston Independent School District spends slightly more: $9,728.
Students are admitted into YES Prep schools by random lottery from the neighborhood. Being accepted to a four-year college is a graduation requirement -- one that almost every senior at the original YES campus has met. Mayra Valle hopes to go to Columbia University. When she first enrolled here, she recalls, friends at other schools made fun of her, saying, "'Ha! You go to YES college prep. We go to No college prep.' Now they're like, 'Oh, that's my friend Mayra -- she's going to college.' They say it as a positive thing."
What YES Prep has accomplished requires faith and sweat and love, and the breaking of traditional boundaries between the professional and the personal. Few educators and students would be willing to take it on. But the team at YES is proving that it can be done, and they are developing smart, effective strategies that others can follow or adapt. In fact, two struggling public schools in Houston have started reinventing themselves, using YES as a model.
In my travels for Edutopia, I have visited many schools -- some good, some great, but none with the kind of electricity I found here. In this unusual school setting -- a former church -- unusual things happen: Teachers work evenings and weekends to help students; administrators reach out to teachers for their advice on running the school; students keep working when the teacher leaves the room.
Changing public education is messy and hard. But those who really want to see what success looks like have only to open their minds, believe in the possible, and step into the classrooms of schools like YES Prep. What follows will give you a taste of what it takes.
Teachers: Growing Great Educators
Ask anyone at YES Prep North Central about the key ingredient of the school's success, and he or she will say, "People, people, people." And it's true -- the passion and determination among the adults infects the students. Kids can hardly complain about the long hours or heavy workload, because their teachers -- 60 of them, mostly in their 20s or early 30s -- work just as hard, or harder. Bryan Reed, who became high school principal this year while continuing to teach social studies and coach basketball, even has his mail delivered to the school.
Maintaining this level of teacher performance isn't as simple as plucking already-stellar educators from the top of the talent pool. "We realize we're going to have to go out and find great people and teach them how to be great teachers," explains YES Prep founder Chris Barbic.
Nurturing a culture of respect and collaboration among administrators and teachers (many of whom come from Teach for America) has been essential in building the YES Prep teacher corps. Forgoing traditional notions of hierarchy, staff members rely on each other for ideas and constructive criticism. They even stage an annual "observation challenge," in which teachers pop into each other's classrooms to observe and offer feedback. Everyone on staff is working toward one thing -- ever-better teaching -- and no one is working alone.
When Reed first arrived, the cohesion seemed almost unnatural. The Florida native was a Teach for America veteran from New Orleans's Ninth Ward, where one of his colleagues routinely slept through class and a student showed up at school with an AK-47 under his arm. "I came from my own little island in a sea of incompetence and burnout. Teaching had been a battle in the trenches fighting for my kids. YES Prep didn't seem real," he says. "How could all these people be on the same page and getting results?"
Part of the success comes from the fact that no teacher at YES Prep is ever left on her own. Dean of Instruction Michelle LaFlure, herself a former YES Prep teacher, visits every classroom at least every other week. As she sits down with first-year Spanish teacher Andria Groover, there is no hint of tutor-pupil hierarchy. It's two creative people fine-tuning their best ideas. LaFlure's rubrics measuring teacher performance are just as detailed as those used for students. Following up on Groover's recent lesson on the Incas, LaFlure praises her efforts to create a student-centered classroom where the students share with and learn from one another, as well as their teacher. "You talked to them for only seven minutes. That is awesome, especially for a first-year teacher," LaFlure says.
Though it's unusual for an aggressive, college-prep school, LaFlure, Reed, and colleagues push each other toward project learning. Craig Brandenburg was a YES Prep math teacher until he tapped into his passion for video production and created a multimedia class and student-run production company. His video-production students make audio slide shows of their favorite children's books and donate them to their former elementary schools. In Katie Norwood's seventh-grade English class, students joined an international program called Books of Hope to create class-worthy textbooks for students in Uganda on topics like the solar system and baseball.
But for all their enthusiasm, even YES Prep teachers occasionally get the blues. "Already, still early in the year, we've lost a couple of kids to other schools," Reed says. "There are days that can be really horrible and frustrating."
What keeps Norwood going is this: "I love working with the kids. I love the freedom that I'm given here. I love the fact that the sky's the limit. There are leadership opportunities for me. There's support. There's people I love. I'm exhausted all the time. It's a really, really hard job. But I'm always driven to do more."
Students and Parents: School on a Mission
"Our students are here because they're on a mission," says teacher Craig Brandenburg. They dig deep and recover from setbacks, he adds, because "they know their ultimate goal is to prepare themselves for college. And not just going to college, but completing it."
This was not always the plan for most YES Prep kids -- and that's the whole point.
Mayra Valle is a warm, bubbly leader in the school's performing arts group. When she graduates this spring, she will be the first in her extended family to complete high school. Her mother came to Texas as a girl from Mexico. Her father drives a landscaping truck between Houston and Austin, which means he doesn't see his children as much as he would like. Mayra's aunts and uncles toil as housekeepers and construction workers.
Ludvinia Valle drives her daughter back and forth to YES Prep, leaving at 7 in the morning and returning at 7 at night to pick her up, after theater rehearsal. "Having a YES student requires a lot of support from the parents," she says. "They really need a good breakfast in the morning, dinner at night, fruit, so they can keep going."
Mayra has sacrificed valuable time with family to spend long days at school and late nights doing homework. While away on a school field trip far from home last April, she missed a last visit with her grandmother on her deathbed. Now she's driven by what her grandmother used to tell her: "Look at your parents, your aunts and uncles. I don't want you cleaning toilets when you grow up. They're doing it because they don't have a choice. You have a choice. There's a reason we came to America."
Despite the often rocky transition to YES Prep's sixth grade, most students learn to manage and ultimately welcome the rigor of tailoring their work to the teachers' tough rubrics, doing multiple revisions, and supplying their own analysis and argument on each topic. By the time they hit the upper grades, they're reading existentialist literature and debating the nature of society.
Teacher and principal Bryan Reed knows Mayra, along with many other students, very well -- the relationships are part of how YES Prep helps kids meet the sometimes overwhelming demands on them. Reed has, for instance, met Mayra on weekends to help her with a paper, and when her grandmother died, Reed told her to call him if she needed anything, even someone to walk her dog. "And I believe it," Mayra says. "If I had called him, he would have been there. And that's true of all the other teachers and all the other students."
With money earned from fundraisers, the school sends teachers and students to visit colleges -- some local, some as far away as Colorado and Illinois. "The kids see what the end goal is. They know what they're working toward," says English teacher Emily Shisler, who took a group of students to her alma mater, Northwestern University. In their seven years at North Central, students will visit as many as 20 colleges, both local and out of state.
Parents make their contributions, too, though some are considerably less active than others. Almost all must find a way to shuttle their kids to school at odd hours and help manage their stress at home. (Teachers frequently serve as chauffeurs to kids whose parents are unable to help out.) "Parents have to be that support system," says Elia Torres, a mom who also works in the school's office. "Kids are here long hours of the day and on Saturdays. They're required to do more than in a regular school, and they get tired." The payoff, she says, "is the gleam in their eye."
Yet just about every student has had a moment of self-doubt, when the work, the hours, and the expectations were all too much. About 5 percent of students transfer out of YES Prep schools each year, though virtually none of them drops out entirely. Torres remembers when her daughter Norma, after two months, wanted to transfer schools. "I said, 'Remember, we signed a contract,'" Torres recalls, referencing the document all students and parents sign upon enrollment. "I signed a contract saying I was committed to your education, and we're not breaking that."
Ultimately, the powerful prospect of a better life (and for some, the exhortations of their parents) keeps most of them marching on. Watching kids at soccer practice, taking turns on the sidelines tutoring teammates whose low grades have disqualified them, sometimes working by flashlight as dusk falls -- there's no disputing their commitment to their mission.
Administrators: Tough Love
It's hard to tell School Director Mark DiBella and his fellow administrators from the teachers at YES Prep North Central. They all teach classes and supervise students in the cafeteria, and teachers can get elbow deep in traditionally administrative duties like discipline, coaching fellow educators, and creating new ways to improve the school. That's by design.
DiBella, a Virginia native who started out as a teacher at YES, compares his impact on the school to that of oxygen. "If things are going well, I sort of fade into the background," he says. "If teachers start suffocating, I'm not doing my job."
DiBella sets the tone and cultivates systems that sustain it. Teachers and students get loads of appreciation and public shout-outs for what they do well, but everyone knows there's always something they could do better.
"In my previous school, if there was a problem, it would get swept under the rug," English teacher Emily Shisler recalls. Here, teachers are allowed, even encouraged, to disagree. The agenda for one staff meeting was titled "Killing Sacred Cows."
The staff members' fixation with constant improvement makes YES Prep unusually nimble. A couple years ago, DiBella and another teacher visited a school in Boston that did great work with team teaching. When they told their colleagues about it, the sixth-grade teachers put in a few extra days over winter break, implemented some plans on the fly, and reopened in January with team teaching in place. In the education world, schools simply don't adapt that fast.
Just as they challenge and support each other, DiBella, teacher Craig Brandenburg, and colleagues show both toughness and love to students. "Our best teachers are like alchemists," says YES Prep founder Chris Barbic. "They can put those two things together. They know when to put their arm around a kid and give him a pep talk, and they know when to raise their voice and get a kid's attention."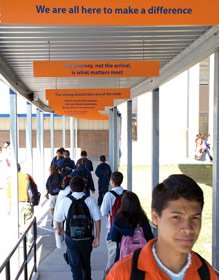 Credit: Eli Reed/Magnum Photos
On Message: Educators at YES Prep North Central cover the campus with axioms about hard work and community service.
Slogans posted on just about every wall communicate to students that they are accountable to themselves and the whole school community: "We are all here to make a difference"; "We give 100 percent every day"; "Our responsibilities never end."
Combined with the school's outright obsession with higher education, and the college pennants hanging from almost every wall, it can seem a little Orwellian. Barbic explains, "When they're not here, they're bombarded with a whole other set of messages. There really has to be a marketing campaign every day around why college is important and the kind of kids we want our kids to be."
Next to the boosterism, a strict discipline system at North Central is in place, which prohibits even untucked shirts or talking out of turn. The business of getting prepared for college is too serious for such distractions. Five marks for misbehavior in a week puts a middle school student "on the RISE" (Restoring Individual Student Excellence), which entails wearing the equivalent of a scarlet letter, a white T-shirt instead of the uniform polo. For five days, a student must wear the shirt, eat lunch alone, and speak only to teachers, while earning points for positive participation in class. Each day of missing these targets means another day on the RISE.
The stigmatizing may seem harsh, but the kids who have been through RISE agree it's fair. Most have to do it only once or twice before they step into line. (North Central had only two fistfights last year.) When they complete their week of penance, students read an apology letter aloud to their classmates, who then grill them -- vigorously -- on what they did wrong and how they plan to change.
"This is a family," says Reed. "We couldn't fake what happens here."
But what happens when some in the family, teachers especially, start to run out of gas? How is this level of effort sustainable? At 7:30 p.m. on a recent evening at his office, Reed said, "Inspiration only lasts so long when you don't see your spouse and kids more than an hour a day."
Barbic acknowledges that most teachers will stay at YES Prep only five to seven years. He says the days of the 30-year career doing the same job "are over in every other industry, and to expect teachers to be different is unrealistic." Still, he says the school is taking active steps to keep teachers interested and the environment vibrant enough so they'll want to stay on longer.
DiBella resists the notion that teachers will move on and wants to make YES Prep North Central a place where they build a career. So he's creating more personalized professional development and working with the main YES Prep office to offer hefty salary bumps to master teachers. "It's an enormous challenge, because ultimately, when people ask me what it takes to make North Central great, it truly is the people," says DiBella.
What are his chances of retaining teachers for a decade or more? "Not good," he says. "But for a lot of things we've achieved, the chances weren't good. That doesn't mean we don't try."
Replication: A Drop or A Bucket?
For all of YES Prep's accomplishments, another test -- perhaps the ultimate one -- is just beginning: spreading its success throughout Houston and beyond. For many charter schools, the development of good practices that can flow to regular public schools is the truest measure of achievement. Today, North Central and the other YES Prep schools are islands of promise that serve only a fraction of the families that live all around them. The seven campuses, which have 3,500 students total, have 6,000 kids on the waiting list.
"We don't win by getting to be the darlings of the media because we've gotten great results," YES Prep founder Chris Barbic says. "We win if more schools become great because of what we're doing. It's time to get this out of the petri dish and take it to scale."
The effort has started. Nearby Hogg Middle School and the new Ninth Grade College Preparatory Academy have been working to remake themselves with guidance from YES Prep. And the YES Prep organization itself plans to open six more schools within the next seven years.
Hogg is a cavernous old school in a lush, gentrified Houston neighborhood called the Heights, where many of the local children go to private or magnet middle schools. Many lower-income kids from other neighborhoods attend the school. Local parents of elementary-age kids have set out to make Hogg a school they and their neighbors want to send their kids to, which means higher test scores, tighter discipline, and a college-prep curriculum-changes they believe will benefit all children, not just their own. The former principal and several teachers have visited YES Prep North Central to glean ideas, and they're laying out a plan for change.
The Ninth Grade College Preparatory Academy is a state-ordered spin-off of Sam Houston High School, whose test scores have historically been so low that the state labeled the school "academically unacceptable" for six straight years. (Last spring, however, its scores shot up dramatically). Founding principal Rolando "Rudy" Trevino, now principal at another Houston high school, who built, planned, and designed the Academy in 40 days in summer 2008, relied heavily on advice from his friends in the YES Prep schools. The reformers at the Academy and Hogg don't intend for either school to look exactly like YES Prep, but they want to borrow certain key ideas, like the college-bound culture and RISE.
For their part, Barbic and North Central school director Mark DiBella are eager to provide these schools advice and potentially a temporary teacher exchange. Some YES Prep teachers, like Reed, want someday to go back to traditional public schools. But YES Prep enjoys advantages that Hogg and the Academy don't. As a charter school, it can fire underperforming teachers more easily -- though DiBella emphasizes that he rarely uses this option. It can expel students more easily, though again, that's rare (North Central expelled four last year). Even the biggest champions of YES Prep say it's not for everyone. DiBella's own wife left the school after having children in order to spend more time with them.
And walking the halls and grounds of Hogg last spring with then-principal Imelda Medrano, I could sense, without anyone having to explain, what her reform effort was up against. As she walked, Medrano picked up litter from the playground and had to field question after question radioed in by walkie-talkie from her office on the floor below. Compared with YES Prep, the school felt massive, old, and unwieldy, with scarcely contained chaos bubbling right below the surface.
Mayra Valle and her North Central classmates are already talking about how, when they cross the commencement stage in May, the raw emotions of the moment will bring them, their families, and their teachers to tears. Their lives are changed. Yet the enduring value of YES Prep and charter school efforts like it may ultimately be measured in outcomes elsewhere: Will they effectively feed the reform efforts at struggling schools like Hogg and the Academy? Will those schools, in turn, ultimately succeed?
From what I've seen, I doubt every school could -- or should -- be just like YES Prep. But very few would not be better off for adopting some of YES Prep's ideas. What the school does best, besides get kids to college, is push the envelope. Its success sends the message: No excuses. This can be done.
The parting words to DiBella from the first group that came to visit YES Prep from Hogg were, "We can do this." DiBella now adds, "I believe that."
If we want to change education in the U.S. -- more profoundly than we can by reforming curricula or standardized tests or teacher-certification policies -- we have to believe, too.
Grace Rubenstein is a senior producer at Edutopia.
School Snapshot
Grades 6-12 | Houston, TX
Enrollment
854 | Charter, Suburban
Per Pupil Expenditures
$4567 School
•

$4567 District
•

$5455 State
Free / Reduced Lunch
56%
DEMOGRAPHICS:
97% Hispanic
3% Black
1% Asian
1% White
6% English-language learners
Data is from the 2011-12 academic year.