Student Engagement
Resources and Downloads to Improve Student Performance
Educators from Cochrane Collegiate Academy in Charlotte, North Carolina, have provided these samples and resources for you to use in your school.
October 18, 2011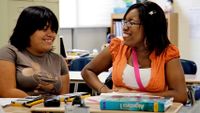 Credit: Zachary Fink
Cochrane's strong PD and its list of ten non-negotiable classroom practices have been critical to the school's turnaround, helping to boost student engagement and double student performance in three years.
Resources on This Page:
Tips for downloading: PDF files can be viewed on a wide variety of platforms -- both as a browser plug-in or a stand-alone application -- with Adobe's free Acrobat Reader program. Click here to download the latest version of Adobe Reader.
Click on any title link below to view or download that file.
Professional-Development Resources
Lesson Plans
Examples from a characterization lesson from Angela Johnson's ninth-grade English class:
Characterization Lesson

Lesson plan for characterization lesson; includes classroom examples of some of Cochrane's "Non-Negotiables":

Essential Question
Activating Strategy
Graphic Organizer
Higher-Order-Thinking Questions

Characterization Lesson Display

Promethean display for characterization with foldable example
Examples from various ninth-grade math lessons:
Culture at Cochrane
Useful Websites
School Snapshot
Grades 6-8 | Charlotte, NC
Enrollment
620 | Public, Urban
Per Pupil Expenditures
$6,133 School
•

$5,346 District
•

$8,451 State
Free / Reduced Lunch
87%
DEMOGRAPHICS:
60% Black
30% Hispanic
3% White
2% Asian/Pacific Islander
1% Native American
20% English-language learners
 13% Individualized education programs
 
 
 

Demographic data is from the 2011-12 school year. Fiscal data is from the 2009-10 school year.