Project-Based Learning (PBL)
Planning for Project Learning in Your Classroom, School, or School District
How to adopt best practices in 5 minutes, 5 hours, 5 days, 5 months, and 5 years.
March 15, 2010
Editor's Note: Special thanks to Cacso Bay High School teacher Susan McCray and principal, Derek Pierce for their assistance compiling this list.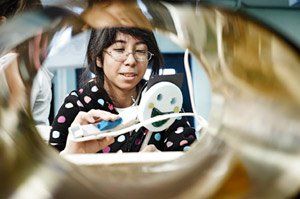 Credit: Michael Warren
Energizing Work: A King Middle School student works on her Kinetic Conundrum art project.
You've read the articles, watched some videos, and come away feeling as inspired as you are frustrated. The projects profiled here are full-figured creations by teams of teachers at schools whose cultures and schedules support grand ideas. Take a deep breath -- it didn't happen in one big swoop.
"I used to work with a teacher who always said, 'it takes five years to incorporate any new dimension into your teaching effectively, to fully incorporate it and to own it,'" said Casco Bay humanities teacher Susan McCray. It's not about designing a mongo expedition; it's about shifting how you engage students in the work. That can be a messy process, so prepare to get dirty one day at a time.
In 5 minutes, you can
In 5 hours, you can
In 5 days, you can
In 5 weeks, you can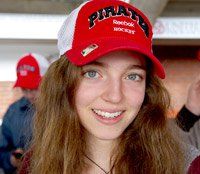 Credit: Michael Warren
Teamwork: Students at Casco Bay High School learn about business through a project with the Portland Pirates Ice Hockey Team.
In 5 months, you can
Map out the phases of an expeditionary project that fit within the time you have to teach a curriculum standard. The phases are: immersion, building background knowledge, independent investigation, synthesis, product development, and culminating event.
Plan a culminating event. It doesn't have to be something huge, but definitely an event that has a real audience and real world connection. Build in time for a dress rehearsal where standards are assessed. Invite parents and any relevant community members and experts. Give students as much leadership opportunity as possible.
Reflect on the success of project and curriculum, using a tool like the Learning Expedition Criteria by Expeditionary Learning Schools.
After you've completed a project, offer to share your work and reflections with colleagues in a more formal way.
In 5 years, you can
Create fully formed projects that: meet state standards; have significance in the real world, engage more than one academic subject; have students working on independent, meaningful research; focus on as much investigation in the classroom as possible; include field trips for student research and investigation; and have substantial culminating events open to the larger community.
Visit colleagues and other schools that have exemplary projects, structures, and learning practices.
Attend training sessions or workshops on project learning and encourage other teachers to do the same to build a critical mass for school reform.
Be a change agent: Advocate for teams and interdisciplinary courses at your school with time to meet and plan.

What do you think of Schools that Work?
Tweet your answer to @edutopia.