Assessment
Free Resources and Downloads for Project Learning
March 17, 2010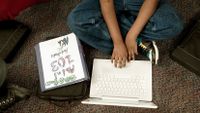 Photo credit: Michael Warren
Every middle school student in Maine gets a laptop.
You don't have to reinvent the wheel to bring project-based learning to your school. Educators from Maine have shared details about their administration, school culture, professional development, and curriculum -- materials you may adapt for your class, school, or school district.
Be sure to check out our Project Learning Reading List and our big list of other schools around the country who have started project-learning programs.
Click on any of the titles below to download a PDF of one of Maine's public schools' resources for success.
[ PDF files can be viewed on a wide variety of platforms -- both as a browser plug-in or a stand-alone application -- with Adobe's free Acrobat Reader program. Click here to download the latest version of Adobe Reader. To download a free version of the Microsoft PowerPoint Viewer, visit Microsoft's Download Center.]
Resources On This Page:
Resources from Edutopia
Examples of Project Learning/Expeditionary Learning
School Assessment and Measuring Success
Teacher and School Planning Guides
Professional Development
Organizations
Resources for Parents
More Information
School Snapshot
Grades 6-8 | Portland, ME
Enrollment
232 | Public, Urban
Per Pupil Expenditures
DEMOGRAPHICS:
75% White
17% Black
3% Asian
3% Hispanic
1% Native American
Data is from the 2008-2009 school year.