6-8 Middle School
Resources and Downloads for Expanded Learning Time
Educators from Edwards Middle School in Charlestown, Massachusetts have provided a sample school schedule, lesson plans, professional-development resources, and more for expanded learning time.
May 17, 2013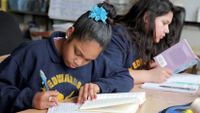 Credit: Alyssa Fedele
Edwards Middle School in Boston added three hours to the school day and use the longer school day for both focused academic attention and a wide array of extracurriular enrichment activities.
Click on any link below to view or download that file.
Tips for downloading: PDF files can be viewed on a wide variety of platforms -- both as a browser plug-in or a stand-alone application -- with Adobe's free Acrobat Reader program. Click here to download the latest version of Adobe Reader.
Resources from Edwards Middle School
Below are documents provided by Edwards Middle School.
Edwards Middle School Daily Schedule - See how Edwards schedules their extended school day. Regular school hours are from 7:30 a.m. to 1:30 p.m. with expanded learning time happening Monday through Thursday from 1:40 p.m. to 4:20 p.m.
Edwards Middle School Assessment Calendar - The assessment calendar for the 2012-2013 school year includes district predictive tests as well as state and national tests. Once students complete predictives, they are placed in their respective academic blocks, then Edwards staff can begin to prepare students for state and national tests. These include Massachusetts Comprehensive Asessment (MCAS) and National Assessment Education Progress (NAEP).
Curriculum Team Long Term Plan - This document helps to show how Edwards teachers and staff lay out their curriculum schedule for the entire school year. Each week, teacher leaders from content area teams, or "families," as they call it, turn in a Curriculum Team Alignment Plan to the Director of Instruction. The Director of Instruction makes sure that Edwards is keeping up with all standards for both Boston Public Schools (BPS) and the Common Core.
Teacher Collaboration - This document is used to plan the Edwards professional development schedule. Edwards has 80 minutes of planning time each week, twice as much as the standard for BPS schools. Edwards prefers having 80 minutes of professional development time for creating and fine tuning their master schedule and working with the curriculum long term plan.
Curriculum Team Alignment Plan - The curriculum team alignment plans are turned in by teacher leaders to the Director of Instruction every week. These sheets display objectives and expectations for BPS curriculum, Common Core in math and science, the mastery learning objective for the week, and the language objective. The document has flexibility with pacing plans for weeks when classrooms require high levels of differentiated instruction, language readiness, and learning profiles of students.
Edwards Lesson Plan Expectations - This document lays out a list of lesson plan expectations, including thinking objectives, mastery learning objectives, skill coverage, engagement, activities, assessment, and homework. The document also includes Edwards's five-step approach to planning and pacing 60 and 80-minute class periods. The five-step approach includes warm-up, mini-lessons, exploration (group or independent work period), reflection, and closing procedure.
English Language Arts (ELA) Lesson Plan - Completed lesson plan from ELA teacher Hassan Mansaray
Edwards Lesson Plan Template - Blank lesson plan template
ELT Electives Schedule - Schedule of electives offered at Edwards in winter 2012 and spring 2013
ELT Elective Descriptions - Document provided to parents with detailed descriptions of electives offered at Edwards
ELT Elective Descriptions - Another document for parents with more descriptions of electives at Edwards
Academic League Schedule - Schedule of the focused academic intervention session at Edwards calle Academic Leagues
Below are documents from a poetry unit provided by English Language Arts teacher Hassan Mansaray.
Poetry Vocabulary Terms - Vocabulary and key terms used in poetry
Poetry Example - Robert Frost's The Road Not Taken
Reading and Interpreting Poetry - Worksheet on which students must answer four questions based on a poetry example from class -- two questions are discussed in class and two are answered in notebooks that students hand in
Reading and Interpreting Poetry - Another poetry worksheet
Learn More About Edwards Middle School: Website, Articles, Videos, and Blogs
Below are links to information as well as articles and other media coverage featuring Edwards Middle School from media outlest including The New York Times, The Huffington Post, and National Public Radio.
Edwards Middle School - Homepage for Edwards Middle School
Boston Public School District - District homepage for the Boston Public Schools
Clarence Edwards Middle School: Success Through Transformation - Case study conducted by National Center on Time & Learning (NCTL) on how ELT started at Edwards Middle School and its results
Academic Leagues at Edwards Middle School - Excerpt provided by NCTL from the Time Well Spent Report, explaining how Edwards has closed the achievement gap within Massachusetts in math, English language arts, and science with their Academic Leagues
Shortchanged by the Bell - New York Times Op-Ed piece citing Edwards as proof for ELT
Why We Need a Longer School Day - Huffington Post article on why schools need a longer day; cites Edwards as a thriving Boston school after implementing ELT
For Teachers Contract Talks, Extended School Days Is an Issue - NPR article and audio clip on ELT featuring Amrita Sahni, Director of Instruction at Edwards
Math Leagues: Making Middle School Math Matter - Video from Mass 2020 video on middle school math; filmed at Edwards
Arts in Education in a New School Day - Video from Mass 2020 on on arts in education; filmed at Edwards
Websites for Expanded Learning Time
National Center on Time & Learning (NCTL) - Nonprofit dedicated to expanding learning time to improve student achievement and enable a well-rounded education
Mass 2020 - Affiliate of the NCTL, committed to expanding educational and economic opportunities for children and families across Massachusetts
Mass 2020 overview of ELT - Overview page on ELT, includes examples and case studies in language arts, mathematics, and science
Citizen Schools - Nonprofit that partners with middle schools with ELT across the United States
The Wallace Foundation - ELT resources from The Wallace Foundation including books and research findings
More Edutopia Resources on Expanded Learning Time:
Video: An After-School Network Expands Learning Time
Article: A Campus-Community Approach to Enriching the After-School Hours
Video: A Week in the Life of PASA's After-School AfterZone
Video: A New Day for Learning: Expanding the Educational Experience
Edutopia Package: A New Day for Learning, Part One
Edutopia Package: A New Day for Learning, Part Two
School Snapshot
Grades 6-8 | Charlestown, MA
Enrollment
534 | Public, Urban
Per Pupil Expenditures
$7,651 School
•

$17,283 District
•

$13,658 State
Free / Reduced Lunch
82%
DEMOGRAPHICS:
61% Hispanic
16% Black
14% Asian
8% White
Data is from the 2011-12 academic year.