Project-Based Learning (PBL)
Student Profile: Creating a Winning Science Fair Project
Get a peek into the education of a student at a medical magnet school.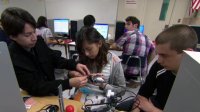 Name: Dea Flores
School: Francisco Bravo Medical Magnet High School
Location: Los Angeles Unified School District
CTE: Engineering for Health Academy (EHA)
Year: Class of 2011
Seventeen-year-old Dea Flores couldn't help but notice her younger brother Alex's responses to playing video games: "He would scream at the screen if he wasn't winning or almost start to cry." Yet, he continued to play. Dea hypothesized that despite appearances, gaming might be releasing stress in him rather than increasing it. So she took her theory to school and hooked up classmates to a monitor while they played video games and measured their stress levels. Weeks later, Dea won the science fair award for her stress work. P.S.: Her brother Alex calmly hugged the award all the way home.
Dea's family immigrated from Mexico after her father's small business failed. Luis Flores had earned a college degree in Mexico, but in Los Angeles, the only work he found was in a warehouse. Dea's mom, Sandra Zuniga, works as a housekeeper. They live in a tiny one-bedroom apartment in a small complex that opens onto a lush rose garden. Dea and Alex sleep in the modest family room.
From their home, Dea can see the University of Southern California. She's been watching the USC students come and go for years, and she dreams of joining them one day. Knowing that her neighborhood high school wouldn't get her there, she jumped at the opportunity when a middle school teacher recommended Francisco Bravo Medical Magnet High School. "I wanted to get out of my neighborhood."
She admits Bravo is not perfect: last year, budget cuts forced them to enroll more students than feels comfortable, and there's a small group of students dealing drugs on campus. That's more of a nuisance than a menace to Dea, who spends her time running track and studying. She dreams of becoming a surgeon, but dreads the thought of giving people bad news. Then, bringing to mind her award-winning science project, she adds, "I don't think I could handle the stress."