Community Partnerships
Bringing the Community Into the Classroom
Experts abound in every community, and these engineers, chefs, etc. can be an authentic audience for student work.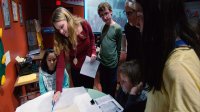 Overview
At Hood River Middle School, in Hood River, Oregon, educators work with community partners to make student learning relevant, engaging, and applicable to the real world.
"A learning partner is an expert in the community or somebody who can help us take our learning from the classroom and apply it into the real world," says Laura Haspela, a Hood River seventh-grade science teacher.
Learning partners also bring their passion into the classroom. When Haspela invited a local geologist to her class, he did more than make student learning relevant -- he shared his 25-year passion of being in that field. "That's something I can't bring to them," says Haspela. "That's a real gift."
Introducing students to learning partners also expands their sense of what they believe is possible for their own future. "If you ask kids, 'What do you want to be when you grow up?', they give you very specific careers: police officer, teacher, firefighter, and that's because that's who they can see; that's who they can identify with," says Brent Emmons, Hood River's principal. "When you take them to businesses, and they can ask, 'What do you do? What does that look like?' -- it inspires kids to think outside of the box."
By bringing local experts into your class, or by working with community partners on projects outside of the classroom, the school exposes students to people of varying professions. "An engineer, forester, local businessperson, local chef -- these are all actual professions that we've invited into our schools to either help teach or to evaluate student work," says Emmons.
How It's Done
Utilize Learning Partners to Fit Your Needs
Hood River Middle School uses learning partners in two ways:
1. Learning partners increase teacher content knowledge.
Hood River teachers bring learning partners into the classroom to co-teach with them. At other times, they'll connect with them one-on-one to deepen their own content knowledge. When Haspela wanted to deepen her understanding of geology before teaching it to her students, she met with a local geologist to ask him questions. She then incorporated that knowledge into her lessons.
2. Learning partners give student work an authentic audience.
"The level of quality of what our students do goes up when they have a real audience," explains Michael Becker, a Hood River teacher and the director of the Food and Conservation Science (FACS) program. Becker brings in community partners -- from local chefs to the mayor -- to judge his seventh-grade students in their Iron Chef competition, which is part of the FACS curriculum, alongside running cafes and getting their food handler's card.
"We're going to have a chef from [local restaurant] Celilo come in, and he's going to be one of our judges. My hopes are really high today. That makes me work harder to show them what we got," says Gerardo, a Hood River seventh-grade student.
"It makes our assessments more authentic," adds Haspela. "Knowing that we have an [expert] who's going to be coming in and watching their presentations, who knows a lot about the topic already, who might be asking them challenging questions, that raises the bar."
Know What You Want in a Learning Partner
When choosing a learning partner, Hood River educators set these criteria:
Choose someone who can connect with your students in a way that you can't.
Consider their profession, passions, personality, and how they will connect with your students. "Not all students are going to connect with me, and I'm not going to connect with all students, but there are always community members with different personalities that my students can connect with," says Sarah Segal, a Hood River seventh-grade English language arts, literacy, and social studies teacher.
Choose someone who reflects your students' image.
Bring in people that reflect the ethnicity and gender of your students. Use learning partners as an opportunity to break down the preconceived ideas of what different professions look like. For example, Haspela tries to bring in women scientists as learning partners.
Find a Learning Partner
Once you have an idea of what you're looking for in a learning partner, you just need to ask -- whether contacting potential partners directly, or seeking recommendations from your colleagues and parents. "Every community is rich in resources," states Emmons, "and what we found is that most people are happy to help."
To find learning partners, Hood River's teachers will. . .
Use Google.
If you have a question, Google it, find the nearest community expert, and then call. Segal uses Google regularly to connect with resources for herself and her students.
Ask parents.
Email parents for help. Haspela emails parents a description of what her students are studying and asks if they know anyone local who can come in to speak on that topic.
Ask colleagues.
Connect with teachers from other schools. Scientists have been hard to find for Hood River teachers, but by reaching out to the high school science department, they were connected to a local geologist.
Go to local talks.
Go to local talks or workshops that cover what your students are studying. Network with community members and other educators. When talking to other educators, Haspela finds it helpful to ask them about the learning partners with whom they've worked:
What local experts do they work with, and what are their specialties?
Are they open to working with other educators?
Are they good in the classroom, or are they better outside of the classroom?
Contact local museums.
Get in touch with your local museums. Smaller museums are more likely to come out for free, says Andrea Smith, a Hood River Museum education and volunteer coordinator. "One thing I commonly hear in museum education is that teachers aren't reaching out to us to come into your classrooms," she explains. "You'll mostly come for field trips, which is great, but we would love to come into your classrooms, too. We want to interact with you. We want to talk to your students. Please contact us. We will tailor something to your classroom."
"I regularly access outside professionals," says Segal, who created a new museum studies class this year for period six. To commemorate Hood River County School District's 150th anniversary, her museum studies class is turning an old ticket office at the front of their auditorium into a museum.
"Andrea at the Hood River Historical Museum is somebody I connected with very quickly," explains Segal. "We bounced different ideas off each other, and that relationship has grown."
"I will do everything from dressing up like a pioneer, to bringing in a few artifacts for the kids to handle, to teaching them about either Hood River history, museums, or archives," adds Smith.
Call government agencies.
A good first step, recommends Haspela, is to go to government agencies and ask if they have someone who would like to talk to your students.
Contact the U.S. Forest Service and the National Park Service.
"If you're looking for outdoor learning, I would contact the Forest Service or the Park Service," recommends Smith. "They're always happy to go into classrooms and usually have an education department."
The National Park Service protects national parks across every state, which also encompases historic sites, from monuments to battlefields to the White House. The U.S. Forest Service manages 154 national forests and 20 grasslands spanning 44 states. "They have individuals whose job description includes educating the public," says Haspela. "They're excited to get involved and come into the classrooms."
Find learning partners within your school and district.
Outside of local experts, Hood River teachers also bring in students and administrators as learning partners. "We have fairs where we invite other classes to come in and be the outside evaluators for the younger kids. We also have students in elementary school that our kids teach, and we invite high school students to teach our middle school kids," adds Emmons.
Segal brings Hood River's principal and vice principal into her classroom as learning partners. "A lot of students think of them as this scary entity," she says, "but they both have passions that extend beyond being an administrator, and that allows them to connect with my students on a different level."
Strategies for Working With a Learning Partner
In addition to bringing learning partners into your classroom for co-teaching, evaluating projects, and taking your students outside of the classroom for projects, there are other ways for teachers to work with them.
Call a learning partner during class.
When your students ask a question that you can't answer, a local expert is just a phone call away -- even during class. Segal tells her students, "Look up their phone number, and make a phone call." She has her students write out their questions beforehand and talks to them about how to introduce themselves. "It's modeling being engaged in this world," she states. "If you don't know the answers, how are you going to find them?"
Last year, when one of her students had questions about the hierarchy within a wolf pack, Segal had her call the Yellowstone Wolf Refuge. "She called them, they answered all of her questions, emailed her additional information, and sent her a package with an extensive amount of information," she recalls. "It's about asking the right people the right questions."
Work with your learning partner's schedule.
You'll come across learning partners who work with a lot of schools and may be experiencing burnout. Being sensitive to this and working with them on their timetable can benefit everyone. Instead of trying to fit them into your class schedule, Haspela recommends emailing them or meeting with them outside of class when they're available.
To incorporate learning partners into your classroom:
Put pictures of them on your walls.
Bring video interviews with your learning partner into the classroom.
Have your students come up with questions to ask them, meet with your learning partner one-on-one, and have them answer your students' questions on video.
"Ideally, my students are the ones interacting with these community members as much as possible, but that can't always happen," admits Haspela. "These other ways of working with them have still been meaningful and appreciated."
Clearly Communicate Your Classroom Expectations
Know that you're the expert when it comes to your students.
When you bring in local experts, remember that you are the classroom expert, advises Haspela. You're the one with the expertise on how to deliver information to your students, on how they learn, on how to keep them on task, and on how to engage them.
"From a teacher, I need them as backup in the classroom," says Smith, speaking as a Hood River learning partner. "They know how their students are going to respond to different types of learning. They know when they're paying attention. I'm not in their classroom every day, and I don't know what that looks like with their particular kids."
When you invite a learning partner into your classroom, suggests Haspela, "remember to hold the structure of the classroom." Give them an important role, but don't give up the lesson to them.
Ask your learning partner for a concise presentation.
"I've had experiences with learning partners that aren't the best fit," reflects Haspela. "Often times, our learning partners are used to audiences where they talk for longer periods of time than our students are used to. My students are used to snippets of lectures, and then they're ready to move onto something active."
Communicate this to your learning partners. Give them a short, set time frame to present. Most learning partners are relieved to find out that you don't expect them to give a lecture, says Haspela.
Ask for resources that you don't already have.
"Give them ideas on how they can share resources that you don't necessarily have," adds Haspela. "Have them bring in visuals of their resources, or visuals of their actual tools that they use in the field. It has been helpful when they give more of a visual tour rather than a talking tour."
Invite your learning partner during a workshop period.
Have your learning partner come in while your students are working on a project. "Your students can have small, group interactions with the expert, as opposed to having them stand in front of the room and share all of their knowledge," says Haspela.
Communicate your content needs clearly.
"Solid communication is needed for a good relationship between a teacher and an outside learning partner," says Smith. "You have to know each other's expectations. I can't give them a presentation unless I know what they expect out of it. We need to be on the same page with curriculum and what we hope students get out of it."
"Learning from somebody who's not our teacher is interesting," reflects Aliyah, a Hood River Middle School student in Segal's museum studies class. "Miss Segal is really excited. Museum studies is a brand new class. She's excited about learning along with us, not as a teacher, but as a student."
School Snapshot
Grades 6-8 | Hood River, OR
Enrollment
540 | Public, Rural
Per Pupil Expenditures
$11280 District
•

$10515 State
Free / Reduced Lunch
44%
DEMOGRAPHICS:
66% White
29% Hispanic
2% Asian
1% Black
Data is from the 2014-2015 academic year.