Professional Learning
Why Reading Matters: An Interview With a School Leader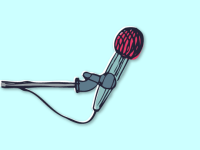 One of the greatest honors I have is the opportunity to work with a talented, creative, hardworking team of educators, people who demonstrate on a daily basis what it takes to prepare students for college success. Teachers, in general, tend to be an awe-inspiring bunch, and Envision teachers and school leaders certainly do inspire me.
In this post, I'd like to introduce you to one such amazing educator: Mark Isero, who is our director of instructional development. In that capacity, Mark coaches teachers and designs exceptional professional development experiences for our network of high schools in the bay area of San Francisco. We were lucky enough to have Mark teaching English and social studies in our classrooms for 15 years. (You'll hear more about his teaching background in the interview below.) With his particular focus on literacy, equity, and professionalism, Mark is a true asset.
Edutopia: Mark, tell us how you came to the teaching profession.
Mark Isero: My family taught me that education led to power and freedom. So in college, I signed up for a summer program called Summerbridge, where high school and college students taught middle school students who would be the first in their families to go to college. It was also the first summer of Americorps, and I got to go to New Orleans for an Americorps gathering where then-Vice President Al Gore spoke. There, I met 400 people from across the country working to help middle schoolers in New Orleans. This got me instantly hooked not only on the really important reasons to be a teacher -- social justice and equity -- but also on the idea that teaching made me feel truly alive.
What are your professional goals?
Just about five years ago, while I was teaching English and social studies, I had this big epiphany that everything is related to reading. How well do my students like school? That's related to reading. How much do they feel ownership of their education, their academics? Reading-related. Can they sit still in their chairs, or do they go crazy? That's reading, too -- the mindfulness of reading. How about how well can they have empathy and see other people's worlds? Reading, too. The more I taught, the more I realized that really I should focus on reading.
Since then, and now more than ever, my professional goal has been to work to promote more reading in high schools, particularly for young people of color. When there is a lot of reading, there is academic rigor and independence. No, I don't want students to be introverts and just read in silence. But I do believe that reading leads students to build background knowledge about their worlds and to be able to think more deeply and more critically.
You have your own blog, called Iserotope. Where did that come from? And can you tell us what your blog feature "Teacher Voices" is all about?
I started my own blog a few years back when I was a teacher and wanted a place to catch my reflections about my work. It became a small community of like-minded, experienced teachers who shared best practices about teaching English in urban schools. Since then, it has also become a place to share ideas for integrating technology into the classroom, and most recently, to honor and promote the voices of teachers.
"Teacher Voices" is a new feature of my blog this year. Ever since leaving the classroom, I felt like something was missing from my blog. When I was a teacher, I would write quick reflections about my work. The posts described my successes and failures, my roller-coaster emotions, my incessant attempts to figure things out, and, from time to time, my minor epiphanies. The reason those posts were popular, I think, is that teacher voice is essential and illuminating. Teacher voice cuts deeply through the educational debate rhetoric that too often obfuscates what's really happening in our classrooms.
So I started "Teacher Voices" to feature and honor what teachers are doing, to offer them a place for their voice, their perspectives, to get their opinions and experiences out there -- even if it's on a small scale, like my blog. Too frequently, teachers are not asked what they think. And even when they are, it's sporadic.
Tell us about your Kindle Classroom Project.
Before coming to Envision, I taught at a charter school in San Francisco that was similar to (most) charter schools in that there wasn't a huge budget for books. But obviously I wanted my students to read independently, and voluminously, because we know that reading identity and reading skills come through reading a lot of text. But what I found was that it was impossible to fundraise enough money to get enough books, plus some reluctant readers didn't think reading physical books was cool.
One day, out of exasperation, I loaned my personal Kindle to a student who was a reluctant reader; he loved it. So I thought it might be a good idea to ask other people for their used digital reading devices and to see what would happen. For the first year, there were on five to eight devices, and I loaned them out. I noticed that really skilled readers liked the devices and so did really struggling readers, particularly boys. In particular, struggling readers liked the coolness of the tech, that you can make the text bigger, that you can look up words, that you can have text to speech, and that you can hide what you're reading.
And because I already had a blog, I started writing about this effort to put digital reading devices in students' hands. As time went by, more people found my little project, and more people donated.? I recently received my 200th donated Kindle, which is great. We have over 1,200 students enrolled in three high schools, so the demand is still very much there.
I think the Kindle project increases reading interest and skills in many ways. First, students have 500 plus, high-interest books to choose from. These are not boring books. When students request a book, I buy it, and then it's available to everyone. This obviously can't happen with physical books because there is only one copy of a physical book at a time. Students who are re-emerging readers don't have the consistent habit or interest to read, and that has to be built, so being loaned a reading device means that an entire library is in their backpack at all times.
They don't have to worry about stepping foot in a public library or dealing with old fines, or being talked-to by a librarian. They don't have to check anything out. They don't have to get a library card, or return a book, or take care of it, or worry about losing it. All they have to do is keep their reading devices nice and safe. When they want a new book, they just type it in, and it's either on the Kindle, which means they can download it immediately, or they send me an email, and I buy the title and deliver it to them.
As far as increasing reading skills, my most recent "scientific" study came two years ago when I compared reading gains at our school in Oakland, Envision Academy.  Students with digital reading devices increased their reading skills an entire grade level more than students who did not use a digital device. 
Right now, my goal is to acquire 300 devices so that all our schools can offer them to every single student in one grade level. My bigger idea is that in the future, students would receive a device in ninth grade that they could keep, at least for the duration of their high school career, and perhaps permanently.
You can read more about Mark's Kindle Project on his blog website, Iserotope.