Professional Learning
What You Can Learn About Learning Through Video Game Play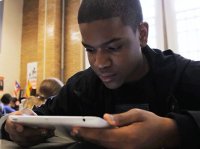 Yeah, well done! Way to hold your ground!
Cool base design! Tricky strategy to draw them in!
Thanks for the bombers! They really did the trick!
How do you hoard loot if they keep stealing if from you?
Don't worry about trophies if you are trying to get loot. Trade your town hall for a shield...!
Sounds strange? These are some of the conversations that I see in my Clash of Clans chat room. (Clash of Clans is a "freemium" mobile video game developed by a video game company based in Helsinki, Finland.) I went to a summer family reunion and met a bunch of my relatives. We had a great time. I got to know the younger generation and it was a lot of fun. Later, my brother and I got to talking and he and I both had Clash of Clan accounts (neither of us have spent any money on the game -- patience is a virtue) and we decided to create a Johnson family clan so we could stay in touch and have fun at the same time.
I invited the cousins and nephews to get involved and we made our own clan. I got to thinking about all the mental energy that is placed into this ingenious game and what parallels there are in education.
For those that are not familiar with the game, the point is to gather elixir, and gold to build your base to Level 11. There are two ways to build wealth, mine it, or battle for it. Keeping wealth requires that you protect your base from other marauders. Troops cost resources, and so do defenses. When you join a clan, you can share troops with each other and participate in cooperative wars. It is not an action-packed game if you are not willing to spend money on it, like me, so it requires patience and planning to grow and protect what you have (isn't life kind of like that?)
 Discoveries 
After playing this game, there's nine things that I have learned about education and learning:
#1. It's a lot more fun when you play (learn) with people you know. I can joke around with them, and understand their jokes in The Clan chat room because I know who they are. I can ask them for troops (help and assistance) in defending (retaining knowledge) my base, or I can ask them for advice on what they did to make progress (learn).
#2. To grow (learn) in the best and fastest possible way, I have to choose the best methods and strategies. I have to retain as much loot (knowledge and skills) as I can by setting up strong defenses (I become strong through determined practice). I have to make sure my defenses cover the entire base (I can't skip what is not interesting to me, I have to cover all the standards) with no weak spots. I have to constantly upgrade my defense (I have to keep current on the knowledge and skills and use it or lose it) to better protect what I have.
#3. Learning something new means taking risks. I prepare troops and I go to battle other clans for loot. Sometimes I win. But sometimes I lose (which means I'm not quite ready yet and need to practice some more before I have acquired the knowledge and skills). Either way I learn strategies from other players on how to, or how not to, build a strong defense (learn from mistakes and make it better the next time).
#4. Learning deserves to be celebrated and is often about collaborative efforts. In The Clan chat room, I share replays of my victories (celebrate learning) and I comment on the victory replays of fellow Clansmen (support and encourage others). I can also share a replay of my disastrous defeats (learning roadblocks) and ask for help (reaching out to learn from others).
#5. Sometimes I need to take time to go back and relearn what I thought I had learned already. After one of the defeats, the game gives you a shield that protects you from attack from other clans in order to give you time to rebuild and reinforce.
#6. Learning doesn't always happen all at once, but a step at a time. Progress is made mortar by mortar, archer by archer, and Valkyrie warrior by Valkyrie warrior. As my base grows in power and strength, so does my capacity to gather and retain wealth. Once I learn one thing, it helps me learn with confidence and gives me added skills to learn other things more quickly.
#7. I realize that there are gaps in my knowledge and I have to constantly study and ask questions to fill in the gaps. When my base gets wiped out because of a weakness in my defenses, I fix it, only to be attacked in other weak areas.
#8. When confronted with learning failures, I don't have to start from ground zero. I know something and I can rebuild on that. Losing a battle hurts, but it is not the end of the world. Fortunately, a competing force cannot take all of your loot when they win a battle. They can only get a percentage.
#9. Some of the best and most challenging learning I have experienced was being part of the excitement and energy of a team effort. As my clan grows, I can say that I helped and we have worked together to become strong and victorious.
How do I justify spending time on a simple game? It's fun to spend time with family members and as I demonstrated above, I have to think and thinking promotes learning. And if I am learning isn't that justified? How do you have fun and learn at the same time? For teachers, what are some ways you combine learning and play in your classroom? Please share with us in the comments section below.