Student Engagement
We Are All Artists
May 20, 2014
Updated April 16, 2014
I remember the first time we put a brush in my then two-year-old daughter's hand. Perched on the edge of tiny a red chair at her wooden table, she quickly realized she could use the blueberry juice we had placed in a cup to create unique marks on the page. It was inspiring and moving to see my high-energy child sit, entirely absorbed and focused, as she discovered and explored this new ability.
Little ones are fascinated by the act of creating something that exists separate from them. The joys of creative expression have no age limit -- yet, sadly, as many young people grow, they begin to believe that they lack creative skills. Some begin to say things like "I'm not creative" or "I can't draw."
Classrooms are places where different forms of creativity should be nurtured and limiting narratives should be challenged. Learning can be structured so that all are able to discover avenues for creatively expressing themselves. Creation and creativity are integral to joy, investigation, analysis, expression and identity.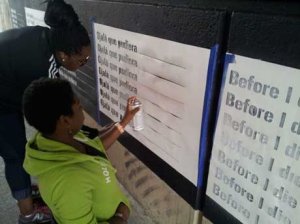 6 Arts Integration Strategies
Below are some of the different ways that I nurture different forms of creativity within my classroom:
Responding to Text or Ideas with Short Sketches
Sometimes after we've read a poem together, I will ask everyone to quickly draw the first image that comes to their minds as a way for us to begin our discussion.
Having Students Use Their Bodies to Represent Ideas and Emotions
When reading a powerful text, I sometimes have groups create a series of frozen sculptures or tableaux vivants to communicate ideas. Groups will then take turns staging their tableaux for the rest of the class.
Writing Creatively from Different Perspectives
This can be as simple as a found poem from a chapter or a diary entry or letter from a historical figure.
Creating Artistic Representations on a Page
Some students may feel very comfortable drawing a character from a novel, but others may excel in using symbols and shapes to make symbolic representations. Here are examples of a range of different character sketches that my students recently created.
Turning the Class into a Greek Chorus
The role of the Greek Chorus was to observe and comment on the action during a play. Certain texts lend themselves to this type of spontaneous, creative call-and-response in a classroom. I will have a small group of students performatively read the text, then I'll pause the action and have the rest of the class call out comments and/or advice before the reading continues.
Using the Arts to Introduce Ideas and Concepts
Being exposed to many different forms of art helps students understand that creative expression involves emotional and intellectual work. Artists such as Kara Walker, Marc Bamuthi Joseph, Shirin Neshat and Chad Goller-Sojourner all provide excellent inspiration for student projects and inquiry.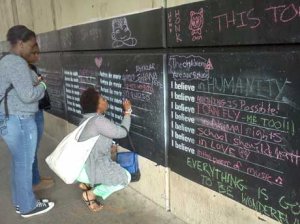 Teaching as Creative Practice
The arts allow students to delve more deeply and viscerally into big ideas and discover new ways of thinking and being, as well as helping them undermine the false compartmentalization of different subjects that exists within schools.
I believe deeply in the power of the arts and the idea of innate creativity, yet I sometimes catch myself opting out of certain experiences or find myself listening to a discouraging inner voice. I try to use these moments as reminders to live what I value and what I teach.
In addition to practicing the art of teaching, I aim to live a life that is immersed in creation, performance and creativity. I push myself to be a learner and a creator along with my students. When they draw, I draw. If I ask them to create a human sculpture, I take part. By co-creating along with students and continually sharing experiences and ideas, expression and inspiration can become a common language for learning and for navigating the world.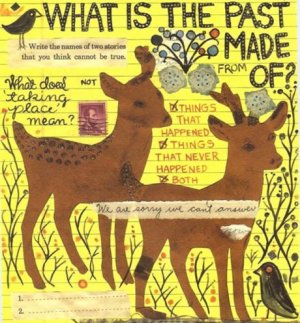 Credit: The Awl
Art by Lynda Barry
Lynda Barry
's books are a joy to read because of her reminders and examples of creativity as a simple, joyful, transformative and exploratory process. This joy of expression and discovery should be a truth for all of us, no matter our age!