Student Engagement
Visual Art as Critical Thinking
Creative approaches to core subjects
We've heard this story before. The first thing to go in budget cuts is the visual art program or another related art. Proponents of arts education counter with the usual rhetoric on the importance of self-expression and creativity. I, myself, am a product of arts education.
From the early age of kindergarten I was in musical theater. I eventually transitioned in music as a focus, and was a choir nerd in middle school and into college. In fact, my participation in Jazz Choir kept me in school, as I struggled with depression as a young adult. I kept singing into college, where I led the jazz and a cappella ensemble, and participated in a semiprofessional jazz ensemble the Seattle Jazz Singers. Although my schedule no longer allows me to sing on a regular basis, karaoke continually calls my name. I'm sure many of you had have had a similar experience, where art remains a crucial part of your being. These stories alone say "Yes!" to arts education.
Well, I have another argument to advocate for arts education. Visual arts (as well as other arts) are an excellent discipline to build and utilize critical thinking skills. I don't think we often give credit to the deep conceptual and interpretational thinking that goes into the creation of a piece of art, and this is often because art is treated as something separate from the core content areas. School does not need to be this way. In fact, I have recently seen two excellent ways that art can be used to wrestle with rigorous content from the core while allowing for creativity and expression.
I had the privilege of visiting High Tech High and Middle in San Diego, California. The first thing I noticed that art was vital to the culture of the school. Whether using physics content to create kinetic art with pulleys or to create 21st century resumes (see photo above), teachers embraced art as part of the culture of study.
Chris Uyeda was nice enough to sit down with me to talk about a recent chemistry project by his students. They were told that the common image of the atom was WRONG, and that they needed to create a pitch for a better representation of it. Chemistry and the study of the atom require deep conceptual thinking, some of which is hard to grasp. Chris saw art as an opportunity to have students critically think around the content to create a beautiful art piece. The student example below shows just one student's take on a more appropriate representation of the atom through the motif of bees and beehive. Art was a great way to familiarize students with critical content they would need later in the course.
A colleague of mine, Dayna Laur, a social studies teacher at Central High School in York, Pennsylvania, worked with her art teacher colleague Katlyn Wolfgang to ingrate the study of art and politics. Edutopia featured their story and advice, and you can use some of their resources. The driving question for the project was, "How can art reflect and inform the public about policy-making agendas?" In it, the students had to collaborate across classrooms to create an art piece that had a message.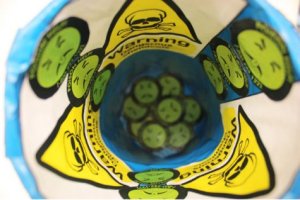 More than just making connections, the art students had to use their critical thinking skills not only to understand all the information and nuances of their public policy issue, but also to synthesize it into an art piece that conveyed a message. Students researched legislation, background information and other pertinent content. Instead of simply creating artwork with a message (which is a natural function of art), they had to wrestle first with critical content of politics and social studies before creating the art piece. Student examples are pictured above and below.
Teachers, your mission is finding ways to integrate art into the core subjects. Use your students' creative impulses to bring a new purpose to interpreting, conceptualizing and critically thinking around content. This type of integration can work for ANY discipline. It will help to value art as not just a separate entity, but rather integral to the school culture. Art is important as a single subject, but also should be valued as core through rigorous integration. In addition to being a fulfilling part of your students' lives, it can engage them in the core content.