Place-Based Learning
Turning the Community Into a Classroom
See how students investigate real issues in their communities—and check out an e-book on how to adopt this type of program.
When city planners in Portland, Oregon, were looking for ideas to make public spaces more inviting to youths across the region, they turned right to the source. Tyler White, a junior at De La Salle North Catholic High School, teamed up with a diverse group of students from several area schools to research and develop a detailed action plan for youth inclusion.
"We talked to movers and shakers, read case studies, interviewed experts, and surveyed 200 youth from across the city," White says. In a presentation to city staff, students shared their original designs for an app and accompanying website that would help young people find locations to meet their specific needs and interests. They also pointed out what the city is missing when it comes to what young people want and suggested ways to make public transportation more youth-friendly. "We had real conversations with people who have power and influence," White recalls. "That shouldn't be so revolutionary—it should be the norm."
Real-world learning experiences like this are becoming more common in the Portland area, thanks to an innovative youth-leadership program called PLACE (People Leading Across City Environments). An initiative of Catlin Gabel School, an independent pre-K through 12 school in Portland, PLACE is open to youths across the region on a sliding-fee scale. To date, students from some two dozen public and private schools have participated in projects focused on everything from food insecurity to neighborhood walkability.
"We are living and learning in the same community we are trying to change," says Angela Lu, a senior at Catlin Gabel and another PLACE participant. "This program empowers youth, and it also empowers the communities where young people live."
The Big Idea
Since its launch in 2010, PLACE has been pioneering an approach to learning that doesn't fit neatly into existing instructional frameworks. It's experiential, project-based, interdisciplinary, and inquiry-driven, with deliberately diverse groups of students investigating real issues for real clients from the local community. Students learn research and community-engagement skills more commonly taught in graduate-level urban planning programs than in high school, and produce professional-quality reports incorporating data they have gathered and analyzed.
There's also a deliberate emphasis on social justice, with students leading their communities in discussions of difficult issues such as police use of force.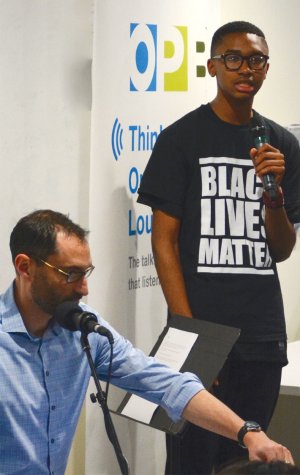 Courtesy of George Zaninovich, Catlin Gabel School
"Empowering youth to be engaged citizens is at the heart of everything we do," explains George Zaninovich, who directs a collection of programs that fall under the PLACE umbrella. PLACE has expanded from its initial summer programs to offer urban studies electives during the regular school year, incorporating academic content that ranges from economics to sociology to environmental studies.
More informally, PLACE participants lead community forums on hot topics, such as "Who can use the 'N' word?" A storytelling project called I Love This Place publishes stories about community change contributed by young writers, including Tyler White.
In early 2016, PLACE moved into a storefront space that it shares with a coalition of youth-empowerment organizations. The location is deliberately removed from the Catlin Gabel campus and located in an urban neighborhood that is rapidly gentrifying. Young people come here for after-school tutoring, help with college applications, and writers' workshops, in addition to PLACE programs. Fittingly, the new space, called The CENTER, was designed by students, for students.
A Growing Trend
Across the country, interest is growing in using the community as context for more authentic learning and increased youth engagement. Although PLACE is unique to Portland, programs that are similar in spirit include The Washington Program at Episcopal High School in Washington, DC, and City as Our Campus at Winchester Thurston School in Pittsburgh. Iowa BIG, in Cedar Rapids, Iowa, engages students from several public high schools in immersive community problem solving connected to academic goals. This year, a semester-long program called Lab Atlanta, sponsored by the Lovett School, opens with its first cohort of 10th graders from both public and private schools across the Atlanta region.
In Portland, keys to building the PLACE program have included "being patient and really listening," says Tim Bazemore, head of school at Catlin Gabel. Before opening the storefront space, for example, "we took a year to work the neighborhood, meet people, be willing to hear 'no,' and not get angry or defensive." The PLACE team was careful not to come across as community "saviors," but instead took time to build a coalition of partners with a shared interest in youth inclusion and social justice. "We want to be in and of the community," Bazemore says.
Back on the home campus, Bazemore has had to work through scheduling and other logistical challenges with faculty and parents to make room for PLACE. "We have to be flexible with some structures to support different kinds of learning," he says. Teachers and parents, he adds, "recognize the learning value."
What Students Say
For students, this approach to learning delivers benefits that go well beyond academics. Tyler White says his participation in PLACE "has morphed me into a different person. Before this, I didn't know how I could engage with my community. This project taught me how to reach out, how to organize. It taught me actual skills I will need in life—how to conduct myself in an interview, how to present myself to people who have the power and ability to make something happen. Nothing in [regular] school is this engaging."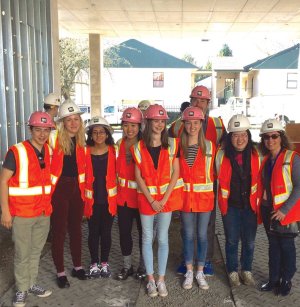 Courtesy of George Zaninovich, Catlin Gabel School
The deliberate mixing of students from different schools, socioeconomic backgrounds, and races helps students get out of their bubbles, adds student Angela Lu. "I've met community members I might not have crossed paths with otherwise." She credits the program's design with "creating a space where we all feel supported and can push each other to work harder."
Learning to work as an effective team with peers from different backgrounds "has helped me see people for who they are, without labels," adds White.
Tools for Replication
In response to inquiries from around the globe about how to start such a program, Zaninovich has coauthored an open-source guidebook called Make Your PLACE: A Guide to Facilitating Youth Civic Leadership.