Administration & Leadership
Transforming Unused School Spaces Into Something Amazing
With staff vision and student and community engagement, turn the unused or under-used areas of your school buildings or grounds into gardens, labs, and makerspaces.
Are there spaces on your campus that are not being used? How about a portion of your field, or the front of the building where there are spaces with grass? We've changed many areas on two school campuses by thinking creatively about our space. We start with looking at an unused or under-used location and then considering current instructional needs that could be better taught in a creative space.
Labs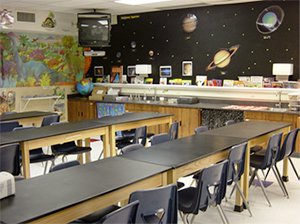 We created labs for earth, physical, and life sciences as a part of our magnet program at Walter Bracken STEAM Academy. We developed each space by working as a team to decide the best materials for that particular lab. Each grade level worked to decide what lessons they would teach in that space and what materials that they would need. Our life lab is a space with fish tanks, hydroponics, and lab tables. We wanted an oven and refrigerator for lessons. The earth lab is for dirt, space, and landforms. We have our physical science lab with littleBits, mixtures and solutions, and simple machines and magnets. In addition to the science labs, we went on to create a Lego lab. The Lego lab is a space that we use for instruction, optional indoor recess, and incentive time with the class.
Makerspace
At Long Elementary, we are creating a makerspace that serves as a creative space for the entire school to use. We're providing all of the tools and materials for our kids to create whatever they can imagine. We took out the carpet and painted the concrete floor. We have storage for materials on the walls, and we have innovative furniture, drafting tables, sewing machines and 3D printers. This room will always be a work in progress as we discover the needs of each student project and what might help them with their engineering.
Gardens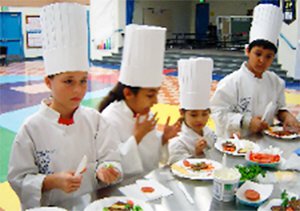 Photo credit: Kathleen Decker, Principal at Walter Bracken Charter School.
We've built many raised-bed gardens at both the Long and Walter Bracken campuses. Some of our beds are created from concrete block, recycled PVC, tires, concrete forms, and pavers, and some are made from concrete and look like giant Lego bricks. Our next project will be to build a track on our field, which will provide a new space for the kids to run and get fit. It will also save water -- a critical concern in our desert climate, where the water currently wasted on large fields has made our school district the largest consumer of water in our valley. We're demonstrating how garden design can be unique to the grounds of any school. Look at your space and see if a vertical garden might work. Maybe you want to build a sound wall.
Budget
Donations and volunteers help you go a very long way in reinventing your school spaces. Once you have a vision for a space, the next step is to break it down into parts and then seek support for things like resources, construction needs, materials, and any special equipment or advice that you require to get the job done. Don't forget your local Eagle Scouts -- we had one who volunteered to paint the entire field wall, and another one was happy to build our sound wall. These are perfect projects for help from service-oriented groups in your community.
Need Ideas?
If you're not sure what you want or where to begin, start by looking at the internet and selecting images. There are inspirational spaces everywhere once you start looking for ideas. New spaces bring the community, staff, parents, and students all together with renewed enthusiasm for learning. We are constantly changing things at our schools as we continue to modify our spaces for enhanced learning climate and instructional possibilities.
School Snapshot
Grades PK-5 | Las Vegas, NV
Enrollment
527 | Public, Urban
Per Pupil Expenditures
$9402 School
•

$8576 State
Free / Reduced Lunch
56%
DEMOGRAPHICS:
54% Hispanic
18% White
12% Black
7% Multiracial
Data is from the 2014-2015 academic year.