Administration & Leadership
Transformational Leadership: Engineering Creative Solutions
By rising to the challenge of school transformation with passion and vision, Walter Bracken STEAM Academy turned their culture and climate into a national model.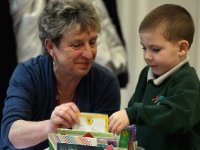 Walter Bracken STEAM Academy is a 54-year-old school in Las Vegas, Nevada. The school and community have changed a lot over the past 50 years, and now we're part of the fifth-largest school district in the nation. Just 15 years ago, Bracken was the lowest-performing school in the Clark County School District. Today it's at the top of the district and was recognized as a National Blue Ribbon School in 2013. The sustainable changes that occurred at Bracken ultimately involved all stakeholders in the community.
4 Essential Elements of School Transformation
Culture
First we had to focus on a huge change in the school culture. In 2007, as a part of an experimental pilot in the district, Bracken was identified as an Empowerment school. The shift in leadership created an entirely new culture as we worked together for improved academic results, with the understanding that we could use our time, money, people, and resources as we felt best.
Our premise is that the person closest to the decision is the one who should be making it. The administrators are there to provide support and help these people reach their goals. The entire staff is dedicated to improving the education of the students that we serve, and helping them to be successful in pursuing a career-focused secondary education. At Bracken, we know that we can all succeed through the power of teamwork. The school culture is one of flexibility, high engagement, and constant innovation. We value reading books for enjoyment -- and finishing the entire series. We know our math facts and make sure that we practice them daily. We like to solve problems and use the engineering design process. If something is plain and boring, we paint it. When we are stuck, we phone a friend or use the internet. We don't make or take excuses -- there's always a way to solve the problem. Our culture is how we act, focus, and live together in the school.
Climate
We had to change the climate of the school because the physical environment had been so gray and institutional. Who wants to enter a campus where it feels like nothing fun is going on? Our climate is full of color, creativity, and outdoor gardens. We removed over 32,000 square feet of grass and replaced it with raised beds, outdoor chess, musical instruments, and artificial turf. From the entry, you can follow the yellow brick road to reach the kindergarten playground. You can't help but smile when you pull up. Each classroom is uniquely decorated by each teacher. Science labs and a Lego lab are places where you engineer, experiment, and get messy. Our climate is welcoming and promises a high level of engagement. Our teachers live by the statement, "Any classroom, any day, any time, you will see amazing teaching and learning going on!"
Consistency
Consistency is the key to success in any school or business. We were fortunate enough to hear from and work with local business leaders as we reframed our thinking about this. It's critical that all classrooms offer the same experience to all children. No child should get the classroom that doesn't go on field trips or practice math or reading in the same way as the classroom next door. Our grade-level teachers work as a team to plan for instruction, activities, and field trips so that all students in that grade get that experience. Everyone takes a turn on our leadership team, so it changes each year. This team decides on school-wide programming to ensure that we're all on the same page. We vote on things, and then everyone needs to implement what we decided as if it were his or her own idea! When you go into any classroom, you'll see data for Rocket Math, AR points, Piggy Bank Deposits, and Study Island Blue Ribbons. We monitor the data for these and other programs to ensure that we're getting results for all children. Grade-level teams can see and provide support if a teacher isn't getting results. We make sure that anything we put in the school brochure is the truth for all children.
Community
Community is the only way that we have been able to accomplish our goals. We could never have done the projects that we've accomplished without the support of our entire community. The Rotary Club of Las Vegas has provided a core of support for our entire school. They've also helped us network with other local businesses and organizations that provide support for our climate, instruction, student needs, and financial literacy. We discovered a huge community that's willing to invest time and money in the success of our students -- we don't have to do it all alone. These community partners just need to be asked, and so we do. Our partner wall shows the many companies who have made significant contributions to our school. Our favorite benefit from these community members is the message that they send our students: "We believe in you and want you to succeed." With all of that support, there's no way that we could fail.
Challenge, Passion, Vision, and Solution
Changing a school doesn't happen overnight. It is a challenge and a passion to create something special for children. We're lucky enough to work in a district that's supporting our vision and with people who help us make things happen. The Lanni Family Foundation gave tremendous support that served as a significant catalyst for change. We're excited to be franchising our program into a low-performing neighborhood school this year. With the focus on culture, climate, consistency, and community, we know that we'll succeed. We've traveled around the country to be inspired by the many amazing schools we've found through Magnet Schools of America. (And we have to admit that we took a few great ideas from them!)
It's always empowering to hear about other school teams who have engineered their own creative solutions. What's your story?