Project-Based Learning (PBL)
From Modern Farm to Sustainable Table: Teaching STEM and Humanities with Authenticity
Everyone knows that the attention span of a 14-year-old can be short, but we intended to create a year-long project for our freshmen course. How on earth were we going to sustain engagement among our students on one project from August to May?
At Mid-Pacific Institute in Honolulu, we teach MPX, a completely project-based curriculum that fulfills the ninth grade requirements for biology, mathematics, social studies, and language arts. The MPX curriculum needs to be as rigorous as it is innovative, so we spent the summer planning out the details for a challenging, interdisciplinary, yearlong project that would center around the concepts of sustainability and food security.
Our project would require students to work in teams:
Designing high-density garden systems
Constructing the garden systems
Participating in culinary lessons
Cultivating crops
Competing in a cook-off using the crops
A Firsthand View of Sustainability
The key to keeping our students engaged in this project work was beginning the process with field trips to help them understand the need for sustainable practices. Some of the essential questions embedded in this exploration were:
Where does our food come from? And where does it go?
What is sustainable farming?
What are the similarities and differences between ancient and modern farming methods?
We toured a waste-to-power plant and a recycling plant so that the students could see the amount of waste our community generates and how it is processed in order to lessen the burden on our environment. We were able to assess that the field trips were well worth it through the students' reflective blog posts written as part of their homework. One student posted:
Then, we toured a lo'i, an ancient (and still completely sustainable) Hawaiian way of farming the taro plant.
As the students began to collect research regarding high-density gardening techniques, we took two more field trips to let them ask questions for modern farming experts, like "What is an air pump?" and "How much money does this type of farming cost to maintain?" The first destination was an aquaponics farm, where the students observed high-density farming at the commercial level. The second was a tour of soil and soil-less gardens at the local university.
Through these field trips, the students became concerned for their community and invested in the theme of this project.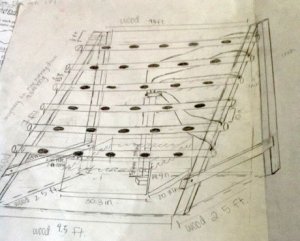 Photo Credit: Heather Calabro & Gregg Kaneko
One of the student groups' architectural sketches of the hydroponic garden systems.
Hydroponics in Action
Each of our seven freshmen teams then designed their own high-density garden system. Every team reached the same decision, to pursue hydroponic gardening. The student teams revised their designs many times before we approved them to move forward with construction. Students applied geometry and scale factor in creating scale drawings of their hydroponic systems.
To keep the process authentic, we required the students to adhere to a budget and to price out materials for their garden system. Then, we took all 30 freshmen on a field trip to Home Depot. There, the students spent the morning finding building materials, budgeting, and making on-the-fly decisions regarding selecting and altering materials.
The seven teams then spent the rest of the semester constructing their garden designs. It was not easy! There were mismeasurements, leaks, and creative repairs, but every team successfully completed a working hydroponic garden, designed to fit in a very small yard or on a lanai/deck space.
Each team was given the choice of what to grow in their constructed garden system. The students spent the majority of the second semester cultivating their crops. They grew green beans, cucumbers, tomatoes, lettuce, spinach, and a variety of herbs. The students spent a great deal of time learning how to balance the nutrients and pH levels in their soil-less garden systems. Nearly every day, they would visit their gardens to conduct readings of the water in their systems, balance pH and TDS levels, and prune their plants.
Freshmen Iron Chefs!
Meanwhile, we were able to partner with the culinary department at a local community college. The students tutored under an instructor chef in the training kitchen one day per month from November to February. In between each culinary lesson, we assigned "cooking homework," including blog posts about students' experiences in both the training kitchen and their homes. One student wrote:
Photo Credit: Heather Calabro & Gregg Kaneko
Student Bailey Lum pan-frying some vegetables.
Through these culinary lessons, the freshmen learned a multitude of real-life skills including safety, sanitation, heating techniques, and flavoring. The science behind food preparation, such as emulsification, dovetailed nicely into the curriculum.
The culminating event for this project was a public exhibition and competition. Each team created a display that included posters with their learning points on sustainability, binders that included their garden system's manual and maintenance log, and video documentaries of their team's project process. (See the example below.) Each team also competed in the "MPIron Chef" cook-off, using the vegetables they grew in their garden systems. The students had one hour to prepare their dishes before they presented them to a panel of judges including an executive chef and a local food critic. The students had to speak to the judges, as well as an auditorium full of parents and community members, about their garden system, recipe, and experience in the kitchen that evening. It was meaningful for the students to explain their decisions both in the garden and in the kitchen.
video
On so many different levels, we saw our freshmen grow during this project, just as much as their vegetables! As one of our students reflected:
For the full documentation of this project, visit the MPX9 Humanities Class Blog. And please share your own adventures with teaching sustainability through PBL in the comments section below.