Service Learning
Social Justice: A Whole-School Approach
Read about a social justice-based school that addresses larger issues as a learning community, builds curriculum around service learning, and regularly involves families.
Social justice -- what does that mean to you as a person? As an educator? If you're interested in starting this conversation, here's a place to start. At Park Day School in Oakland, California, we use a social justice lens as we design curriculum, organize parent education, and develop school policies to help us better understand and address large, complex social issues such as poverty, food insecurity, racism, and environmental justice. By including our whole community, we create a learning environment that engages teachers, students, families, and staff in a deeper way.
The five questions below are designed to help you think about social justice as an educator and inspire conversation. Following each question, I've included a range of examples from our K-8 school, including specific activities from this year's theme about environmental justice.
1. What is happening at your school to address social justice issues as a learning community?
Learning about a social justice issue as a school can help build greater empathy and a deeper understanding across all grade levels. During our CARE Week (Campaign for Acceptance, Respect, and Empathy) we go deeper into the exploration of a social justice issue. We develop three guiding questions to help us explore the theme through equity, access and activism in grades K-8. For example:
What is environmental justice?
What is a healthy climate?
How is innovation being used to address our changing climate?
We organize and develop special programming for the week, including classroom projects, field trips, and guest speakers. Our guest speakers work in local industries related to the social justice issue and help highlight the important work that's being done in the community. The speakers provide positive role models for our students, and also an opportunity to highlight the role that activism plays in our society. We include a wide range of representation, from grassroots activists and non-profits to academia and government agencies.
2. What are you doing in your classroom to examine social justice issues?
There are many different entry points to approach a social justice issue at every grade level, and the variety of these experiences can be rich and thought provoking. Here are a few recent examples from this year:
Too Much Plastic
Our first grade students led a schoolwide campaign to collect plastic bags to help raise awareness of the impact that plastics have on our environment. This campaign sparked different interests from class to class, inspiring students to investigate related topics such as how plastic is made and the impact of plastic on sea life.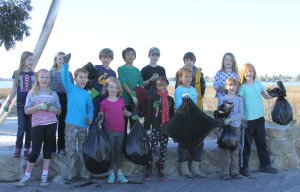 Photo Credit: Jeanine Harmon
Saving the Birds
A recent toxic spill in San Leandro Bay covered birds with a mysterious goo, right where our third grade students have been working on bird habitat restoration. The students immediately sprang into activist mode and partnered with the International Bird Rescue Center to support their cleanup efforts.
Trash That Floats
When our sixth grade students learned about the North Pacific Plastic Gyre, they shared their discoveries with our first grade classes. Their calculations helped us create a scaled model of the gyre on our play field using the plastic bags collected from the week.
3. How are families involved with learning about social justice at your school?
Are there any systems in place at your school for families to get involved beyond fundraising and volunteering? The Diversity and Justice Alliance (DJA) group at our school is composed of parents, guardians, and staff members who work together to organize parent education events and book groups around social justice issues. Our school has also developed a Social Justice Initiative (SJI) as one way to institutionalize this effort and strengthen our commitment to social justice. SJI events include parent education evenings, panels, film screenings, and salons. We ask our families to fulfill two SJI hours every year. Most SJI events mirror the social justice theme of the year, providing an opportunity for parents and guardians to dive into the content on a deeper level along with the students.
4. How might an exploration of a social justice issue strengthen the community at your school?
A school community can be the source of great strength and inspiration, particularly during troubling times. After the Ferguson verdict was announced, the DJA created a place on campus for parents and guardians to come together informally. Having a space where people could just be together in support, not in judgment or debate, proved to be very healing. In the days that followed, the DJA also organized specific ways for people to become involved and take action, such as making signs, participating in peaceful demonstrations, and candlelight vigils. This strong sense of community helped us navigate through this difficult time.
5. How might your school implement specific practices to address social justice as an institution?
Our SJI provides a framework to examine all aspects of school policies and practices using a social justice lens. The SJI guides our process as we look at everything from parent education to our hiring process. We believe that when a school can promote social justice, equity, and inclusion through its practices and policies, this will create a stronger, more just environment for all.
When teachers, students, staff, and families join together to explore social justice issues, it can be the catalyst for important conversations and significant change. Through these explorations and conversations, we can help build a common vocabulary, a stronger sense of purpose, and awareness of our personal responsibility in the world. If we can create learning communities and partnerships that encourage these ongoing conversations, we can continue to to circle back and reexamine our experiences, and continue to challenge our beliefs and biases. When our self-examination widens to include looking at school policy making and parent education, it can strengthen our community even more.