Flexible Classrooms
Redesigning My Classroom Environment
A look at the planning that goes into shifting from a traditional classroom layout to flexible seating.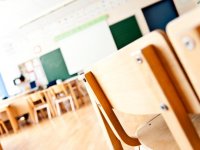 I moved things in my classroom at the end of the school year. I moved my posters, my bookshelves, and my computer cart. What I didn't move, however, were my traditional tables and chairs.
I get to design a different kind of space next year, one that encourages different learners to work both independently and collaboratively. I picture students moving about more freely, cozying up with a book in a corner or working on their laptops in the sun. I'm thinking about throwing away my seating chart altogether (after I learn students' names, that is).
What Matters Most
I've done some research, including talking to Laura Bradley, the "Classroom on Wheels" lady herself. She gave me some great advice.
1. Mix and match to start off: This is so that kids can pilot different kinds of seating styles and arrangements. It's great advice especially since we, as a Title I district, don't necessarily have the funds to pilot a whole classroom of anything without some feedback first.
2. Focus on seating first: After seating, figure out the tables. This acknowledges that the position of the student is really vital to the effectiveness of their brains. It also acknowledges that as long as you have laptops, your tables can be about the structure of your body. It's not ideal, but if you're looking for a place to begin, seating might be the starting point for greater investment down the line.
I spent my late spring doing research and curating photos and ideas around classroom seating:
I pinned pictures on Pinterest.
I learned that there are health benefits to certain positions in which we work. Some studies have shown, for instance, that standing while working might help fight obesity and diabetes. Other studies show that movement while being seated may help with attention, keeping both the brain and the body engaged while in class.
I took photos of classrooms that I saw on other campuses.
I started playing with digital layout tools.
I thought back on the seating that I wanted at different stages of my own learning, from carpet squares to banquet tables, from attached desks to round tables.
I thought about my own seating habits in meetings and workshops. I tend to be a "back sitter," one who sits in the back so I can stand and stretch my legs or lean my chair back against the wall to rock a bit (I know, I tell my students not to do it, too). I thought about the length of time that I would sit before I needed to adjust my position in order to continue my attentiveness. Let me tell you it wasn't very long.
In the end, I tried to think creatively to put together a "Frankenclassroom" of sorts that offered both traditional and innovative positions for students.
Select a Seat
I sent in requests for the following, each with a different rationale to make up my room for 36 incoming middle school students.
1. Video game chairs: For the past two years, I've had a single video game chair in my classroom, and it has been the most sought-after chair. By the end of its life, the game chair was held together by duct tape and prayers. The fidgety kids vied for it—they dragged it to their table group and sat below the table line, happily rocking and working. In fact, I noticed that many of these students wrote more quantitatively when rocking in the chair than when in their static seat. I'm asking for four to eight of these.
2. Beanbag chairs: I can't fit many of these in the classroom, but if I could get four of them, I'd have a whole group's worth. They are easy to drag around and, save for the fact that they have a tendency to store, ahem, odors, they should help to soften the tone in the room. I figure that my class rules may be highly structured, but my seating doesn't have to be.
3. Node chairs: I'm hoping to get enough node chairs to make up two table groups in order to see what all the fuss is about. The storage underneath is key, but a pricey addition. Nevertheless, mobility is the future, and if I'm to encourage easier fluid grouping, I need the chairs that are more traditional in feel to be able to get around. After all, there are many students who like the feel of the harder chairs, and I have to provide comfortable seating for them, too.
4. Wobbly chairs or buoy chairs: The wobbly chairs are less expensive (by a lot), but the buoy chairs look more comfortable. The wobbly chairs have a smaller footprint, but the buoy chairs look more durable. Nevertheless, these kinds of chairs might give more active kids a little leeway in their positions while not making me seasick watching them. I am skeptical, however. When I'm on a stool, I don't sit up straight—I tend to slouch more (if that's possible)—but that's the reason I'm giving choices. Something I might not like might end up being what every member of my clientele prefers.
5. Standing desks: OK, so I couldn't dismiss all thoughts of tables. However, I decided to focus on those students who like to work standing rather than in a seated position. I thought about all those students who asked to lean their laptops on my worn-out old podium, and I'm asking for four standing desks as a result. I figure that when students ask to stand, it's a sign that they want to pay attention and might just need more movement and oxygen to their brains.
Student Feedback
I'm hoping to start the year with a rotation of sorts so that students try it all out. This way, they can give me evidence-based feedback. It's an informal assessment waiting to happen.
I'm also hoping that if I can let go of my need for a beautiful classroom environment, I might just find a more engaging classroom environment. I'm looking for an environment that engages different learners and allows students to select different positions depending on exhaustion level, needs of an assignment, or their need for a new view.
I'm not sure what we will be able to afford, but my room is bound to be better than it was, and it might even end up being a room that kids can't wait to enter.