Student Engagement
Mirror on the Wall: Public Art and the Face(s) of Youth
Too often people assume that young people and their experiences should exist separate from the world of adults. Youth often internalize these unspoken beliefs and begin to view their own ideas and their own realities as "less than." We believe that one way to shift this dynamic is to make powerful, artistic and insightful student work visible to the public. During the past school year we worked with our students to design and install a public art project near our school in Center City Philadelphia that showcases youth identity and young people's social insights.
What They See
Walking out of the front doors of Science Leadership Academy, one sees two large, deteriorating concrete overpasses. Above the eye level of the pedestrians are 30 large, close-up images of young people's faces. The images, each six feet tall, show a mixed group of faces and expressions. One image shows Dakota, an African American girl with a round face and dangling feather earrings. She is puckering her lips and squeezing her eyes closed behind her glasses. To the right of her is a photo of Drue, a pale-skinned white girl with a stud in her nose smiling broadly and looking straight ahead, almost as if she is keeping watch over the sidewalk and street in front of her.
Underneath the images, at the level of pedestrians, are quotes that come from student language autobiographies. "One of the best ways to truly understand someone's background is to learn to speak their language," says the quote from Cameron. Dakota's quote says, "I was stuck between a rock and a hard place. I was either too white or too black." According to Roberto, "In kindergarten, I spoke Albanian to the teacher and she never understood me."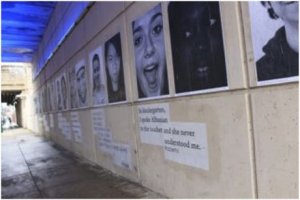 Credit: Joshua Block & Melanie Manuel
Science Leadership Academy's Inside Out Project
Why It's There
As a Spanish and an English teacher working together, we developed inquiry units related to themes of language, identity and public art. Our goals were to have students transform a public space and present their multiple identities, stories and insights to the city around us. We were motivated to do this project, in part, by the fact that so many of the public images of youth are narrow in scope and negative in tone. According to Jalisa, "We had the chance to express ourselves in the mural. We are expressing who we are and where we come from, our backgrounds and how our language influences them." Her quote begins to illustrate the ways that a large public project can help transform youth self-image and identity.
We first introduced the classes to our idea for the art installation after we showed them the TED Talk by the French artist JR. JR started the Inside Out Project that, as the Inside Out website explains, is "a large-scale participatory art project that transforms messages of personal identity into pieces of artistic work." JR's video is stunning in the simple beauty and enormous scope of his work. At this point students in the English classes were at the end of a unit in which they read Their Eyes Were Watching God and wrote individual language autobiographies in which they investigated issues of language, power and identity in their lives. Students in the Spanish class grappled with the essential questions, "What is art? How does public art reveal the history and identity of a community? Who and what has shaped my community?" They analyzed various forms of public art from around the world and took a mural tour of North Philadelphia to guide their investigation of the power of this form of expression.
Students were inspired by the work that JR has done around the world. We asked them to think more closely about why JR's work resonated with them. "You see people in new ways," offered Raeven. "It catches you by surprise -- it's unexpected," shared Viet. After we developed a detailed list, we asked them what specific things we should think about when we take photos for the mural. Students replied with ideas about facial expressions and variety. Our goal was for them to realize the power of images in communicating larger emotions and ideas, and the importance of having images that were expressive and unexpected. We reminded them of JR's initial impulse of having his friends "play the caricature of themselves" for his photos, and we asked students what this might mean and how it might influence the ways we pursued this project. "The same way that all our language autobiographies were similar but also really different, we should be like that for the mural," offered Lexy. "What would this actually mean in terms of photos?" we asked the class. "We need to take a lot of different ones and then choose," said Robbie. We were starting to feel confident about proceeding because our students shared vision and excitement for the potential of having their images and ideas take over a public space.
How It Got There
We started out thinking that we would have to get a permit from the city and we hit several bureaucratic dead-ends until we realized that this particular overpass is maintained by the Penn Department of Transportation. Getting permission from them was a simple phone call to the right person.
In each class we nominated a photographer who was a mature student with an interest in photography. The photographers called the other students out of class one by one and took multiple close up pictures of each student. We reminded them to capture people making different expressions and to be unexpected. We then cut out the photos that were not high quality and posted all the rest in an online Dropbox gallery. We created a Google poll and had all students look through the gallery and vote on the photos that they found most compelling. We reminded students about the list of what made JR's work powerful and our goal of creating wide-ranging representations of language and identity in our school. Overall, the creation process was designed to be student-centric so that teachers were available for assistance but the project would be a student creation.
After students voted, we tallied the results and confirmed that the final product would reflect a wide range of student identities. We also looked for photos that would complement each other when up on the wall. We uploaded the photos to the Inside Out Project website and eagerly awaited the results. During this time we selected quotes from students' language autobiographies and crafted our artist statement that we could print on large paper. We searched for short quotes that were poignant, surprising, or insightful.
When the printed images arrived in the mail, the students who had studied public art began planning the layout. We researched how to make wheatpaste and finalized our plans for installation day.
We planned our installation on the afternoon of a half-day of school and asked for volunteers from all of the classes to help us. We formed teams to finalize the layout, make wheatpaste in a science lab, and hang the images and quotes. As we began to work, the installation immediately began drawing the attention of people passing by. Students proudly explained the project and invited people to come back when the work would be completed. In a reflection, Nia shared, "It's pretty exciting that SLA had the chance to make an imprint on the city . . . It's inspiring people."
Images of the final mural can be seen at this Flickr site.
What It Means
Large-scale participatory projects present many challenges. Our most pressing concern was having all 87 students feel ownership for the project. Because not all hands could be involved at all times, we attempted to create meaningful roles at various points in the process and asked students to take responsibility for tasks such as making the wheatpaste, holding the ladders as their classmates climbed them and selecting the quotes. Involving all students required both thoughtful planning on the part of the teachers and buy-in from the students that their participation was vital to the success of the project. Since the installation went up several months ago, students continue to repair deteriorating areas and to relate stories of curious passersby drawn in by our work.
Our art installation is a public display that fosters dialogue, promotes critical thinking and builds connections, not only among our students, but also among all of us in the city who walk under the bridge. One day as we were checking the installation for wear, a passerby stopped to ask us more about the piece. His curiosity turned into a discussion about how our country needs to prioritize language studies and cross-cultural understanding. Since then, several students have shared observations of how people interact with the installation. Nia, one of the Spanish students, observed, "They [passersby] wonder who these people are, where they came from and why they're up there." The piece narrates and beautifies. It gives voice to our students and validates their work, identities and experiences. For urban youth, who are often portrayed negatively in society, this is profound and moving. It also allows others outside of the school community to engage in our youth's learning and reflections. All of this is testament to the power of public art and the value of collaboration.
Melanie Manuel's co-author and colleague Joshua Block teaches high school Humanities at Science Leadership Academy in Philadelphia.