Project-Based Learning (PBL)
PBL Pilot: What Will the Future Bring?
Two fifth grade teachers reflect on their first year with a PBL curriculum, self-evaluating their outcomes and formulating an action plan for next year.
Editor's note: Matt Weyers and co-author Jen Dole, teachers at Byron Middle School in Byron, Minnesota, present the final installment in a year-long series documenting their experience of launching a PBL pilot program.
If there are two major things that we learned this year while utilizing all-day PBL, one is that authentic projects are going to remain the core fabric of our curriculum. The second is that, as teachers, we learned as much about teaching as our students (hopefully) did about content. Along those lines, with the end of the school year upon us, we feel that, as reflective educators, it is prudent to ask ourselves, "How did we do?" We'll do this by breaking down each of our original goals on a 3-2-1 scale.
Goal #1: Close both the achievement and engagement gaps.
Analysis
Our data say that we made significant strides in closing the engagement gap. For example, in an end-of-year survey, 26 out of 27 parents responded that their child was more engaged in school this year than in previous years. In addition, the engagement gap was closed to such an extent that, based on parent feedback, the building administration asked entire grade levels to incorporate two PBL units a year into their courses. On the other hand, we did not meet our goal to shrink by a significant margin the achievement gap (as measured by state-level standardized tests) as was our hope.
Action Plan for Next Year
Reduce the number of projects that we'll undertake from nine to seven. We feel that this extra time will provide us opportunities for more direct instruction while still maintaining the integrity of our goal to implement PBL as much as possible. If done properly, we feel this will help shrink the achievement gap while maintaining an increased level of student engagement.
Goal #2: Explicitly teach character traits to help students develop "soft skills."
Analysis
This was a learning year for us. It took several months to fully grasp the skills and abilities our that students possessed when it came to teamwork, leadership, and collaboration. Many of the students self-reported that they had never worked in groups for longer than a few days. We utilized the tools that we had at our disposal (group roles, mediation process), but both of us agreed that we did not do enough explicit teaching and role modeling of what these skills looked like. Having said that, we received multiple comments throughout the year from parents indicating that their children were much more assertive and independent at home, and they attributed that to the group work experiences that our students encountered in class.
Action Plan for Next Year
We feel that the steps we took with the group roles and mediation process were positive. However, we need to collaborate more with the guidance counselor to utilize the knowledge of an expert on this topic. In addition, being more proactive when it comes to modeling skills via role-play will provide an added benefit.
Goal #3: Develop authentic projects utilizing community connections to help us meet the criteria set forth in our District Strategic Plan.
Analysis
We feel this was our area of strength. Throughout the school year, we successfully worked with the local nature center, the local zoo, our City Council, Project Linus, and high school seniors. We believe that this sufficiently met the requirements of our strategic plan to promote and provide applied learning experiences within the school and community.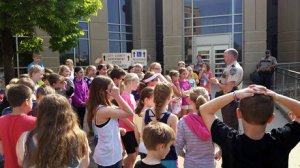 Photo Credit: Matt Weyers
Students listening to a deputy speak prior to a courthouse tour.
Action Plan for Next Year
As PBL expands to other grade levels, develop a PBL curriculum map documenting each of the projects that we're working on with specific organizations. This will help prevent potential overlap on project ideas between grade levels as well.
So What's Next?
As is common with the end of each school year, change is afoot. Jen has accepted a new position in our district as the Community Education Director, and Matt is moving to sixth grade to spearhead the creation of a PBL curriculum at that level as well. Thank you to all those who have kept up with the series throughout the school year. We feel that we have laid the framework for transformational change in our district and are extremely excited to see what the future will bring. 
And if you have any reflections on what you've learned as a PBL teacher this year, we'd love to hear them! Please share in the comments below.