Project-Based Learning (PBL)
PBL Pilot: Matching PBL With Traditional Grading
Fifth grade teachers reflect on grading students in their PBL pilot program without traditional homework, while keeping parents informed and reconsidering the meaning of grades
Editor's Note: Matt Weyers and co-author Jen Dole, teachers at Byron Middle School in Byron, Minnesota, present the fifth installment in a year-long series documenting their experience of launching a PBL pilot program.
Project-based learning has been wonderful. Students are self-reporting how they're experiencing a deeper level of learning, and parents are saying that their children are actively (and often voluntarily) elaborating on their learning outside of school. We firmly believe that PBL is one of the best teaching methodologies available for the 21st century.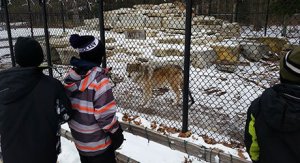 Photo credit: Matt Weyers
Students visit the Oxbow Park and Zollman Zoo to design potential zoo habitats using math and science standards.
The opportunities to assess students on the 4 Cs (creativity, collaboration, communication, and critical thinking) have been endless. Blending all of this into the traditional A-F grading system, however, has on occasion felt like pounding a square peg into a round hole. At this point in the school year, we feel that standards-based grading would be the best and most opportune solution to grading in a PBL environment. We feel fortunate, though, to have the administrative support we need for tackling these challenges. In this post, we'd like to look at some of our challenges, working solutions, and further questions to consider.
Problem #1: Lack of Traditional Homework
The lack of traditional homework (which we equate to assignments such as worksheets) has left us with a dearth of quickly-graded, easily-communicated tasks to put into our gradebook. We are left with only the major products from each of our projects (approximately three per quarter). And this has unfortunately left our summative grading and assessment systems open to interpretation by families and other staff.
Working Solution
We are combating this by:
Utilizing assessments from MasteryConnect to add to our gradebook
Incorporating "project checkpoints" where student groups are required to provide us with a specific deliverable prior to moving to the next step
Simply not having a lot of grades
Further Questions to Consider
How do we specifically assess each of the project checkpoints? Is it by creating individual rubrics for each checkpoint? Or is it a simple "go/no-go" for the students? If it's "go/no-go," how does that translate into a letter grade? How do we best combat the outside pressure we feel to make sure that we have "enough" grades? This last point brings us to Problem #2.
Problem #2: Parent Education
The small quantity of grades in our gradebook has justifiably left parents feeling out of the loop. Families in our district are used to seeing a relatively constant stream of homework every night with which to informally gauge their child's progress in school. With the lack of traditional homework and with a radically different teaching philosophy than they are accustomed to, we need to provide different avenues for parents to remain engaged with their child's life at school.
Working Solution
We have worked to provide parents with Parent Education/Game Nights led by our parent focus group and designed to discuss some of the questions and concerns in a peer-to-peer format, maintain an up-to-date class blog, and send home a "Project at a Glance" form outlining the specific skills that each project will encompass.
Further Questions to Consider
How do we continue to gain parents' trust that their children are learning the same skills taught in non-PBL classrooms, albeit in a different format? If common assessments are not yet developed in our district, are standardized test scores the only apples-to-apples comparisons we have available to show this? (We hope not!) Focusing on parent education has made us also strongly consider the question posed in Problem #3.
Problem #3: What Are Grades Actually For?
We are fortunate this year to have a building administrator who is incredibly passionate about grading practices and the impact they can have on student self-efficacy. He is actively encouraging the staff to ask ourselves the question, "Am I grading for learning or compliance?" He voices equal concern that issuing students failing grades can have such a negative impact on student self-confidence that they may shut down to school and learning forever.
Working Solution
In response to our administrator, we are working to implement learning opportunities that are continuous and revisionist. Our present grading scale only allows students to be assigned an A, B, C, or Developing. The idea is that by removing the option of a D or F, we are communicating to students the idea that we will not let them fail. The tricky part is that it requires us to continually visit one-on-one with students until they show the proficiency we have deemed appropriate to receive an A, B, or C. Simply stated, we are working on grading for learning by allowing students to resubmit work as many times as needed to show proficiency.
Further Questions to Consider
Is this revisionist grading policy detrimental to our students as they enter different grade levels and the work force? We feel it is not detrimental, but what concrete information do we have to prove this?
We'd love to start a dialogue. As educators, how do you feel about the problems, solutions, and questions mentioned above? We would greatly enjoy hearing any ideas you have!