Literacy
Motivation: The Overlooked Sixth Component of Reading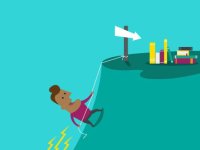 Trina is an eighth grader trapped in her own prison. She has every excuse in the book and is often referred to as just unmotivated. But I don't buy that story. Not at all.
To a five-year-old, learning is exciting. While some are academic naturals, others lag. Well-meaning educators intervene, and praise, rewards, and external incentives surface. Thus, we can see the sixth component of reading -- motivation. But what of the adolescents who deflect their inability to keep up by throwing a pencil when you aren't looking, or by bullying others? Enter the "unmotivated" adolescent.
Learners are motivated by three factors: desire to learn, incentives, or fear of failure. As we grow, most of the early curiosity is tested away, and school becomes work. Obstacles increase, desire to learn decreases, and incentives and/or fear of failure move to the forefront. Jack Canfield, self-esteem expert, reports that 80 percent of first graders posses high self-esteem, but by high school graduation, this drops to a staggering five percent.
But certainly you aren't reading this blog for that bleak truth. So now what?
University of Minnesota instructor Martha Farrell Erickson, PhD, (2003) identifies the "critical ingredients for healthy child and youth development" as the Three C's. In my opinion, they are critical for educating any child, and most importantly, for reversing the earlier damage done to self-esteem, which can cause blocks in motivation.
Connection
Brain research reveals that if students feel happy and comfortable, they are more apt to retain learning. Connecting with our kiddos helps us to build trust and to educate the entire child. Dr. Ross Greene, psychology professor at Harvard University, wrote in 2007 that all children would perform if each possessed the necessary skills to complete the task. If we can pinpoint and support students with skill deficits, they will succeed. It is our job to know them, and to empower them to know themselves.  Here's how:
Reader Self-Perception Scale: Determine which students need more encouragement and how to approach each one individually.
Learning Styles Assessments: Learning your students' preferences and making them aware will empower them to learn and produce.
Multiple Intelligences Assessments: Show your students their strengths and then allow them to reflect, gain power, and proceed carefully.
Skill Deficit Assessments: The problem usually lies in the fact that we never seem to dig deep enough. Answers are most often not the most obvious. Assess formally and informally to be thorough.
Inventories: Getting to know your students' interests allows you to pair them with good-fit reading material. You could quite possibly find a book that not only matches what a student is capable of managing, but is also on a topic that he or she enjoys!
Types of Learner Questionnaire: A U.S. Army study by Dr. Valerie Rice divides learners into four different types, depending on their approach (or non-approach) to learning new material.
Contribution
In the book Bridging Cultures Between Home and School, Elise Trumbull et al. discuss collectivist cultures. Adolescents of families from all over the world grow up with a sense of collectivity, and parents emphasize cooperation and community. Our job is to support each student individually while honoring those who also need to feel like they are contributing.
This is just as much an engagement philosophy as it is one of esteem building. The more you use a variety of discussion strategies, the more engaged your students become.
Competence
Erickson's third C is the heart of intrinsic motivation. Many of these kiddos have faced so much failure that success seems unattainable. To rebuild, give your students a feeling of mastery, even on little things. Clear routines allow transitioning from activity to activity with confidence until strugglers feel classroom-savvy.
Providing specific and constructive feedback is another way to build competence. Rick Wormeli, educational author and speaker, says that to give our kiddos a true feeling of success, we must observe, honor, and reflect on their work, and help them to set goals to improve on it. For example: "Trina, I noticed that when we read the first few chapters of your novel, you asked questions on your sticky notes. This shows me that you are really wondering about your reading. Have you found answers to any of these questions? As you read the next chapter, let's make a goal." Suggest a few ideas if she's stuck, and let her choose an attainable goal, promising to reconnect in a few days to monitor her success.
And succeed she will. If even one of Trina's teachers meets her with the attitude of, "I'm going to get to know you, kid. I'm going to give you a chance to be a part of this community and to feel successful," she will respond. The biggest challenge is changing our mindset so that she can change hers. There are no kids who are "just not motivated." They do not exist. Each one of them has a story. It's our job to read it, learn it, and help them to use it as power, not as a prison.
What success stories about building intrinsic motivation in resistant learners can you share?